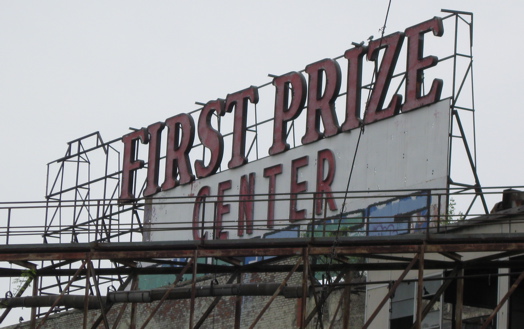 Two bits of interesting casino-related news today:
First Prize Center
A company called Capital Gaming LLC has signed a contract to buy the First Prize Center on the Albany/Colonie line, the Biz Review's Mike DeMasi reports -- the company is interested in redeveloping the site into a casino.
The First Prize site, a former meat packing plant, has been the subject of multiple attempts and rumors over the years. The location has potentially great interstate access -- it's right next to I-90 and Everett Road (map).
For what it's worth, voters in the city of Albany and the town of Colonie both narrowly voted against the state casino amendment.
What sort of demand for gambling?
Maybe some perspective and caution from New Jersey: Revenue at Atlantic City casinos dropped below $3 billion in 2013, the AP reports -- it's the first time that's happened in 22 years. And it marks the seventh straight revenue decline for AC casinos since Pennsylvania opened casinos. [via @MahoneyReport]
There's potentially a lot of casino competition in the Northeast over the next decade. There's Atlantic City, there's Pennsylvania, there are the Native American casinos in Connecticut and New York, Massachusetts is adding casinos, and of course, so is New York.
That's a lot of casinos chasing more or less the same pot of money. How many ways can the pot be split before it's no longer worth chasing the money?
Earlier on AOA: Focusing on support for a possible Capital Region casino, town by town
Hi there. Comments have been closed for this item. Still have something to say? Contact us.