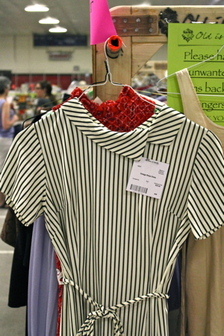 The Old is New consignment sale has announced it will be back March 21-23. The location will be St. Sophia's on Whitehall Road in Albany.
The sale includes "women's, men's and junior's clothing and accessories, as well as furniture and home decor." And the note on Facebook also says it will be accepting "kids clothing and baby items," as well. Registration for consignors starts January 20.
The first Old is New sale was in 2012 -- we checked it out with some help from Kaitlin Resler and Jess of JessJamesJake. They found some good items for women, at pretty good prices.
Pass it On
The big Pass it On sale for kids stuff is scheduled to return the first week of May at the Sportsplex in Halfmoon, according to its FB page, with more info coming in February. If you're a new parent -- or soon to be a parent -- it's something to keep an eye on. Pass It On gives priority access to new parents on a limited basis -- the spots fill up fast.
photo: JessJamesJake