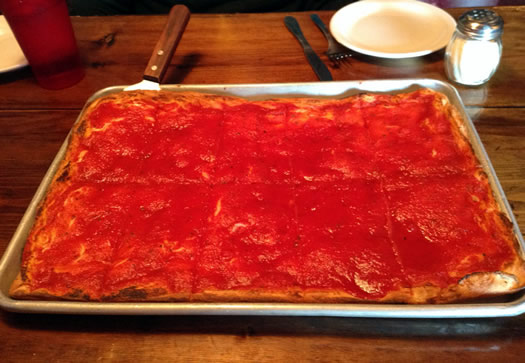 By Jeff Janssens
There's a lot of exciting stuff happening these days in downtown Troy; from the shops to the restaurants to the bars, it seems like a new business is opening its doors each week. This makes it easy to overlook some of the old stalwarts of the city, places like Famous Lunch that have been turning out good food for decades.
Yet I can't help but approach any place labeled as an institution with a healthy dose of skepticism. At some places, the history and value to the community far exceed the present quality of food.
But Red Front Restaurant on the south side of downtown Troy has built a well-deserved following since opening in 1956 thanks in part to their COB Pizza -- that's "cheese-on-bottom" -- a non-traditional pizza in which the sauce and the bready crust are the stars.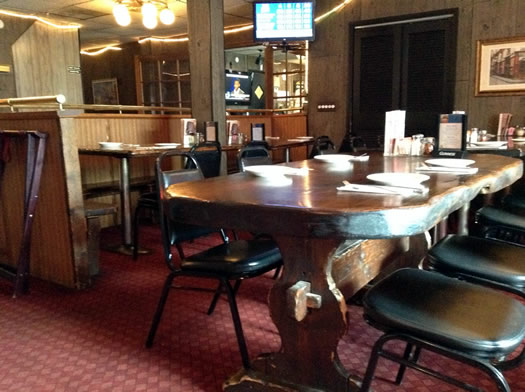 Stepping into Red Front puts one into something of a time warp, particularly if you're used to hanging out in downtown Troy's newer establishments. The carpet isn't orange, but there's enough brown -- from the wall paneling to the wooden tables -- that you could easily imagine you just stepped back into the '70s. Meanwhile, televisions hang throughout the restaurant displaying the New York Lottery Quick Draw numbers (tickets are on every table). The decorations are a bit kitschy, but I see a certain charm in all this, particularly because their draught beer list isn't so old school, including Ommegang's Rare Vos and the winter seasonal from Oregon's Widmer Brothers.
The main draw of Red Front is their COB Pizza. It's not the kind of pizza that would, on the surface, appeal to traditionalists, particularly those who hold the thin-crusted New York style dear. The cheese is under the sauce, after all. And it's shaped like a rectangle!
But just like the deep dish pizza of Chicago or the tomato pie (pick your region: Utica, Philadelphia, New Jersey, etc.), comparing the COB to traditional pizza is like trying to compare baseball to cricket. The elements are similar, but we're playing by a whole different set of rules.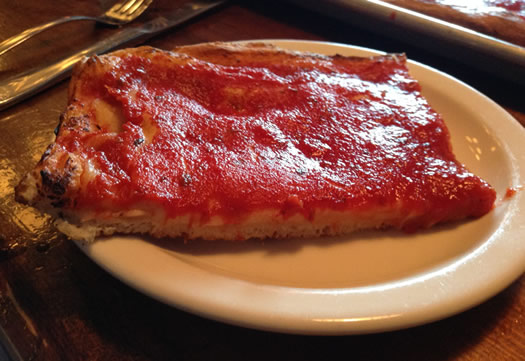 First, we have the tomato sauce on top; this is a sweet sauce, and it's noted more prominently because with its placement, it's the first element you taste. In judging the Tournament of Pizza I'd occasionally mark pizza scores down for having sauce that tasted too sweet. But there we were talking about pizzas with veggies or meat on top, plus blends of cheese above the sauce; in those cases, I think it's hard to strike a good balance with a sweet sauce. In this case, I chose the 10-cut COB without toppings ($12), allowing the sauce to be the featured attraction.
This is not to say that the cheese is non-existent. It's there, slices of mozzarella layered under the sauce, sometimes bubbling through to be seen amidst the sea of red. Yes, the mozzarella, sliced deli thin instead of shredded, is a bit of a change-up from the traditional, but no matter: it works here in conjunction with the sweetness of the sauce and on top of the bready crust.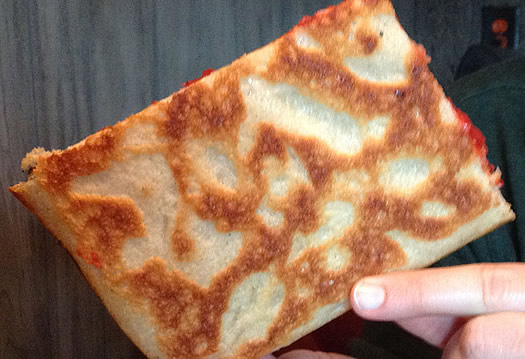 The COB's bottom crust is, unlike many tomato pies, not actually that thick -- just enough to provide that bready goodness, similar in both taste and texture to focaccia. It's also a bit crispy; a look at the bottom crust reveals a surface mottled with brown swirls, an indication of how the bottom is not completely flat; baked this way, the bottom allows for bites that alternate from chewy to crunchy. Meanwhile, the edge crust rides the ideal crest between pillowy and chewy. Compared to most other pizzas, the textural elements of the COB make it especially important for this pizza to be consumed hot out of the oven.
So maybe this is not just an endorsement for the COB Pizza, but also for eating it at Red Front. And as a skeptic of any pizza that strays from the classic New York style, I can heartily vouch that this is one mighty satisfying pie.
Jeff Janssens writes about food and beer at The Masticating Monkey.
More Eat This!
+ Spiced Potato with Hot Pepper and Special Pancakes at Northeast Dumplings House
+ Samosa Trio at Umana
+ Pho at Kim's Restaurant
Find It
Red Front Restaurant
71 Division St
Troy, NY 12180
Hi there. Comments have been closed for this item. Still have something to say? Contact us.