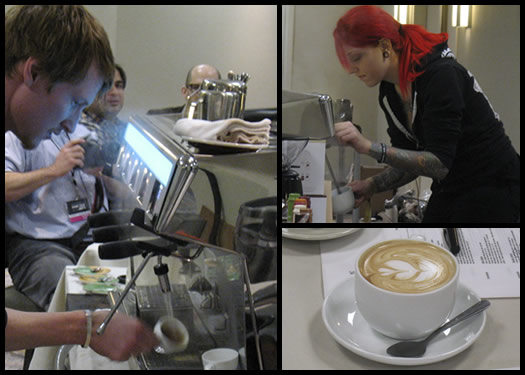 For the second year, a group of the Capital Region's top baristas vied to make the best coffee drinks this past weekend in the Barista Albany competition, part of the Wine & Dine for the Arts food and wine festival. This year's winner was Luen Proft from The Confectionery in Troy. Congrats to him.
But the competition not only crowned a winner that day, it also highlighted the coffee culture in the Capital Region, a culture that's evolving beyond just cream-or-sugar, those machines with the little plastic cups, and Starbucks.
So we figured it'd be interesting to bounce a few quick questions to each of the four competitors at this year's Baristas Albany competition -- about the state of the Capital Region coffee culture, what separates a great cup of coffee, and what you should try at their shops.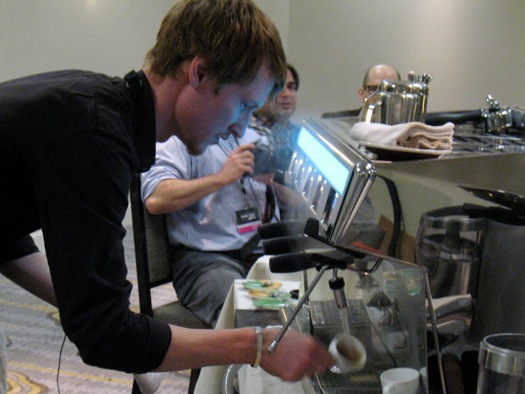 The Confectionery's Luen Proft
The competitors
Luen Proft - The Confectionery in Troy - winner
Heather Froeschle - Happy Cappuccino in Schenectady - runner up
Ron Grieco - Tierra Coffee Roasters in Albany
David Schulman - Hudson River Coffee House in Albany
We talked with each person separately after the competition. So even though the answers are all lined up by question, they weren't answered all in a group.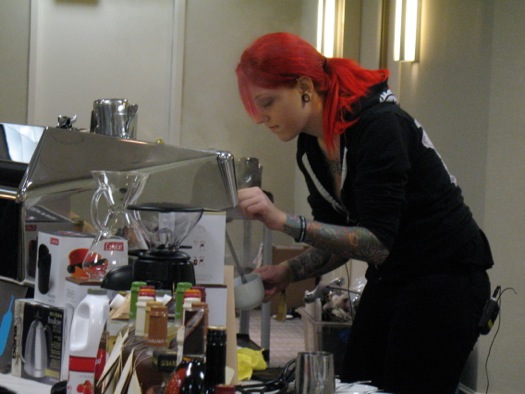 The Happy Cappuccino's Heather Froeschle
What's your take on the current state of the coffee culture in the Capital Region?
Proft: Coffee culture in the Capital Region right now is very exciting. There are so many new coffee shops that are up and coming, and are doing good things. And specifically, focusing on speciality coffee. That's why we're all here today at the barista competition. Specialty coffee is coffee to the next level of what they're doing at Starbucks and other big-time coffee shops. So it's taking note into what kind of beans you're using, why we're using them, the milk we're using, temperatures. Just having all the right things in effect to give coffee the same respect that we give wine today. Coffee in the US, right now, is where wine was in the US in the late 70s. Meaning that, in the 70s wine was just staring to be appreciated, it had terroir, it had single vineyard selections and winemaker production. Coffee has all those things, it's just not given that respect, yet. That will come in the next 10 years. It's a really exciting time to be in the coffee business and the industry as a whole.
Froeschle: I think things have definitely been changing a lot, for the better. Not a lot of people know about [the many aspects of] coffee and there's so many ways to brew it. And I think it's really coming around, more local coffee shops -- instead of Starbucks and Dunkin' Donuts. I think it's a really good change.
Grieco: It's growing. It's getting better. A couple of us started the Capital Region Coffee Collective as a way to continue to raise awareness of specialty coffee and as a way to get people interested and involved. Shops are starting to offer pour-overs. People are caring more about espresso. Things are just starting to happen, pushing us toward where big cities are already.
Schulman: As you saw today at the competition, there is great coffee, there's good people making that coffee. And as you see here, there are people who care about the good coffee being made. So, the coffee culture [here] is up and coming. ... After being involved with it for over a year, it's a really awesome sub culture. When you get to know it, you get in it. Because once your find that perfect espresso, and you find that perfect milk, the perfect way to froth it, the perfect way to present it and all it, you want to aim for that perfection every time. And going somewhere where they have an automated machine is not going to cut it anymore. So once you experience the real coffee culture fully, and you get the goodness that will come out of it, you don't want to go back where they don't have that.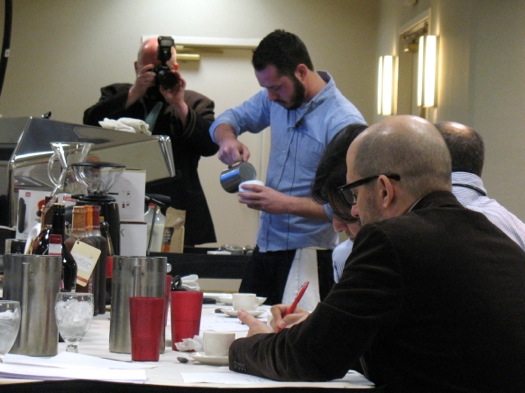 Tierra's Ron Grieco
What separates a just-OK cup of coffee from a really, really good cup of coffee?
Proft: If we go into specifics, a black cup of coffee is a whole different thing from a cappuccino. But for a cup of coffee, it starts with beans that are roasted to a medium profile. Or, as some roasters would say, the beans roasted in a way that you don't taste the roast, all you're tasting is the bean, the flavors the bean intrinsically has inside of it. Like the wine making process, you're trying to express what that grape or coffee cherry can do and will do. And that goes from the farmer growing it in the right conditions, the right soil, the right climate, all about terroir. All the way up to the roaster, giving that same respect. And then brewing it with all the specifics of using the right water temperature, the right brew method, the right ratios, and all these things that go into play -- and that us, as baristas and coffee lovers, geek out over every day at our jobs.
Froeschle: The bean. The temperature of the water. All that stuff factors into it. The person [who's making it], their imprint into it, how much they love it. Stuff like that.
Grieco: So much (laugh). Being brewed properly with care. Just the whole flavor. A really good cup of coffee is like a really wonderful experience rather than a caffeine delivery system.
Schulman: There are so many little variables to account for, everything from water temperature, to how long ago you ground those beans, how much have they aerated, is it an Arabica or Robusta. Everything is so temperamental based on the different type of roast or blend. Or even how fine your grind is, is it too coarse or too fine. Getting the perfect cup of coffee is basically what makes the coffee culture good because you have people striving for it. I don't think anyone has it ... but we're all striving for it. It's a continuous search. ... The fact that there is no perfection is what's going to keep it going. ... You can only attempt to achieve perfection, which will constantly make you better and make your product better. But no one will ever be perfect.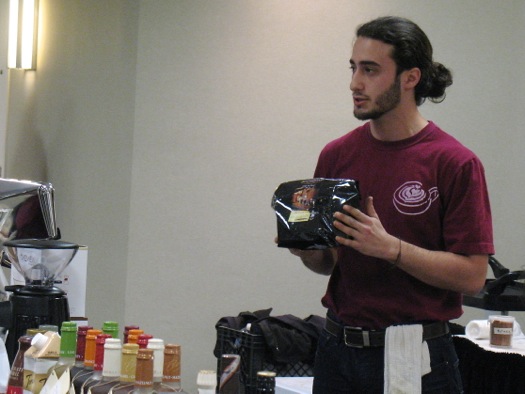 Hudson River's David Schulman
If people come into the shop, what's the one coffee drink they have to try?
Proft: Maybe now that I have some say behind all this as the Barista Albany champion, I hope to be incorporating my chocolate port cortado, which is my speciality drink today. That will hopefully be available on Saturdays when I'm behind the barista bar. Otherwise, the cappuccino is the kind of reigning glory of espresso drinks, combining the strong espresso with sweet milk and then a creamy, velvety head of froth milk, microfoam milk, on top. So the cappuccino is really what we strive for and what I train all the baristas to do the best out of anything.
Froeschle: For our shop we have a signature drink called the Happy Cappy. It's a white chocolate latte with caramel in it. And that's the most popular drink. Every time someone sees it, they say "I have to get that!" Other than that, I do a lot of cappuccinos in house, those are pretty popular. I really love frothing milk, so I love making a perfect cappuccino.
Grieco: A Chemex of a light-roast Honduran micro-lot. Chemex is new to this area, and it gives a flavor profile that's totally different. And all our micro-lots are from single farms. They were cupped in Honduras, they were picked out of like 150 coffees over three days of cupping. And they were the best coffees in Honduras, from a huge cooperative. We picked them based on their merits, not on their price. So to be able to get a really great coffee that's roasted in a way that brings out its best characteristics and the have it brewed by a professional through a Chemex, which really accentuates those flavors, it's like a really awesome experience.

Schulman: Everybody's different in terms of what their taste buds are acquired to and what they like. Of course, it's a beautiful thing every now and then when you have a customer come in and ask, "What should I get?" -- and they really mean it. I love when that happens. It happened just the other day, a girl came in and she wanted something. And I said, do you drink espresso, do you drink coffee? She mentioned that she did like coffee, but she always gets the same thing -- coffee with milk and sugar -- and she wanted to change it up. So I said, let me make you a latte my way. I made her a 12 oz latte, and I put a very small dash of apple and cinnamon syrup -- nothing overwhelming, just a little bit to hint with the taste buds. And she tried it, and she told me, "Wow this is like the best drink I've ever had." And that's rewarding to hear that, because in that moment, I didn't make the best drink ever. It was a good latte. But I sort of opened her eyes to the fact that, yeah, you can get this latte thing and it's got some milk in it, it's got some espresso -- which she'd never had before. And she really liked it. I think it's a slow awakening for people. Some people really do just want black coffee, or coffee with a dash of cream or sugar. But there are some many other ways to have it.
These interviews have been edited and condensed.
AOA was a media sponsor of the Barista Albany competition.
____
Update: If you're curious about this year's competition, John Sconzo -- Docsconz -- has shared his observations and thoughts from the judges' table.
____
Earlier on AOA:
+ On the job: My job as a barista
+ Capital Region Coffee Collective
+ Iced coffee at the Confectionery
+ Talking with David Schulman, winner of the 2013 Barista Albany competition
Hi there. Comments have been closed for this item. Still have something to say? Contact us.