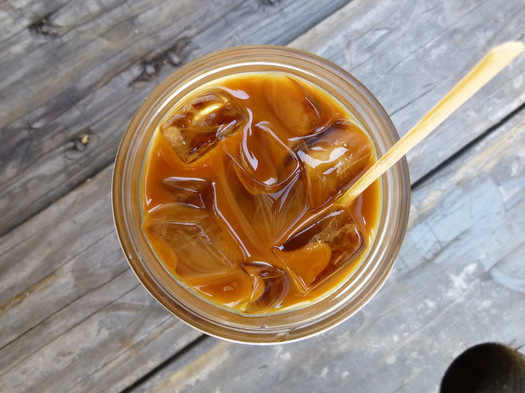 By Daniel B.
The emerging coffee culture in the Capital Region is probably invisible to most. And honestly, it may never grow much beyond the few outposts that currently dot the landscape. New hiqh-quality coffee shops are opening up, long established ones are improving their wares, and passionate baristas are honing their craft.
The espresso at Caffe Vero is old news. You should check out what's happening at Tierra, especially their brewed coffee that's prepared to order in the Chemex. And Uncommon Grounds has been seriously improving their coffee roasting.
But right now -- right now -- when it's hot and humid, hot coffee is the last thing on your mind. Iced coffee is the order of the day. One of the best versions available is from a place that many don't even consider to be a coffee shop. However the New Orleans-style iced coffee at the Lucas Confectionery offers not only a reprieve from the heat, but it is also a blessed relief from all of the terrible iced coffee everywhere.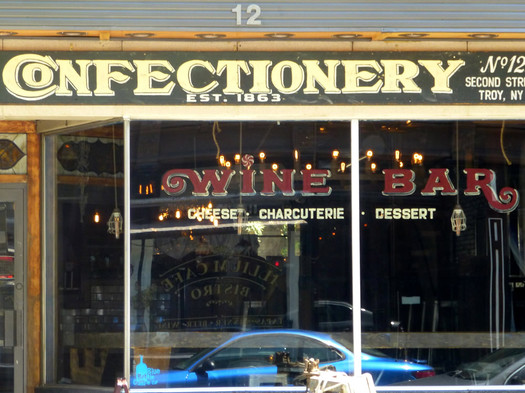 The front windows that overlook 2nd Street in Troy proclaim that the Lucas Confectionery is actually a wine bar that serves cheese, charcuterie and dessert. It's no wonder that there are some people who don't know they have some of the region's best coffee.
If you look really close in the lower corner of the same window, you may happen to spy the logo for Blue Bottle Coffee Co. But unless you have spent a lot of time in the San Francisco Bay Area, or delved deep into the coffee culture of Brooklyn, you may not know exactly how exciting this is. My first experience with their coffee several years ago was transcendent.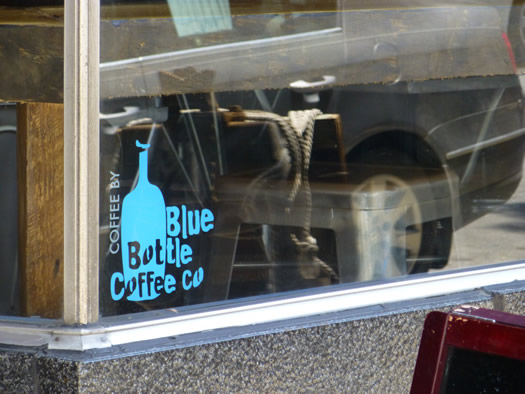 So the Confectionery uses Blue Bottle beans. The Brooklyn extension of this Bay Area roaster came up to Troy and was excited about training the Confectionery staff on the shop's restored antique espresso machine. And it's true, it can make some killer espresso. However, there isn't a dedicated barista responsible for its operation, so the quality of execution can vary.
The same cannot be said for the Confectionery's iced coffee since the Blue Bottle New Orleans-style iced coffee is made in large batches. And as opposed to pulling a great shot of espresso, making cold brewed iced coffee is really easy to do. Freshly ground coffee beans are combined with roasted chicory. Cold water is poured over the coffee, stirred, and steeped for eight to twelve hours at room temperature. At the end of this time, after being strained and filtered, what remains is a cold brewed coffee concentrate.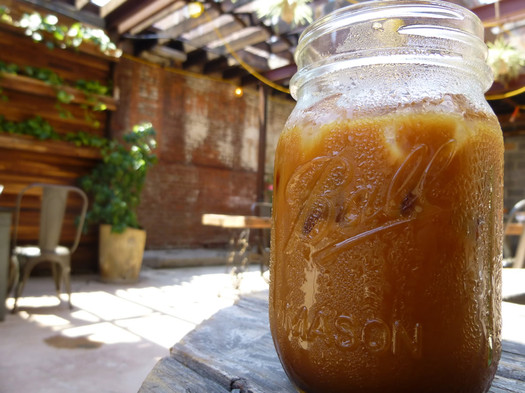 At the Confectionery they take some of this cold-brewed concentrate, pour it into a mason glass full of ice, and add a touch of simple syrup and just a bit of milk to lighten the coffee a couple of shades.
Coffee with chicory didn't start out as a New Orleans specialty, it began with the French back when coffee was scarce. This roasted root of a plant related to endive was a cheap way to extend the coffee, but also made it more enjoyable to drink. The custom came to New Orleans by way of the Acadians, and now it is an inextricable part of Cafe Du Monde, whose coffee with chicory is famous around the world. The Blue Bottle New Orleans-style iced coffee is a colder, better version of this classic.
And at the Confectionery, it's fantastic. There is no bitterness, and just a bit of lemony tartness. But most of all, it's full of rich roasted flavors that persist into a long and delightfully lingering finish. Three dollars is a more than fair price for this rejuvenating hot weather treat.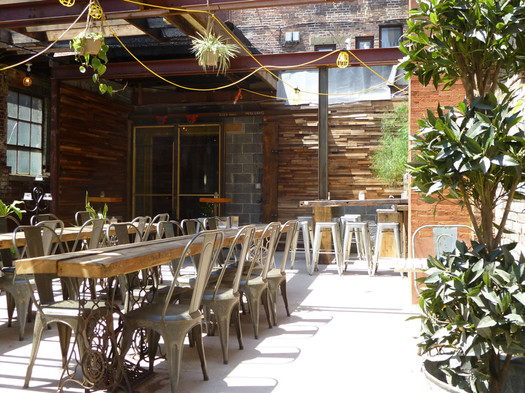 I can't think of a better way* to enjoy their new back patio and beat the heat. Especially on a Saturday or Sunday when they open at noon and you can have the place all to yourself. But every other day you will have to hold out until four o'clock for your iced coffee fix. Hopefully down the road, Vic and Heather will decide to expand their hours so people can get this great pick-me-up earlier during the week as well.
But four o'clock is when the afternoon doldrums set in anyhow. So you can head over with your laptop, connect to the wi-fi, and be so much happier than you would be at Panera. Just be careful, because once you have good cold brewed iced coffee, you may never be able to go back to the other stuff ever again.
____
* A pitcher of their sangria is awfully tempting, but not if you have to drive home.
Daniel B. is the proprietor of the FUSSYlittleBLOG.
Earlier on AOA:
+ Talking with David Schulman, winner of the Barista Albany competition
+ The Confectionery
+ Eat this: The macchiato at Caffé Vero
Hi there. Comments have been closed for this item. Still have something to say? Contact us.