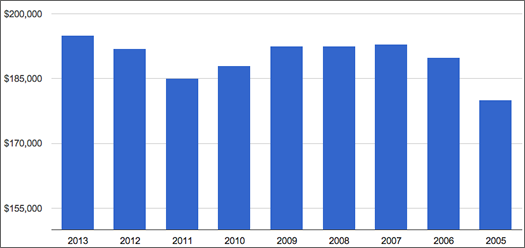 The Capital Region housing market approached its pre-recession level in 2013, according to data out today from the Greater Capital Association of Realtors.
The median price for homes sold in the Capital Region was $195,000 in 2013, up more than 1.5 percent compared to the year before according to GCAR's numbers. And it's the first time the median sale price has risen above the pre-recession crest of $193,000 in 2007.*
The local market also posted 9221 closed sales in 2013, up almost 12 percent from the total in 2012. GCAR says 2013's total was the highest since 2007.
Another sign of a rising tide in the housing market: The average number of days it took to sell a house was 90 in 2013, the lowest number since 2008, according to GCAR. (That figure was 98 days in 2012, and 102 in 2011.)
(* That's not accounting for inflation. Depending on how you account for inflation, the price would have had to be around $216,000 to equal the 2007 mark.)
A more detailed look at the numbers is after the jump.

Numbers are in large-format charts and graphs above -- click or scroll all the way up.