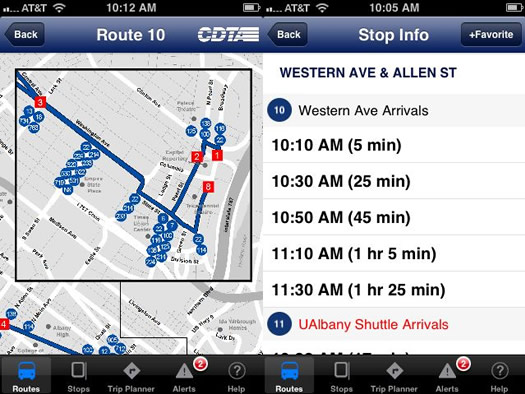 There's a new CDTA "iRide" mobile app out this week. And after playing around with it for a day or so, we like it better than the old one.
CDTA blurbage on what the new app includes:
The new iRide application offers intuitive searches by route, specific bus stops or Capital Region landmarks. Schedule maps have been updated and turn by turn directions are now included. The iRide app is GPS-enabled and offers the nearest stops by proximity to the actual location.
The new version is currently available for iOS. CDTA says an Android version is scheduled for March.
In our experience the functions we need most from a bus system app are pretty simple: what's the route map, and when's the next bus arriving? And the new app so far feels like an upgrade -- both functions are easy to find and use. The "stop info" screens -- offering the next scheduled arrival times for a stop -- are straightforward and simple (a good thing).
One thing we'd still like to see improved: Better indications about which stops are for which directions on a route. Listing two stops by the same name -- because they're right across the street from each other -- is something less than helpful because you have to figure out which side of the street, and thus which direction, is which. Maybe it's something for the next version.
As we've said before, we suspect there are a fair of number of people who might actually like riding the bus -- they just don't know it, yet. And that's understandable. If you don't ride the bus regularly, switching over is a change in routine and takes a bit of effort. We've found that using a mobile app helps in this regard. So if you've been thinking about giving the bus a shot, the app is a good place to start.
By the way: CDTA says this app is part of its longer term plan to eventually allow riders to pay fares with smartcards or smartphones.
Hi there. Comments have been closed for this item. Still have something to say? Contact us.