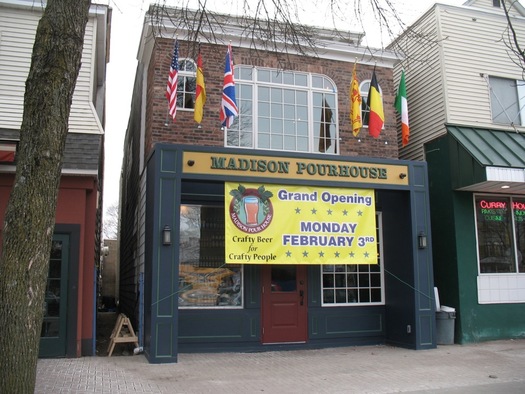 The new Madison Pour House opened this week after a long renovation of its space in the commercial strip where Madison Ave and Western Ave converge in uptown Albany. The craft beer bar is offering a rotating selection of 40 beers on tap, along with two casks and a selection of 60 bottles it's aiming to grow to 100, and a handful of pub snacks.
As many of you know, the Pour House is in the spot formerly occupied by the Albany location of Mahar's, a longtime favorite of beer enthusiasts, known for some of its idiosyncratic ways. When word spread early last year that the building had been sold to a group already operating three other restaurants on the block, and that Mahar's would be closing, it ruffled a few feathers. Mahar's had some passionate fans.
So we stopped into the Madison Pour House this week to get a look at the rebuilt space, and talk for a few minutes with one of the owners about their plans for the new place, and winning over fans of the former spot.
Brian Viglucci is one of the owners of the BM&T Management Group, which owns the Madison Pour House, as well as Cafe Madison, The Point, and Junior's. All four establishments are on the same strip on Madison Ave.
____
What's the idea you were working with here, what were you trying to build in the new place?
Obviously, the place before, Mahar's, had a great reputation and we're trying to develop our own reputation as a far as a craft beer bar. We're trying to build up our own style, behind serving people. You know, a big part of us is the design of the place, the layout of the place. We've built something that we hopefully will enjoy, hopefully that our staff will put the heart in the place, but the big thing is the customers that come in, they will create the personality of the place.
So, what the Pour House is now, probably over the next month to two months to six months to two years, you'll see changes that we get through our customers giving us ideas, our customers saying we miss this or we like this or we've seen this somewhere else. And just learning stuff as far as making it more efficient.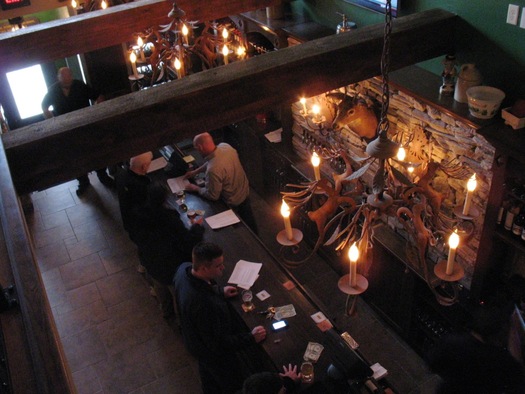 Mahar's had a lot of fans, and it was a very distinct place. It had its own way of doing things. And there were some people who were a little upset or miffed about the way everything went down there at the end with Mahar's. So how do you plan to win those people over?
I met a couple of them last night [at the grand opening]. We've met several of them over the last year and a couple months. We're not going to be Mahar's. We are going to offer great beer, which Mahar's did.
I met a guy last night who came in and he was a Mahar's follower, and he said, "I can't get a beer" -- last night was very busy -- "there's no service pick up area." He goes, "That was the one good thing that Mahar's had." So, I said, that's an excellent idea. I'm here, I'm trying to watch people get to the bar, and it was difficult to get to the bar. So I sat down with him, I talked to him for probably 15-20 minutes, met with [Dan Savage], our general manager, have a call into our designer to try to figure out how to create a service spot at the bar, make it easier for people to walk up and grab a drink. So I thought that was a great idea.
We're just going to try to be who we are and do we what we do well. A lot of people take criticism and don't listen to it, or get defensive about it, but that's not us. At the end of the day, if they want to give us a chance, fantastic. But at the end of the day, if they're not going to give us that chance, then there's not much I can do about it.
Do you think that's a big issue, that a lot of people are going to hold that against you? Because, fairly or not, there were some people who felt that you bumped Mahar's out of their spot.
[A few bits of background: At the time of the sale around the beginning of 2013 Mahar's owner Jim Mahar told the Times Union that he felt "a little betrayed and kind of shellshocked" by how the previous property owner handled the sale of the building, a point Mahar echoed when AOA contacted him about it at the time.]
That's the story that was in the paper and stuff, and I'm sure that's the story that certain people will tell.
We were brought the opportunity to buy Mahar's [the building, not the business itself] [by] the grandson, who took over the property once I think it was his grandmother passed away. We said we love Mahar's, we love the concept of Mahar's, we think it's a good fit for the block, go offer them first. If you can't come up with a deal, come back to us.
Probably a month later, six weeks later, he came back and said he couldn't put a deal together with them. So he said, "Do you guys want to buy it? Or we're going to put it on the market."
Well, obviously, we like the neighborhood, we have quite an investment in the neighborhood, and we wanted to make sure if somebody did buy that property, that it would be something that fit into the neighborhood, and we liked the idea. A lot of the staff, as well as lot of the customers were coming down to us, saying the handwriting is on the wall, they're not getting any more drafts, the business is going down, the place is falling apart, they're going to be around for a couple weeks more or whatever it was. So that was hearsay that we heard. So at that point we decided we wanted to buy the property. The guy told us a number, we agreed to it, and we bought it. That's the truth, that's our side of it.
Once we bought the building for that price, we couldn't rent it to him at a number that he would afford to pay. And the building was falling apart. It was literally falling in, the floor was falling in, there was rot in the basement, the plumbing was not great, there were electrical wires sticking out of the wall, the upstairs apartment the roof was caving in. So we basically had to demo the whole place.
And me and Mahar have talked, too. We've emailed. We've talked. In the emails I have from him, he doesn't seem like he's all too upset about it. In the emails I said to him, this is what's going on, we were presented an opportunity to buy the place, we were told that you had an opportunity and refused, when would you like to move out? He gave a date he'd like to move out. We didn't charge him rent the last few months so he could save up money. So, you know, we did our best to make it work.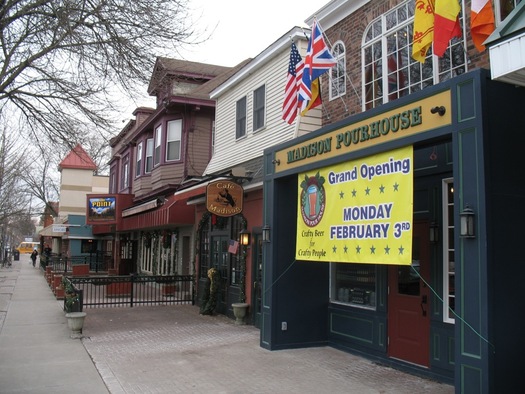 Your company has invested a lot of money in this block, now with four places [Junior's, The Point, Cafe Madison, Pour House]. When you looked at this spot, what was it about this spot that made you confident about investing -- and continuing to build?
We like the block. We like the neighborhood. We all grew up in this neighborhood. It's a walking neighborhood.
I think with the addition of The Point we were really able to get people from other areas to start coming to this block. You know, where Junior's is more people who live within a mile radius, The Point brought people from Guilderland, Voorheesville, more of the five-to-ten mile radius. People saw this area as a nice place to go out at nighttime, to maybe to go between the Point and Junior's. There's probably a percentage who will go to both places. We figured if we could add another place where maybe people at the Pour House would go to The Point, but maybe not to Junior's. Or people at Junior's would go to the Pour House. And maybe create a destination where people would hang out for a Friday night or a Monday night, maybe. Or we throw bridal showers during the day at The Point, well, the husbands and future husbands go over to Junior's and watch the game during the bridal shower. So it kind of creates a little entertainment district in the heart of Albany.
In 2000, when you started Junior's, could you imagine that this strip would turn into what it is today?
No. Probably not. It's funny, though, I did have a Saint Rose business plan [from college], which mapped out my three-year, five-year plan. And it was always to grow in the restaurant business. It showed where I would be after three or five years with Tony [Lounello] and Mike [Viglucci]. Where we are now is very similar to where I wanted to be, but I had no idea it would be all in one area. So I thought it was pretty funny to read the business plan.
This interview has been edited and condensed.
Find It
The Madison Pour House
1110 Madison Ave
Albany, NY 12208
Hi there. Comments have been closed for this item. Still have something to say? Contact us.