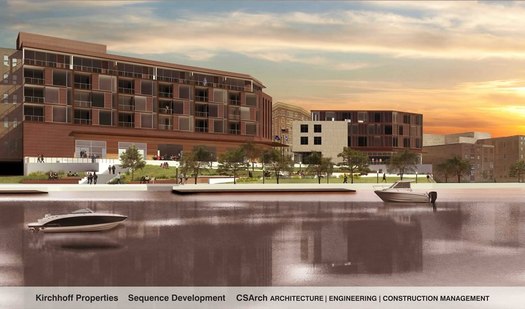 By Duncan Crary
Earlier this month the city of Troy announced that it had selected a redevelopment plan for the vacant Monument Square lot, the site of the former city hall. It's a prime piece of land offering a lot of possibilities. But Duncan Crary -- a Troy resident and urban design observer -- argues the current proposal could be a lot better.
Most developers can only dream of having the chance to shape a site like One Monument Square. The team chosen for this endeavor has the potential to create an enduring expression of our generation's best values and optimism, at the heart of our city. This is a legacy building commission, here.
So why, then, is this crew proposing to cram the worst architectural elements of the worst structures around into a couple of soulless boxes in the dead center of our charming 19th century downtown?
It seems completely at odds with what's happening here in Troy, and what's really behind the renaissance in this place "Where the Finest Antiques Can't Be Bought," and where "A wave of renovation is... (opening) ... the way for new urban economy and culture."
People actually travel here to admire our wealth of historic architecture and experience how it relates to the streets and blocks. Some stay, and become the characters who enliven this place.
But they don't come for the modern abominations in our built environment. They don't come to fawn over the Bell Atlantic switch building with its blank fortified walls, or the Troy Medical Plaza sheathed in black reflective glass.
I just don't get why anyone would want to replicate those loathsome styles at the focal point of our city, where beautiful architecture is our greatest asset.
Good urbanism isn't enough
It's evident in the released project renderings that the principles of the New Urbanism -- i.e., good urban design -- are present.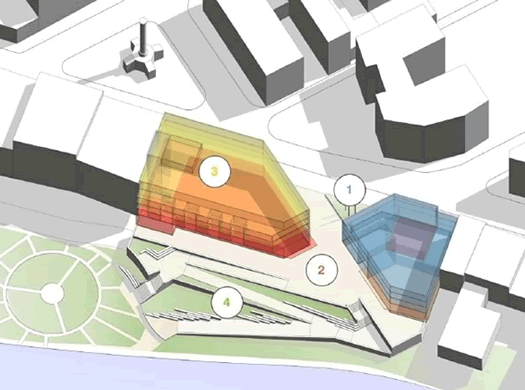 Both proposed buildings -- Monument North and Monument South -- relate well to the street, and conform to the "build-to" lines and heights of neighboring structures. They respect the various sight lines and terminating vistas deliberately created by the "pattern language" that exists. They are to include street-level retail and some mixture of living/office space in the upper floors. Parking accommodations for up to 175 vehicles are located in the rear, unobtrusively.
That's all good! But all of these thoughtful design components were required in the city's "Request for Qualifications with Proposal." And they were laid out in detail in a 2010 Troy City Hall Redevelopment Plan.
What that shows me is that the city of Troy can actually get from new developers the respectful urban design it deserves. Clearly, this team followed the instructions given to them. So maybe it's time we create some architectural design standards for them to follow, too. Because good urban design alone is not enough for this site. We also need buildings that are worthy of this location and worthy of our affection.
Setting the tone, architecturally
We are going to have to look at, live with, and engage these buildings for the rest of our lives. Do you want to do that with the abstractions proposed here? Do you want visitors looking at these structures while they're still forming their first impression of this place?
What gets built on this site will set the tone for how we infill other parts our city for decades to come. Do you want to see more of this stuff elsewhere in town? I don't. And I'm not alone in that sentiment.
Now, I have been told -- by our planning officials and by one of the developers -- that these are only conceptual renderings. That a lengthy review process with public input awaits. Well I've seen buildings that look exactly like these get built after a lengthy review process. But OK. Then what "concepts" are we starting with?
Look both ways before you build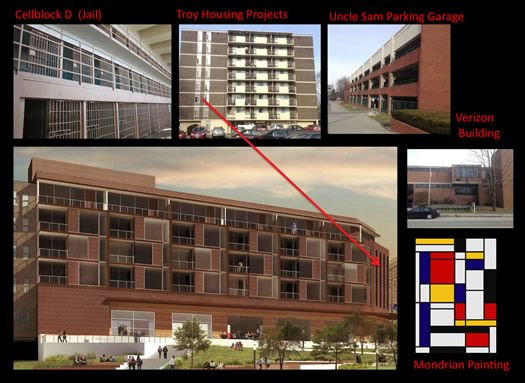 Monument North is designed to be a three-sided building that will face River Street, First Street and the Hudson. We have seen no renderings showing the building face that will greet Monument Square, which is a grand "outdoor public room" formed by a graceful ensemble of buildings. We have only a peek at the First Street face. And then there's the side facing the river.
I asked James Howard Kunstler (author of The Geography of Nowhere, and The City in Mind) for his thoughts on the western front:
"The windows look like Mondrian paintings of mere geometrical re-arrangements of orthogonal shapes. They're boring. They're monotonous... mechanical and industrial," he said. "They literally look like the balconies of the classic prison cell blocks.... The iron grillwork looks like it came out of Riot in Cellblock D. There is zero ornament. This is not good enough."
I agree. These buildings show little generosity to the people who will experience them from below. Instead, the emphasis is on the private viewshed, looking out. There is no artistry. These architectural UFOs have no stylistic references to the context and heritage of the location where they'll land (and never fly away).
Now look at the great balconies and verandas of New Orleans' French Quarter! Those are worth looking up to. We should not try to replicate them here. But we should consider their concept and delivery -- how they function in their climate, how they foster a rewarding two-way interaction with the street, how they use ironwork and ornamentation. (Troy has a heritage of ornate ironwork, by the way.)
Fill in the blanks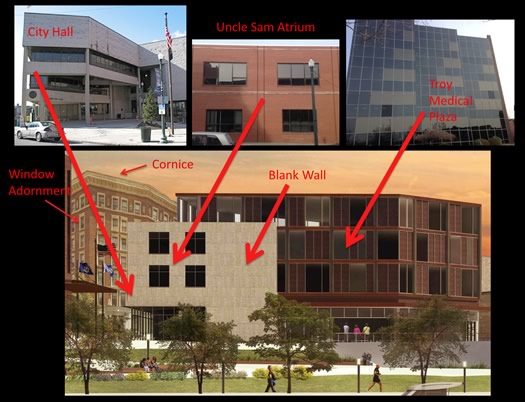 I can only hope the other building, Monument South, as shown is an incomplete "placeholder" in these renderings. Its main portion is just a blank wall of glass (will it be tinted?), interrupted randomly by what almost looks likes bricked-over windows. The front portion looks like they forgot to erase the entrance to Troy's former city hall, that brute we vanquished years ago.
Neither structure has any transition where the top of the building meets the sky. Yet, every other building within one block has some type of ornament to celebrate its "capitol" -- cornices, mansard roofs, balustrades... on other blocks: spires, clock towers and domes, etc.
"He's got... lifeless eyes, black eyes."
The windows on both proposed structures are unadorned holes in the walls, while the windows of every neighboring building are framed by lintels or other embellishing devices. These are the "eyes" of the buildings that reflect our human form. Human eyes have lids and lashes. What primal response does the unflinching gaze of a shark evoke in humans? How does it feel to stare into those lifeless, black, unframed holes? Is that the reaction we want to elicit here?
The presumption of traditionalism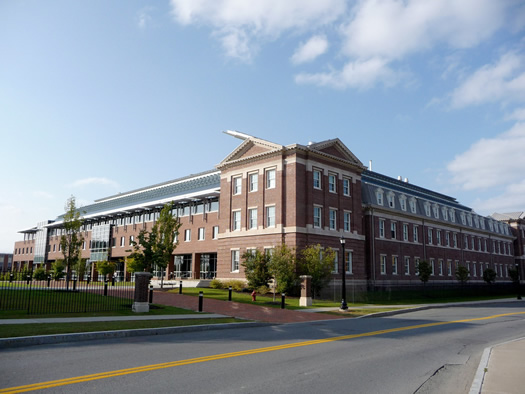 The Rensselaer Center for Biotechnology and Interdisciplinary Studies. photo: Matt Wade (cc)
These discussions often devolve into arguments about how we cannot reproduce traditional architecture today without "Disneyfied" results. That simply isn't the case. Here in Troy, Joseph's House (streetview) deploys a traditional architectural style that tastefully blends almost seamlessly in its context. The 15th Street side of the new Rensselaer Center for Biotechnology and Interdisciplinary Studies is even better, and looks like it's always been there. To the contrary, it is our modern-style buildings in Troy that look like cartoons!
Architecture in a historic district should begin with the "presumption of traditionalism" because traditional architecture uses time-tested and proven elements. That does not mean we have to mimic our older, beloved buildings in Troy -- in style, or materials -- but our architects should be taking inspiration from them. The designers of the previously accepted Monument Square proposal left a few things wanting in style, but it was apparent they were paying attention to these issues.
Beware of greenwashing
Probably the most exciting aspect of this new proposal is its programming, and its promise of providing a permanent, year-round home for our once-per-week Troy Waterfront Farmers' Market. And it's hard not to get carried away imagining a miniature Faneuil Hall or Pike Place Market scene happening right here in the Collar City.
I would love to see that happen. But there's still a good chance it may not, for a bajillion financial and practical reasons. And I don't want the farmers' market idea to "greenwash" our attention away from where the real "magic" has to occur: the physical structures. Do these renderings look anything like the buildings that house those magnificent public markets in Boston or Seattle?
Back to the drawing board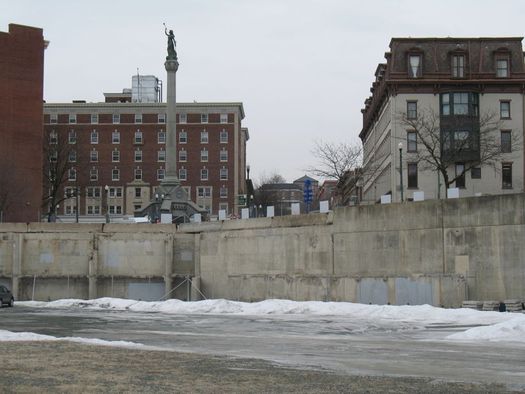 It's time for this development team to go back to the drawing board. I'd like to see them out with sketchpads taking note of the architectural elements they appreciate in this neighborhood. I'd like to see them interacting with the passionate and intelligent people who live in this place. Ask us why we choose to be here. Ask us about specific buildings -- why we love them, what we don't like about them, what elements and concepts we want to see expressed in new buildings.
I happen to think the columns of cargo doors on the adjacent buildings along River Street have an interesting visual motif that could be carried over to this project, perhaps on the river-facing side. And though nothing from the Rice Building could ever be repeated, these new buildings could do more than just reflect its image in their glass walls -- they could subtly echo, in their own design, the shapes and forms found in that neo-Romanesque masterpiece. A grand window, in the style of the one that graces the Rensselaer County Chamber of Commerce building, might be fitting for the First Street face of this new building. And so on.
It is an honor to be chosen to develop this site. This team has a once-in-a-lifetime opportunity to create an exuberant centerpiece for our city. To send the world the message that Troy is, was, and will be a place of greatness. Let's see something worthy of that in the next round.
Otherwise, we may have a Riot in Cellblock D! on our hands.
Duncan Crary is an author and podcaster who lives, works and plays in downtown Troy, New York. The Wall Street Journal recently described him as a "Troy tub-thumper."
architectural renderings: Kirchhoff Properties, Sequence Development, CSArch
Hi there. Comments have been closed for this item. Still have something to say? Contact us.