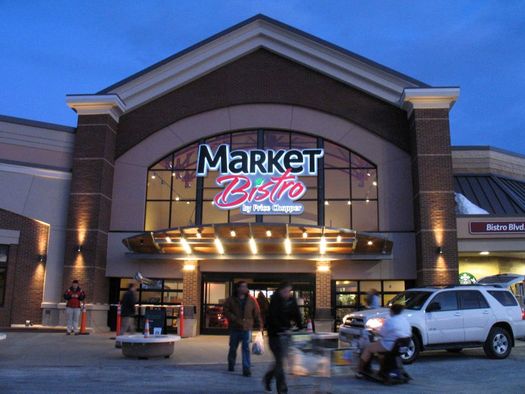 The new Price Chopper Market Bistro -- the company's long-planned concept store in Latham -- is just about ready for its grand opening. But you can check out much of what's new right now, as we did this week when we got a tour.
There's been a lot of change in the Capital Region supermarket scene over the last few years -- a lot of new stores, new competitors, new upgrades. But it's not a stretch to say that there is nothing else like Market Bistro in this area.
Here's a quick photo tour and a few bits.

There are a bunch of large-format photos above -- click or scroll all the way up.
Price Chopper execs say the Market Bistro store has been four years in the planning, and the hope is to use it as a platform for testing new ideas. Or as Jerry Golub -- the CEO of Price Chopper's parent company -- said ahead of the tour: "This is a living, breathing laboratory for us."
The food court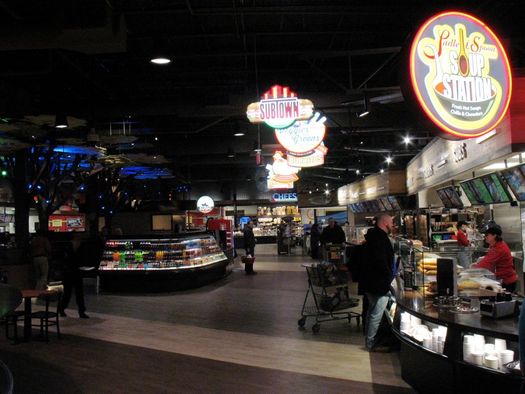 The thing that sets Market Bistro apart from other supermarkets in the area -- even the big, new stores -- is a large food court near the entrance, lined with counters offering everything from ice cream, to smoked meats, to seafood, to Italian deli items, to pizza. Price Chopper has obviously put a lot of effort into the design and look of the food court, and execs said they took inspiration from iconic spaces around the country such as the Pike Place Market in Seattle.
"Quite frankly, I don't care how about we compare to other supermarkets," said Lewis Shaye, a VP of "culinary concepts," as he led the tour through the food court. "We're competing against restaurants."
Based on the tour and hearing the Price Chopper execs talk about their ambitions for the space, we get the sense they're aiming for a target somewhere in the Panera or Chipotle range. That is, the aim is to have food that's better than typical fast food or supermarket prepared food -- but faster, more convenient, and maybe a bit cheaper than a regular sit-down restaurant. (Though Market Bistro also has a full-service restaurant that's not yet open.)
Toward that end of delivering a higher quality experience, Shaye said they've been focusing on details to elevate the food. A few of them: chilled plates at the salad counter, fish that's breaded at the time it's ordered, house-smoked bacon, a lobster roll made from the meat of two 1-pound lobsters (for $16.59). "We really wanted to have items that people could remark about [to other people]," Shaye explained.
Jerry Golub, the CEO, told us after the tour that the development of the store was "about improving our customer experience and challenging ourselves way beyond anything we've ever done ... I think everyone in our organization is excited and proud of what we've been able to accomplish here."
The groceries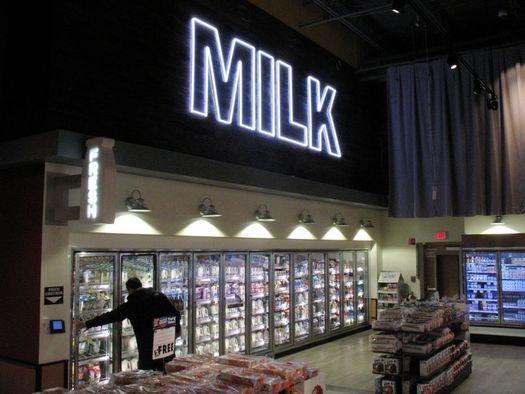 The rest of the store -- you know, where you pick up milk or cereal or whatever -- is pretty much like any large, upscale modern supermarket. But it feels nicer than other supermarkets in this area. The signage is big and engaging. The aisles don't feel cramped. Even the lighting -- more focused and dramatic than a typical store -- is good.
If you're a Price Chopper fan, the place will probably seem like a palace. But the grocery section is still pretty much just a supermarket (though a really nice one). And if you're not a regular Chopper shopper, it might not light you up enough to make the switch. If you're interested in supermarkets, though, it's definitely worth a stop sometime just to gawk at it.
(And as an aside: There's nothing wrong with being "just a supermarket." If you dropped someone from 30 years ago into today, they'd probably be amazed at the "grocery stores" we have now. And someone from a century ago? A modern supermarket would feel like some something fantastical and mythical. We live in a time of incredible abundance and choice -- it's easy to forget that sometimes when we're grumbling because the store we're in doesn't carry exactly the kind of thing we want.)
The crowded market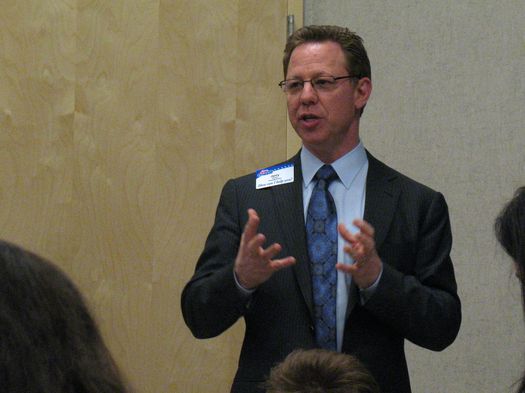 Jerry Golub
For years the Capital Region's supermarket scene was pretty staid. There weren't a lot of competitors, and the choices available probably reflected the uncrowded field. But the last few years have seen a surge of new competitors locally: Fresh Market, ShopRite, Trader Joe's, Healthy Living Market, an upgraded Honest Weight, and soon, Whole Foods. There are a lot of choices now.
The supermarket business is a famously competitive business, with very small margins. But Jerry Golub put a positive spin on the increasingly crowded local field: "I think it's a testament to the fact that the Capital District is going through a revival. The technology sector is growing, there are jobs being created, and as a result more and more retailers are seeing this as a really viable place to do business. So the fact that everyone's coming in here is a reflection of the kind of energy and the revitalization that's going on in the Capital Region. So, as a hometown company, for me as a hometown person, I think it's fantastic."
Hi there. Comments have been closed for this item. Still have something to say? Contact us.