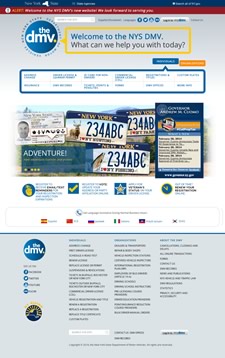 The Cuomo admin rolled out a new website for the state DMV today.
It's a lot nicer than the old website. And it continually offers prompts to help people do tasks online rather being required to show up at an actual DMV office (a good thing). And if you must go to an office, you can now make a reservation. It's also maybe the first government website we've encountered that extensively uses footnotes. (It's like reading Grantland or David Foster Wallace or something.)
But. The new DMV website still fails our (somewhat arbitrary, perhaps unreasonable) one-item test for DMV website quality. Because, as far we can tell after poking around the site this afternoon, it still doesn't include a page clearly marked as "How to replace a license plate" with clear instructions on, you know, how to replace a license plate. The closest it gets is this "Lost or stolen plates" page, which is only one part of the overall topic. (The actual instructions can more or less be found via this "Replace a registration" page -- but if you didn't know to look there, you might not find them.)
Yeah, OK, this is being a bit cranky. But we found this task to be so unexpectedly unexplicit last year when trying to replace a plate that had been shredded in a fender bender, that it prompted us to write up the instructions here on AOA for other plate-replacing people who also couldn't find the instructions. (By the way: That page has been visited more than 10,000 times over the past year, pretty much all through search -- so apparently other people have had this issue, too.)
Is this a big thing? Maybe not. But it just seems like one of those things the DMV's website should include.
All that said, the new site does look a lot better.