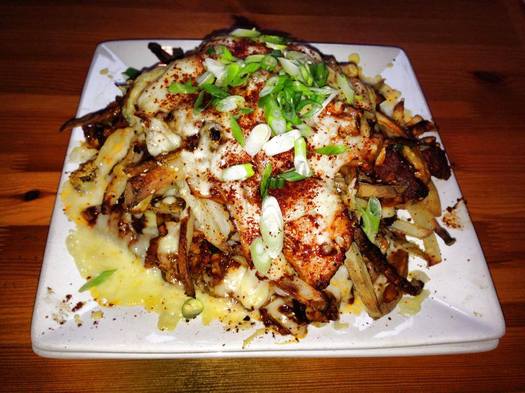 Update: And here they are, kimchi fries from Mingle, via the restaurant's FB page. That's a photo above. (Thanks, Jerry!)
____
The Chopsticks Optional crew tweeted this afternoon:
I saw a picture of kimchi fries and that's all I want to try now. Can a 518 eatery make that happen ASAP?!
Potato fries topped with kimchi, pork belly, melted jack and cheddar, and sour cream and onions...*drools*
This seemed like an idea whose time has come -- and it should arrive here. Jerry talked with the people at Mingle in Albany -- and it sounds like it's on. Let us offer our strong encouragement. (Hey, sometimes these sorts of requests turn out really well.)
And if you know of where these already exist, locally, please share.
By the way: Chi'lantro, a Mexican-Korean fusion food truck in Austin, claims to be the originator of kimchi fries.
By the way x2: We're generally in favor of all sorts of things being piled on fries with cheese.
Mingle advertises on AOA.
Hi there. Comments have been closed for this item. Still have something to say? Contact us.