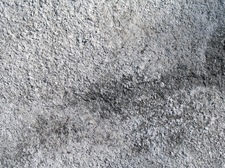 Geological/road deicing facts of the day: New York State, the nation's third-leading producer of salt, has the deepest salt mine in the Western Hemisphere. From a 2009 article in the DEC's Conservationist:
In New York, salt (a.k.a. the mineral halite) occurs in formations deep underground. These formations are remnants of a vast sea that covered what is today's western and central New York during the Silurian period, some 400 million years ago. Over time, the water dried, leaving behind thick salt deposits. Today, more than 10,000 square miles (about 3.9 trillion metric tons) of salt lie under New York at depths ranging from 500 feet near Syracuse to 4,000 feet near the Pennsylvania/New York border. With salt deposits so deep and expansive, collecting it can be a challenge. ...
Since the early 1900s, conventional hard rock salt mining is the primary process used for mining salt for deicing and snow removal. Employing the "room-and-pillar" method during mining, solid salt pillars are carved in the underground cavern to provide roof support and the walls of salt are excavated through the use of small, controlled blasts. Front-end loaders scoop the pile of fallen salt, which is then processed in a crusher to make the salt uniform. Next, the salt is hoisted to the surface and taken away by trucks and trains.
In New York there are two active conventional salt mines-Cargill's Cayuga Mine in Tompkins County, and American Rock Salt's Hampton Corners Mine in Livingston County. The Cayuga mine is a large operation that encompasses approximately 18,000 acres under portions of Cayuga Lake and adjacent lands. In addition, the mine is 2,300 feet deep, making it the deepest salt mine in the western hemisphere.
That American Rock Salt mine, near Rochester, is said to be the largest salt mine in the United States. As you might imagine, they've been rather busy this winter. [AP/Syracuse.com]
Also: We're not sure this quite lives up to its billing as "The Surprising History of Road Salt," but this recent NatGeo article does include some interesting bits.
Earlier on AOA: And the roads will run with beet juice
Hi there. Comments have been closed for this item. Still have something to say? Contact us.