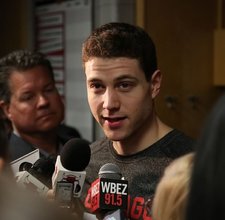 It was just three years ago that the college basketball world -- well, parts of it, at least -- were gripped with Jimmer Mania. The favorite son of Glens Falls, a local folk hero, was lighting up BYU opponents for to the tune of 28.5 points per game -- and doing so with style. It was a lot of fun.
Then Fredette got drafted by the Sacramento Kings with the 10th pick in the NBA draft. What followed wasn't fun. Jimmer struggled at first in the NBA and he languished on the bench. And even more recently, when he hasn't even been bad, he was still riding the pine. The Free Jimmer movement simmered.
And now he has a new chance. Sacramento bought out Fredette's contract last week, and the Chicago Bulls picked him up. Jimmer made his debut for the Bulls last night (three minutes of garbage time).
This could be a good thing. Sacramento is, um, not a model organization. But Chicago has its act together, with an excellent coach who has a rep for making the most of previously overlooked players. And, really, Jimmer's not bad! He's shooting almost 50 percent from three-point range this season (really). And his PER -- an incredibly geeky statistical measurement of player performance -- is totally respectable. Heck, when he played 27 minutes against the Knicks in February -- the most minutes he's played all season -- he put up 24 points on 6-8 shooting from three. (OK, it was against the Knicks, but still.)
Jimmer's probably never going to be a big star in the NBA. But a guy who eventually plays 15 minutes every night and averages 8-10 points a game? Sure, why not. Maybe he'll get his chance now.
Earlier on AOA: 28.5 facts about Jimmer Fredette
photo: Chicago Bulls Instagram
Hi there. Comments have been closed for this item. Still have something to say? Contact us.