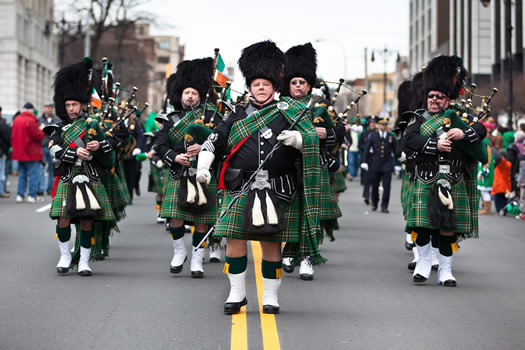 St. Patrick's Day is a big holiday in the Capital Region -- and with it being on a Monday this year, there will be various celebrations and events starting this weekend and continuing into that Monday.
So, here are a bunch of local ways to celebrate the holiday over the next week. From the parades, to food and drink, to music for the time of year where everyone is Irish, if only for a day.
And remember: It's St. Paddy's Day, not St. Patty's...

Parades
Albany St. Patrick's Day Parade
Saturday, March 15
The 64th annual Albany St. Patrick's Day Parade starts at 2 pm from the corner of Quail St and Central Ave, heads down to Washington Ave on to State St to Pearl Street. Bands, pipes, drums, and lots of green.
The North Albany St. Patrick's Day Parade
Saturday, March 15
A long-running neighborhood tradition that has ardent fans -- including some who contend it's the better of the two parades. It starts at noon, so there's time to make it downtown for the larger city parade. The parade route starts at the North Albany American Legion Post #1610 (map) and then travels south on Pearl, east on Emmett, north on Broadway, and then south again Pearl to the Legion post.
Food and drink
All these places will be hopping this weekend and through Monday.
The Parting Glass
40-42 Lake Avenue, Saratoga Springs
For more than three decades the Parting Glass has been known for its atmosphere, beer and craic. Last year it was recently named one of the top Irish pubs around the world. The menu isn't strictly Irish, but there are a few staples including: Shepherd's Pie, Lamb Stew, and Fish and Chips. There's St. Patrick's Day entertainment all weekend. And on Monday the lineup includes The McKrells, stepdancers, and Forthlin Road.
The Irish Times
14 Phila Street, Saratoga Springs
The Times offers up an array of Irish food and drink; most notably, a traditional Irish Breakfast -- one of the few restaurants to offer it in the region. It has St. Patrick's Day-themed events and food Saturday, Sunday, and Monday.
McGeary's Irish Pub
4 Clinton Square, Albany
An Albany St. Patrick's Day mainstay, McGeary's offers a mix of Irish-American pub fare and a healthy beer selection. This is a hotspot for food and drink after the parade.
Washington Tavern
250 Washington Ave, Albany
Another Albany staple and historically Irish-owned pub, the Washington Tavern also serves a mix of Irish-American pub fare (and pizza) and offers a respectable beer selection. It's also currently running a menu of Irish specials this week (including Cream of Reuben soup).
Stout
904 Broadway, Albany
Stout also offers a variety of pub fare with a few Irish staples thrown in for good measure. Stout boasts a spacious interior and Irish-American decor. It has music (including a pipe band) and all-day corned beef on parade day (Saturday).
Pinhead Susan's
38 North Broadway, Schenctady
An Irish pub in downtown Schenectady. Its annual St. Patrick's Day block party is Saturday.
Katie O'Byrne's
State and Erie Boulevard, Schenectady
"An authentic taste of Ireland on the boulevard." Its annual block party is Saturday, and it'll have a special Irish menu on Monday.
Finnbar's Pub
452 Broadway, Troy
A recent addition to Troy (2012), with a solid Irish-influenced menu.
Corned beef and cabbage
Last year there was an Ask AOA question about where to get corned beef and cabbage -- many of the answer probably still apply. (Verdile's in Troy was mentioned multiple times.)
Music and entertainment
March 13-16: Finnegan's Farewell at Proctors
"An interactive musical comedy dinner show," set an Irish wake. various times - $65 and $75
March 16: Danú at Troy Music Hall
"[O]ne of the very best traditional Irish ensembles." 4 pm - $22 and up
March 17: Hair of the Dog at Brown's Brewing
The annual show in Revolution Hall. 7 pm - $15 ahead / $18 at the door
March 17: Saratoga Springs HS Fiddle Club St. Patrick's Day Show at Caffe Lena
"The group explores several types of traditional music including Bluegrass, Irish, Scottish, and French Canadian." Proceeds will help the club fund a trip to Ireland. 7 pm - $10 adults / $5 students
Places
Irish American Heritage Museum
370 Broadway, Albany
Chartered in 1986, the Irish American Heritage Museum has a space in downtown Albany. It's dedicated to telling the story of the nearly 40 million Irish Americans who claim Irish ancestry. The museum's collections and exhibits explore Irish American's contributions to history and culture. It's hosting its annual pre-parade Children's Discovery Day on Saturday from 10 am to 1 pm.
Shops
If you're looking for a few St. Patrick's day gifts or something to wear to your celebration, you might find it at one of these shops.
Tipperary at Tara
3956 Route 2, Brunswick
The Counties of Ireland
77 Third St., Troy
Lennon's Irish Shop
164 Jay St., Schenectady
Celtic Treasures
465 Broadway, Saratoga Springs
____

Other ideas? Please share!
(Thanks to Elisabeth for her help in laying out the framework for this post in previous years.)
Hi there. Comments have been closed for this item. Still have something to say? Contact us.