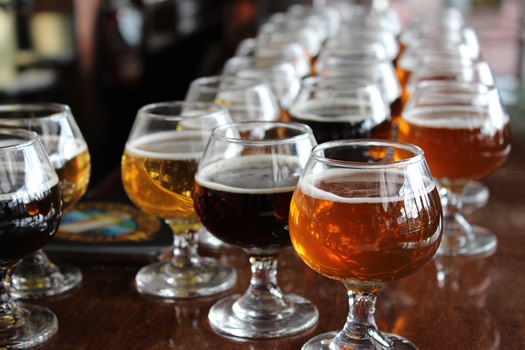 By Lauren Hittinger
Albany has its share of emerging breweries and distilleries, along with pubs serving craft beers, spirits, and ciders. But sometimes you just need a change of scenery.
So I recently took a trip up to Vermont for a day-long brewery tour in the Burlington area...
The tour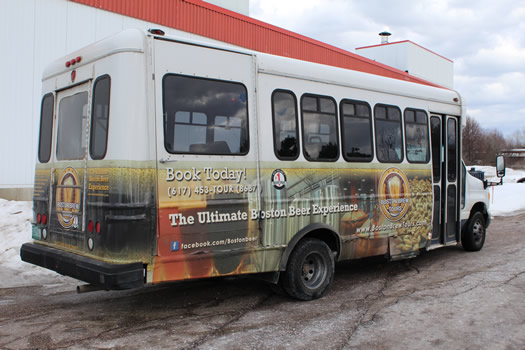 We went on this tour through Burlington Brew Tours, an organized group that also provides transportation around Burlington. They have a few different options and times for tours -- we went on the "Classic Brew Tour" during the day on a Saturday. Our guide, Matt, picked us up from our hotel around 10:45 am in a small bus and we then collected the other 10 people from various locations around Burlington before moving on to the tour stops.
Vermont Pub and Brewery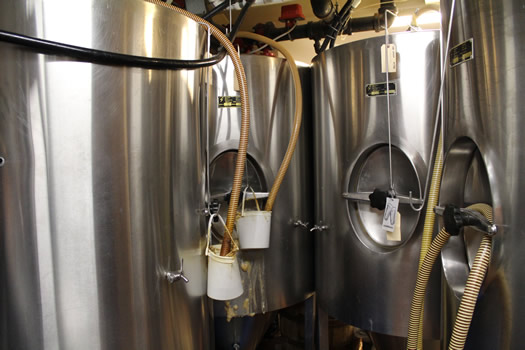 The first stop was Vermont Pub and Brewery, located right in downtown Burlington. We immediately went downstairs to see where the beer is brewed. It's a very small operation, but we squeezed in around the basement to see all of the equipment for brewing, storing, and serving the beer. One room had all the kegs with dozens of taps running up to the bar upstairs. Our guide Matt walked us through the whole operation, and he seemed super knowledgeable about every step.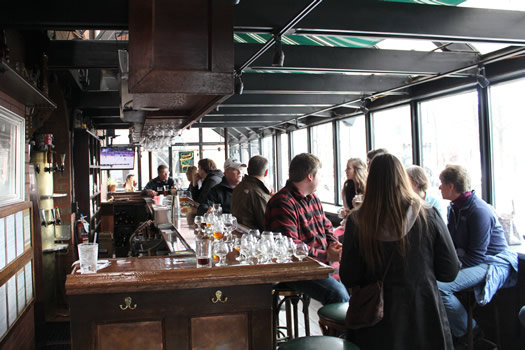 After our tour we went upstairs to start our morning off right with four samples in the bar area of the pub. The Regal Lager, our first tasting, was very light and had a subtle taste. It ended up being my favorite beer, perhaps of the whole day. Next was a Burly Irish Ale, which had a caramel or coffee taste. It was smooth, but not my favorite. The Bombay Grab IPA, our next taste, smelled super citrusy. It was very light for an IPA, and had a fruity taste. For an IPA, I enjoyed it, but it was still a little too bitter for me. Lastly, we tried a Wee Heavy 90 Shilling, which was sweet and creamy. Even though it was a heavy beer, it was my second favorite of Vermont Pub and Brewery's samples.
Switchback
After a quick bus ride we arrived at our next stop: Switchback Brewing Co. Its operation is much larger than Vermont Pub and Brewery.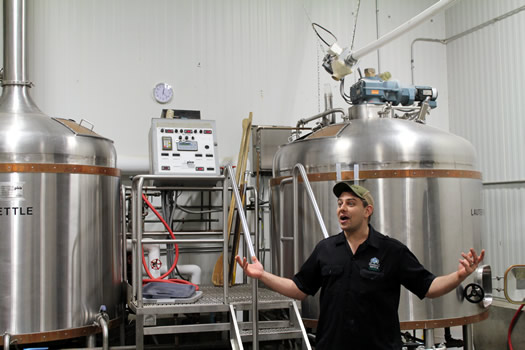 Before tasting anything, our group was brought to the back for a very comprehensive tour. The scale of brewing at Switchback is impressive, and our guide talked a lot about how they've grown during the 11 years they've been open, moving from a lot of labor-heavy processes to upgrading equipment in order to make things more efficient. The bottling and labeling equipment is especially interesting. Since it was a Saturday, they weren't bottling, but we were able to get up close and ask questions of the brewer.
For samples, Switchback has a small tasting room and shop. There were two beers on tap that day. The first, their Unfiltered Amber Ale, was a little bit bitter, with a hoppy flavor. The second, the Dooley's Porter was a strong porter with a coffee flavor. The porter was a little too heavy and strong for my wine-lover's palate. I didn't prefer either of these samples, and was a tiny bit bummed there were only two options to try.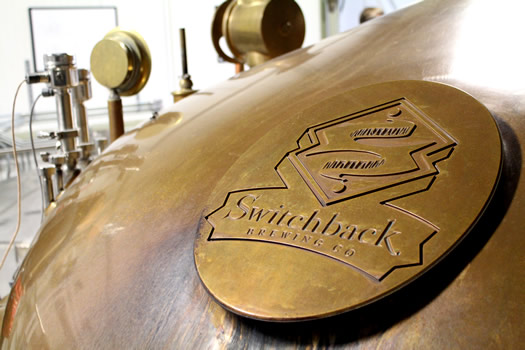 However, the tour was very interesting and the most in-depth look we had at brewing all day. As we were leaving, a much larger public tour was starting (the brewery offers public tours on Saturday afternoons).
Fiddlehead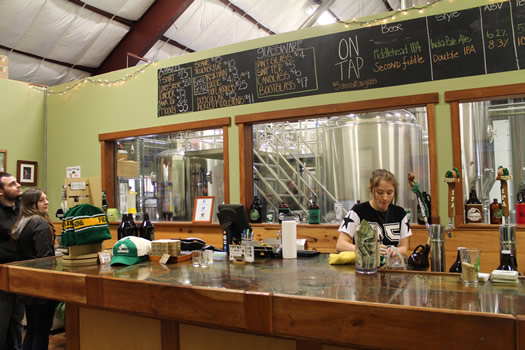 Our next stop was in Shelburne, south of Burlington. Fiddlehead Brewing Company was the smallest brewery on the tour. They had a small tasting room and shop with a large window looking out into their brewing facility. We didn't get a tour of the brewing area, but instead went straight into the tastings.
They also only had two beers on tap and, unfortunately for me, they were both IPAs. The first was Fiddlehead's IPA which was a little bit fruity, but also bitter and had a biting aftertaste. The second beer, Second Fiddle Double IPA, was bitter immediately. It was probably my least favorite taste of the whole day.
Lunch at Folino's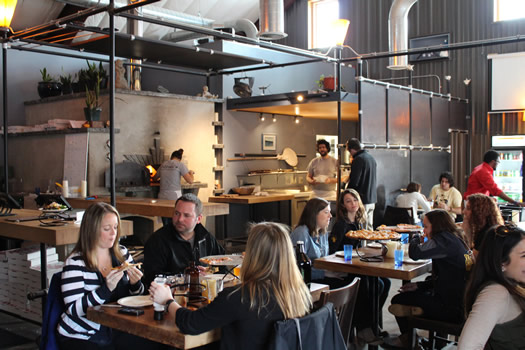 I was completely ready to cleanse my palate of IPAs when we moved on to lunch at Folino's. It's a small wood fired pizzeria in the same building as Fiddlehead. Our group had a large table set aside, with various types of pizza set out. The thin pizza was really delicious and I quickly devoured about 5 slices. My favorite was a margherita pizza with fresh basil. We also had growlers of the two Fiddlehead beers, but I didn't like either IPA, so I just had water.
Magic Hat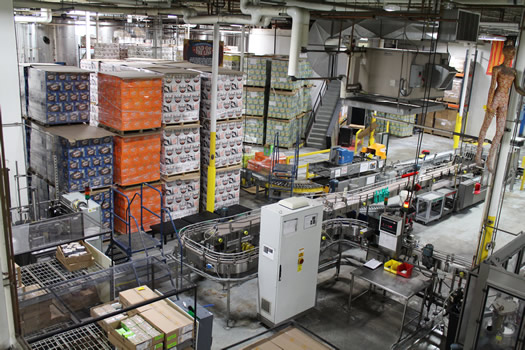 Our last stop of the day was at Magic Hat in South Burlington. It had the most commercial setup, with a very large gift shop next to a long tasting bar. Magic Hat also has a formal area to take tours through, but our guide Matt took care of that. At one point we looked down onto the manufacturing and bottling floor. It was unreal to see that much beer stacked up.
At the tasting bar, I tried five different beers. Any guest is allowed four each for free, but I shared with my fiancé to maximize my tastes. First I went with the classic Number 9, which was clean with a little IPA taste. They say it has an apricot flavor, but I didn't really taste much of one. Next, the Maple Chocolate Stout was a serious beer. It has chocolate and smoke flavors and was not for me at all. The Dream Machine IPL is supposed to be a lighter IPA, but I found it to be still very bitter and didn't like it. The Circus Boy Hefeweizen was more my style since it had mild flavors and was easy to drink. Lastly, the Single Chair Ale had an extremely mild flavor and tasted like a wheat beer.
The return
After Magic Hat, we were the first ones dropped off at our hotel, arriving around 4 pm. We both enjoyed our day touring. The pace of the day was very relaxed, and the tours focused a lot on learning the different processes. Home brewers in the group were very interested in the brewing specifics, while I just tried to follow along. The beer samples were generous, but it was not necessarily a party atmosphere, and even lightweight me didn't get buzzed throughout the entire day.
My favorite stop of the tour for beer was Vermont Pub and Brewery. It had the greatest variety of different things to sample, and they're right in downtown Burlington. My favorite behind-the-scenes tour was at Switchback, where a brewer gave a thorough and interesting rundown of the company's history, brewing process, and bottling equipment.
The full price of the Burlington Brew Tour is $70 per person, which included the transportation, tours, samples, and lunch. For a beer enthusiast, this would definitely make a great day. If you're like me, and a little picky about your beers, you're probably better off doing self-tours and tastings yourself. But it was nice not to have to worry about driving and directions.
Lauren writes about shopping, crafting, and living well on a small budget at The Thrifty Ginger.
Earlier on AOA: Factory touring in Vermont: ice cream, cheese, beer, and bears
Hi there. Comments have been closed for this item. Still have something to say? Contact us.