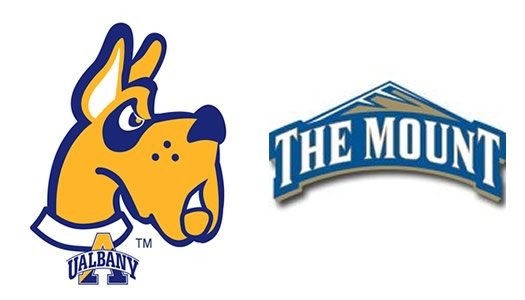 The UAlbany men's basketball team is headed to the NCAA tournament this week after beating Stony Brook 69-60 in the America East championship Saturday at Stony Brook.
UAlbany is a facing quite a challenge. The Great Danes have been seeded 16th in the south bracket -- well, actually, they're the co-16th seed. UAlbany plays Mount St. Mary's -- winner of the Northeast Conference, from Maryland -- Tuesday in one of the "First Four" play-in games in Dayton. If the Great Danes win, they'll then play #1 seed Florida -- the tournament's top overall seed -- on Thursday in Orlando. (Yeah, the fact that you can win your conference tournament and still have to play one one of these play-in games -- as opposed to directly getting the opportunity to be demolished by a #1 seed in the regular field of 64 -- is lame, but such is modern college sports.)
The UAlbany/Mount St. Mary's game is Tuesday at 6:40 pm on TruTV. The potential game against Florida is Thursday at 4:10 pm.
It's the second year in a row the Great Danes are going to the tournament. They lost in the first round last year as a #15 seed in a hard-fought game against Duke.
Syracuse: The ongoing implosion of the Syracuse men's basketball season continues when the #3 seed Orange take on #14 seed Western Michigan Thursday at 2:45 pm on CBS.
UAlbany women: The UAlbany women's basketball team -- which won the America East for the third straight year -- will find out its seeding and tournament matchup when brackets are announced Monday evening.