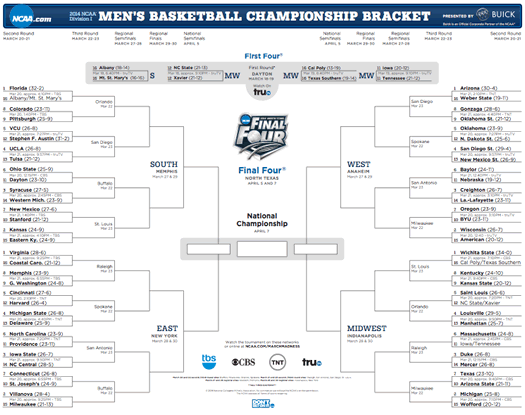 The pool, it returns. For another year we have created an NCAA tournament pool for AOA. And, yet again, the winner of the pool gets a $25 gift card to Stewart's.
The AOA pool is set up at Yahoo. This link should take you to the sign up page for the pool. The password is "greatdanes" (no quotes).
If you already have a bracket set up at Yahoo, you should be able to add it to the AOA pool with just a few clicks. (Or, if you set up a pool for the AOA group, you can add it to other groups.)
The deadline to complete your bracket is 12:15 pm on Thursday. The "first four" games -- in which UAlbany is playing this year (Tuesday night) -- aren't included. So you'll have some time to make your picks based on the results of those games. (Should UAlbany win Tuesday night, picking the #16 seed Great Danes over #1 seed Florida will earn our admiration for you courage, though we suspect it won't gain you any actual points.)
As we did last year, we'll post the winning bracket and the top-10 finishers here at AOA. And maybe we'll also post something here about picks from the pool pre-tournament.
The reigning champ is Dylan, who picked 41 of 63 games correctly last year, besting a field of almost 50 people.
Good luck. May the block/charge calls go in your favor.
Important: The winner will be determined by Yahoo's tournament pick 'em system. In the event two (or more) people tie for the win, we'll randomly draw the winner from the top finishers. The winner will be notified via email by 5 pm the day after the championship game and must respond by 5 pm the next day. We'll contact you through the Yahoo system, so please be sure to designate an email address that you actually check.
Hi there. Comments have been closed for this item. Still have something to say? Contact us.