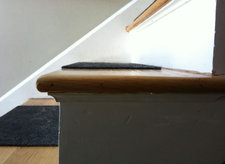 June asks via Twitter:
Hi guys at @alloveralbany. Looking to repair inside stairs in downtown Albany brick row house. Built c. 1890s. Any suggestions?
Contractors pls. Definitely more than I can do. Would prefer to repair rather than replace depending on cost. Tks!
We've had handyman and contractor questions before, but it's been a few years. And we're curious if maybe there's someone with specific experience doing repairs/renovations in older homes. Example: Maybe someone who would be better at restoring something that's true the house's original design, if that's what June is after.
There a bunch of century-old (or older) homes in this area, so we're guessing there are people with this sort of experience.
Got a suggestion? Please share!

Hi there. Comments have been closed for this item. Still have something to say? Contact us.