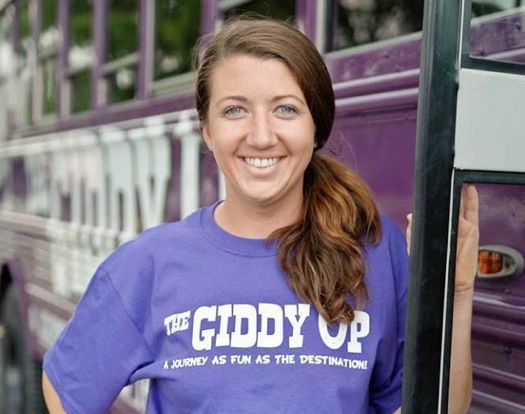 There are just over two weeks left to enter a business idea in the All Over Albany Startup Grant Contest, sponsored by Staff Ciampino & Company P.C., Certified Public Accountants. One winner will receive $1,500 from Berkshire Bank to help start up a new business, or take an existing business to the next level. You should apply. Don't wait!
One of the things we love about the Startup Grant Contest is that not only does it help the winner, it also calls attention to lots of interesting, creative ventures in the Capital Region. Past finalists have gone on to build successful ventures based on the plans they proposed, with a bit of help from the feedback provided by the startup contest judges.
One of those finalists is Traci Cornwell, the entrepreneur behind the Giddy Up Bus, a bus service that runs from Albany to Saratoga and transports people for weddings and special events.
Traci was just 23 years old when she entered the contest and was selected as a finalist. Though she didn't win, she says the feedback from the judges was invaluable. Today she's successfully operating the Giddy Up bus and is considering adding a second bus to the fleet in the fall.

How are things going with the bus? How far have you come since the 2012 contest?
That was right after I took the [Albany Colonie Regional Chamber of Commerce] course. After that course and the contest it took me about a full year to get everything into gear, as well as getting financing and purchasing the bus. Both the AOA contest and the Chamber course gave me great exposure.
I still get people that will email me and say, "I read an article about you on AOA (or the chamber website) and that's why we are reaching out now."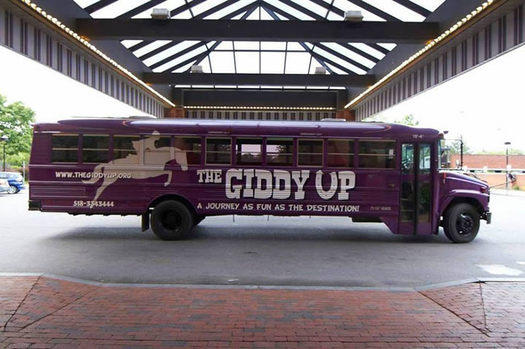 photo courtesy of Traci Cornwell / Mel eMedia
The first season went really well. We didn't do much marketing and advertising but we were selling busses for concerts and The Track every weekend and in the fall we did a beer summit and Chowderfest and a few events at Hunter Mountain. We just paired up with Mazzone Hospitality for an upcoming food tour that sold out in four days. We are consistently booked for one or two events a week. I have one bus now that seats 40 people, and I work with a friend who has a bus that seats 55. I'm going to see how track season goes and at that point I might add a second bus.
Did the judges give you feedback that helped you along the way?
I was really new at that point and I felt like a lot of people in the contest had a business already. I was just in the planning stages -- presenting something that didn't exist yet, so it was a little harder to explain to people. I felt like the judges gave me as much feedback as they could based on that. It opened my eyes to what I actually had to do in that year as far as funding, overall marketing, and pricing. I realized it wasn't going to be as easy as just writing a business plan.
They told me to pay more attention to detail. Lissa D'Aquanni said, "You just have to know who your clients are and you have to think about details." Really paying attention to those little details is something I do now, from really proofreading a contract to going above and beyond and doing something special if it's for a wedding or birthday.
I was 22 or 23 and standing up in front of you guys and thought I didn't necessarily have everything together. I'm so happy that I did it because it turned out great.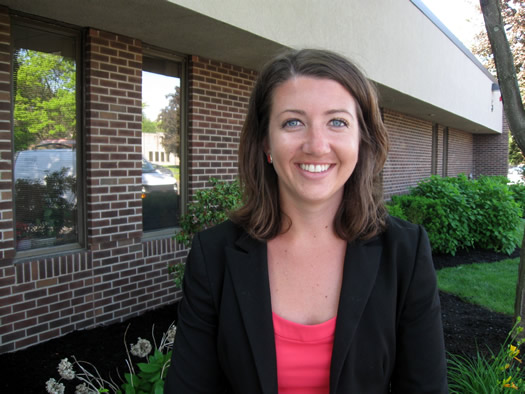 Traci Cornwell, ahead of her presentation to the judges in the 2012 grant contest.
What advice do you have for the 2014 contestants?
Be prepared and be confident. Pay attention to details. Listen to all of the judges advice regardless if you agree or not. Every bit of feedback is important in this stage regardless if you use it or not. Be open minded and be ready to think on your feet! Have fun.
____
The 2014 AOA Startup Grant Contest is sponsored by Staff Ciampino & Company P.C., Certified Public Accountants, with prize money provided by Berkshire Bank.
Earlier on AOA: The Giddy Up