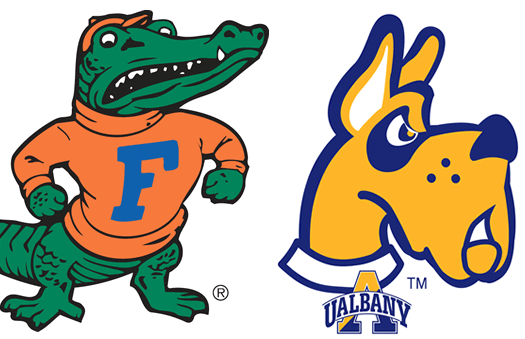 Update: UAlbany lost 67-55 -- but the Great Danes put up a very solid effort. In the context of previous #16 vs. #1 match-ups (see all the stuff below), UAlbany's performance was notably good.
____
Thursday afternoon the UAlbany men's basketball team will be trying to accomplish something no other college basketball team has done in the NCAA tournament: The Great Danes will be trying to beat a #1 seed as a #16 seed. (The game is scheduled for 4:10 pm in Orlando. It'll be on TBS.)
The odds of UAlbany accomplishing this feat against Florida are... tiny. The overnight update to the FiveThirtyEight tournament projections increased UAlbany's chances -- to 1.23 percent. Vegas has the Great Danes pegged as a 21.5 point underdog.
That's the way the tournament is designed. The teams considered to be the very best in the field are set up to the play the teams considered to be the very weakest.
But some teams have come very close to doing it. Here's a a very quick history of #1 vs. #16.
For this look at #1 vs. #16 we went through games from 1985-2013, which you might consider the "modern" era of the tournament because the field was expanded to 64 teams in 1985. (It now includes 68 teams, counting the "first four" games.) Results via CBS Sports.
An overview of #1 vs. #16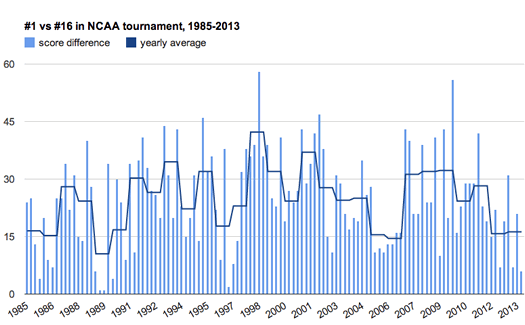 Average score: 85-60
Closest margin: 1 point
This has happened twice -- in the same year, 1989. There's the famous Georgetown-Princeton game, in which the #1 seed Hoyas narrowly escaped the Tigers 50-49. (Princeton's coach had given his team 450 million-1 odds of winning.)
But that same year #1 Oklahoma needed a late bucket to get past #16 East Tennessee State 72-71. The Sooners were even down 17 in that game -- twice.
Other close calls:
1996: #1 Purdue vs. #16 Western Carolina 73-71
1990: #1 Michigan vs. #16 Murray St 75-71 (OT)
1985: #1 Michigan vs. #16 Farleigh Dickinson 59-55
Biggest blowout: 58 points
#1 Kansas vs. #16 Prairie View in 1998
Times a #1 seed has gone on to win the national title during these 29 years: 19
Most times appearing as a #1 seed: Duke, 12
Most times appearing as a #16 seed: North Carolina A&T, 5
All #1 vs. #16 games, 1985-2013
Times appearing as #1 or #16 seed