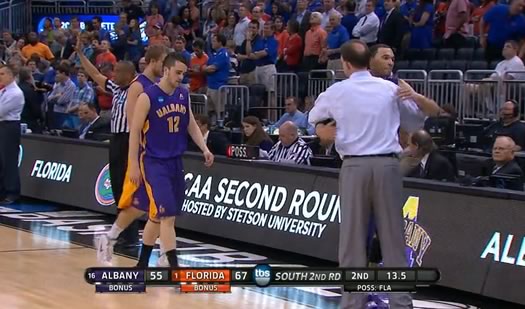 The #16 seed UAlbany men's basketball team lost to #1 seed Florida 67-55 in the NCAA tournament's round of 64 Thursday afternoon.
The Great Danes put up a good fight. The two teams traded the lead back and forth through the first half before the Gators took a six point lead into the locker room at halftime. Florida didn't relinquish the lead the rest of the game. (The the score was tied for a bit around the 14 minute mark of the second half.) UAlbany played hard -- it was just up against too much size and strength.
DJ Evans had another stand-out game for the Great Danes. The 5-9 (maybe) guard took a beating going up against the much bigger Gators. But he finished as the game's leading scorer, with 21 points (on 6-12 shooting) with 6 rebounds.
An Albany win would have been a titanic upset. A 16 seed has never beaten a 1 seed. And Florida hadn't lost since December. These match-ups are usually blow outs. UAlbany's 12-point loss was an atypically small margin for a #1 vs. #16 game.
The Great Danes finish the season 19-15, including its "first four" win this week -- the program's first-ever NCAA tournament win.
screengrab: TBS/NCAA March Madness Live
Hi there. Comments have been closed for this item. Still have something to say? Contact us.