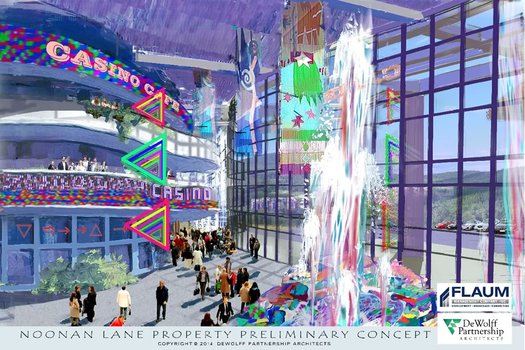 The management group proposing a casino/resort for a parcel of land on the city of Albany's south side made its initial pitch to the Common Council Friday afternoon with an overview of the project.
The casino -- currently dubbed "Project E23" because it'd be adjacent to Exit 23 on the Thruway -- promises a shot of new tax revenue for the city and 1,800 permanent jobs. And unlike the proposal previously floated for the First Prize site, city officials appear to be generally open to listening to the pitch.
Here's a quick overview of the proposal and a few of the issues.
Renderings of the proposed project are above in large format -- click or scroll all the way up.
Who's involved

Friday's presentation from Flaum Management to the Common Council.
The company pitching the project is Flaum Management, a commercial real estate company based in Rochester. It's aiming to partner with Capital District Regional Off-Track Betting on the project. Capital OTB operates the Clubhouse Race Book facility on Central Ave, where the tele-theater once stood (the site is now the Shop Rite).
Location
The project would occupy a parcel on Noonan Lane on the city's south side, next to the Thruway. As the TU's Jim Odato reported Friday morning, the road is named after the Noonan family -- Kirsten Gillibrand's grandmother was Polly Noonan, a key ally of Erastus Corning -- and the family still owns properties there. Flaum says it has an option contract to buy the 60-acre site.
For the moment, at least, the location of the site appears be a positive in the eyes of city officials. Mayor Kathy Sheehan noted that unlike the First Prize site -- to which her administration was very cool -- the Noonan site isn't directly adjacent to any already-existing residential neighborhoods. It also has potentially very good access from the Thruway, and could have easy access to downtown Albany.
What the project would include
As with pretty much anything like this, the first stage is usually the everyone-gets-a-pony stage. From a press release about the proposal:
+ 63,000 square foot casino
+ A 275-room resort style hotel; multiple room types including: luxury suites, family suites and standard rooms. Also a parking garage with 750 spots and 975 surface spots.
+ "Elite" dining facilities. "Everything from fine dining to fast casual will be available."
+ 40,000 square foot indoor waterpark -- "The indoor water park will be among the largest indoor water attractions in New York State..." Also: arcade game room, outdoor recreational trail system.
+ 1,800 permanent jobs. (During a press conference, Flaum officials said the jobs would average $43,000 a year.) 1,500 construction jobs.
+ New city tax revenue (a figure of $5 million has been floated), and $11.4 million a year in revenue sharing to be split by the city and county.
+ A $2 million "Albany community benefits fund" for grants to schools, law enforcement, and cultural orgs, and gambling addiction services.
+ A shuttle to downtown Albany.
What is notably absent from the list of proposed amenities: convention space or some sort of performance venue. Flaum says it would rather work with existing cultural events venues in the area. (This event venue issue has been a point of conflict in the discussion over a potential Saratoga casino because city officials are worried a venue could draw events away from the City Center or SPAC.)
Potential benefits
"This is a proposal that we have to take a serious look at," mayor Kathy Sheehan told the media after the presentation.
More from Sheehan:
"This is a process and we have to hear from the public. But when you look at this location, it really checks a lot of boxes. It is accessible immediately right off the highway so we're not dealing with the traffic issues that sometimes plague these types of attractions. And it also complements what we're trying to do downtown. Hearing that they do not seek to build meeting space and a convention center, but want to complement the convention center that we're building, is certainly an additional asset that would bring people here to this region for conventions." ...
"This is an opportunity to grow our tax base. We've seen a 13 percent decline in our commercial tax base since 2009. And we are limited in our ability to grow that tax base when you look at that 300 acres at the Harriman Campus that is owned by the state. This represents an opportunity for us to see a significant increase in our tax base, along with new jobs -- these are not jobs that are coming from anywhere else -- that are well within the reach of our residents and provide significant career opportunities for the residents of the city of Albany."
The potential tax base increase -- and resulting revenue for the city -- is an important part of this discussion. The city is facing a significant, persistent gap in its budget. And the opportunity to address a big chunk of that with one development -- a project that backers say will not seek tax breaks -- appears to have the attention of city officials. Said Sheehan: "I'm looking at this as, how does it complement all of the things that we are trying to do and give us the ability to really get more control of our own destiny, reduce our dependence on the state, and really put us on a path to a sustainable city budget and to us really being in control of our own economic development."
Another reason why city officials are interested: it's a potential defensive play. Sheehan said there's some concern that a casino across the river in Rensselaer could result in spillover problems for the city -- without any direct benefit.
Or, as Common Council president pro tem Richard Conti summed up one of the questions facing city leaders regarding the project: "If you're going to have [the casino] in the region, is it better to have something we can benefit from?"
Potential problems and complications
Of course, a casino also carries potential downsides. During the presentation, Common Council member Cathy Fahey, who represents a ward near the site, expressed concerns about the potential impact of gambling addiction and other negatives on city residents.
Another potential concern: traffic. It sounds like there's hope the casino would have easy access directly from the Exit 23 toll area. But if not, a spot that already sees significant congestion could become even more clogged.
The potential of increased problem gambling, traffic, crime, and whatever else will have to be balanced against the possible revenue. Because all those potential problems could end up costing the city in terms of extra resources for services/infrastructure/policing.
What's next
Flaum officials said they're expecting the state to issue its request for casino applications April 1, with them due back within 90 days. As part of its application, Flaum will be seeking a resolution from the Common Council supporting the project. Though the specifics of that process haven't been mapped out yet, it will almost certainly involve public hearings and a public comment session.
Voters in the city of Albany voted down the state constitutional amendment allowing full casinos -- 51-49. So it will be interesting to see how the public reaction to the proposal shakes out.
Both Sheehan and a small handful of Common Council members we talked with Friday seem to be looking at the project as an opportunity that deserves serious consideration -- though they're also looking forward to seeing more specific details.
"I am intrigued by this, it sounds very, very good," Sheehan said after the presentation. "But I have to listen to our residents. We have to consider all of the different points of view on this. And I always say I reserve the right to get smarter. And so this is the beginning of process where I'll be getting a lot smarter on these issues."
Capital Region casino field
Sites that have been mentioned as possible Capital Region casino sites:
+ The Saratoga Casino and Raceway
+ Rensselaer, perhaps the de Laet's Landing site
+ First Prize site on Albany/Colonie border -- apparently no longer under consideration
+ The redevelopment of the Alco site in Schenectady
+ A spot near Howe's Cavern in Schoharie County
+ Noonan Lane in Albany ("Project E23")
renderings: Flaum Management Company
Hi there. Comments have been closed for this item. Still have something to say? Contact us.