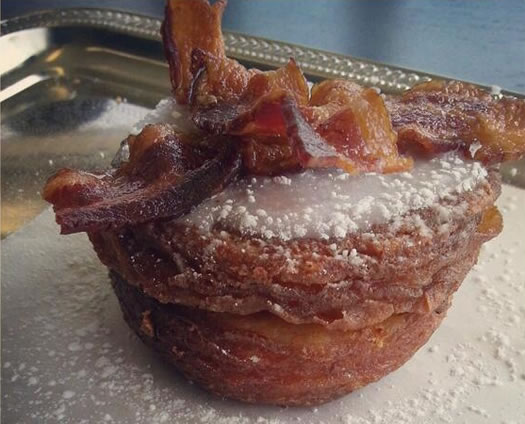 After seeing this French toast "crodo" (with bacon) from The Crisp Cannoli today, we thought it'd be fun to check back in with the East Greenbush bakery and the craze around the croissant donut. (Remember the apple cider crodo.)
"Cannoli are still my #1 seller, but no matter how many crodo I put in the case, I sell out," owner Jason Grant told us today. Since September of last year when he first started selling the crodos, Grant figures the Crisp Cannoli has sold about 5,500 of the pastries.
In that time he's developed 18 different varieties (there's a list below). "It's kind of like the cannoli, I can do whatever I want with the filling. ... It's such a great little pastry. I get tons of emails, and posts on Facebook with suggestions." (He says he makes about 60 different types of cannoli now on a rotating basis.)
The most popular crodo so far: a play on strawberry shortcake, filled with vanilla custard, layered strawberries, and buttercream frosting on top. On Valentine's Day -- "It was a crazy day" -- Grant figures they sold about 400 of them at the shop."A lot of guys come in and hold up their phone, and say, 'My wife just texted me this, I need it.'"
Grant says demand for the pastries continues to increase, and they've been getting a steady stream of people from all over the region. Offices have been placing orders, and as a result Grant says the bakery will soon start delivery in Troy and the Corporate Woods area. And he's had to increase his daily production of the pastries again.
One of the funny things about the whole situation: Grant makes croissant dough for the crodos -- a process that takes about a day and a half -- but doesn't make croissants. Why? "They don't move."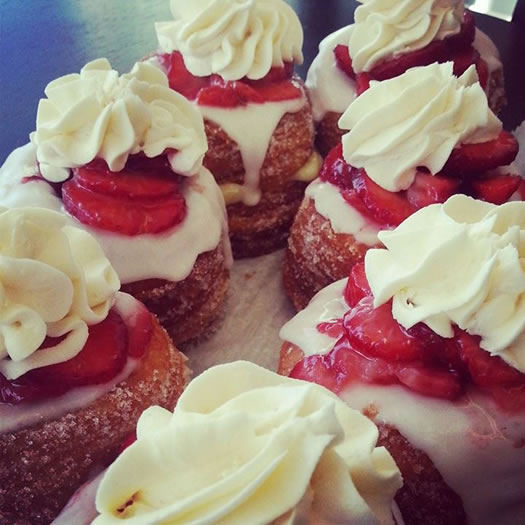 The strawberry shortcake crodo.
Crisp Cannoli crodo varieties (so far)
Plain
Raspberry filled
Chocolate filled
Nutella filled
Vanilla cream filled
Boston cream filled
Mint chocolate chip (filled with mint chocolate chip cream, green glaze on the outside with sprinkled chocolate chips, for St. Patrick's Day)
Apple cider
Pumpkin spice
Cranberry orange pecan
Eggnog
Bailey's Irish cream
Strawberry shortcake
Reese's peanut butter cup (peanut butter cream filled with crushed peanut butter cups on top - "That's a really good one. I make my own peanut butter cream.")
The hot ball crodo AKA, the atomic crodo (made with hot cinnamon candy_
Campfire crodo (a play on s'mores, torched on top)
Snickers crodo (newest one)
French toast (also new)
(There are photos of many varieties on the bakery's Facebook page.)
Grant says he has about six other varieties currently in the works, including an Oreo crodo and a limoncello crodo, both based on suggestions from customers. He says he hasn't yet an encountered a variety he wasn't able to develop -- but some have taken a fair bit of tinkering.
Another idea in development: egg and cheese crodo sandwiches.
Earlier on AOA: Trying the apple cider croissant donut at the Crisp Cannoli
photos courtesy of the Crisp Cannoli
Hi there. Comments have been closed for this item. Still have something to say? Contact us.