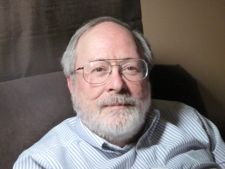 My Exit is like asking someone what's on their iPod and having them play you an hour of their favorites. Each week WEXT lets one listener program an hour of music.
This week's focus is on classics of the 60s and 70s that still hold up today.
Who?
I'm Alan Warde. This is my second My Exit show. Like my first show, Monday's show focuses on a wide variety of great songs but seldom played on radio. A number of the songs are from the 60s and 70s, a period that I still feel produced some of the most innovative and lasting popular songs in decades. However, this is not an "oldies" show and WEXT is by no means an "oldies" radio station. It is, instead, a show that tries to expose new audiences to great songs that they most likely would never hear, period.
The genesis for this show came from my younger son (in his late 20s and a great musician) who was amazed at the quality of one of the early Simon and Garfunkle albums I was playing on my car's cd player and commented that you would simply never hear the bulk of the songs on the album on the radio. So the seed was sown and the concept for a My Exit show was born.
How would you describe your taste in music?
Like the show, my own music tastes are diverse -- from rockabilly to Rachmaninov.
Five songs from Alan's show:
"When the Ship Comes In" - The Clancy Brothers and Tommy Makem
This version of this song off the album, The 30th Anniversary Concert Celebration of Bob Dylan's career. My dad was a great fan of the Clancy Brothers and used to bring home their albums --- even before they were on major labels, so hearing this song brings back a lot of memories. The album that it's on is a real gem that shouldn't be missed -- it was just released at the beginning of March.
"Tattler" - Ry Cooder
This has always been one of my favorites. This song is from his Paradise and Lunch album which was one of the very first digitally recorded albums. Ry is an amazing guitarist but his style is very understated -- this song has no loud complicated solos but instead just works to compliment the words and great gospel style background vocals.
"Let It Be Me" and "Bye Bye Love" - The Everly Brothers
With Phil Everly's passing just after the first of the year I thought it would be good to remind listeners of just how original and genuine the Everly Brothers music was. Their sound was a great influence on many artists -- Gram Parsons (heard on the first show) and Simon and Garfunkle to name two. "Let it Be Me" is, I think, one of the best vocal arrangements in their catalog. "Bye Bye Love" was their first hit, but like all great songs it still sounds fresh every time it's played.
"Sound of Silence" - Simon and Garfunkle
"Sound of Silence" was their biggest record. The version heard here is the earlier, un-dubbed version from their first major album, Wednesday Morning 3:00 AM. I like this version better than the hit, dubbed version as the original emphasizes the wonderful vocals of especially Art Garfunkle.
"I Ain't Foolin'" - Lustre Kings
This off Albany's Lustre Kings' first album. It's penned by former lead vocalist for Commander Cody and His Lost Planet Airmen, Billy C. Farlow. It's a great rockabilly song that's also got a great dobro solo.

You can hear Alan's My Exit show Monday night at 11pm on 97.7, Saturday at 8 am, or at exit977.org.
Here's how to schedule your own My Exit show on WEXT.