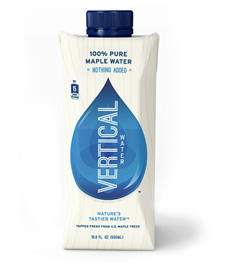 So this is a thing, apparently, and it's a thing from New York that will be showing up in stores in this month: maple water.
You know another word for maple water? Sap. Not boiled down into syrup. Just "minimally" processed sap.
From the Cornell Cooperative Extension, which assisted in developing the product:
As temperatures warm and maple sap starts flowing, gallons of it are collected and boiled down to make syrup. But the subtly sweet watery sap also tastes great straight from the tree, said Michael Farrell, director of Cornell's Uihlein Forest in Lake Placid and author of a recently released comprehensive maple guide, "The Sugarmaker's Companion."
"I love drinking the sap - it's absolutely delicious," Farrell said. ...
If the popularity of coconut water is any indication, there could be a big market for an all-natural product that is mostly water with a bit of sweetness and minerals, Farrell said. In taste tests conducted at Cornell's sensory laboratory, participants preferred maple water to coconut water, he added.
The success of the product would be a big boon to the state's maple producers and forest owners, Farrell said. Cugnasca is now working with members of the New York Maple Producers Association near its western New York bottling plant to supply sap for the first batches of Vertical Water.
As mentioned above, the commercial product is called Vertical Water, and it comes in one of those Tetra-Pak containers with a screw top. Also, from the company website: "The ideal temperature for drinking it is the temperature when it first comes out of the tree: around 40°F."
How does it taste? Over at Slate, L.V. Anderson writes (asterisk added): "It tasted like ... slightly sweet water.* The maple flavor was so mild as to be almost impossible to discern." And a tester for Business Insider concluded: "All it needs is vodka."
Why do we get the feeling Canada is laughing at us right now.
____
* As for sweetness, Vertical Water says its maple water has 3 g of sugar per 8 fluid ounces (and 15 calories). For comparison, Coke has about 26 g of sugar per 8 oz, and orange juice has 21 g. (Different types of sugar have different apparent sweetness, so this is just a sort of rough frame of reference.)
Earlier on AOA:
+ A new way of producing maple syrup: "like a sugar-filled straw stuck in the ground"
+ The art and science of maple sugaring
photo: Vertical Water
Hi there. Comments have been closed for this item. Still have something to say? Contact us.