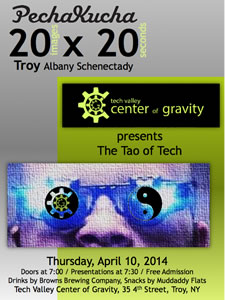 The recently started local PechaKucha series returns this Thursday, April 10 at the Tech Valley Center of Gravity in downtown Troy. This time around the theme is "The Tao of Tech."
PechaKucha is a rapid presentation method in which a speaker gives a talk using 20 slides that are displayed for 20 seconds each. The format forces people to just get right to the point. The idea is to keep things fun -- and moving. First started in 2003, there are now Pecha Kucha nights all over the world. The local series kicked off at the Opalka Gallery this past February.
From an organizer about what's in store from some of the presenters at this next Troy event:
It's a sort of left-brain, right-brain convergence. Erin Lennox has done her eco-engineering field work in the Yucatan. Bob Bownes has a backyard and basement that looks like a mad scientist's dream - everything from ham radio to race cars. Jorel Lalicki is a senior at RPI who recently took over a warehouse in South Troy to build his own manufacturing business -- and I have yet to discover ANY engineering trade he doesn't know -- from advanced lighting to hacking to glass-blowing and piano-tuning. Scott Knox comes at architecture from inside the brain: enough said. Erica Iannotti has a vision and a loaded bag of tricks for revolutionizing STEM education and a turning girls on to science. And Alex Briggs? He will restructure your lifestyle, reorganize your city, and save your planet if you give him half a chance.
There are a bunch of interesting people in the Capital Region doing interesting things. It's just that sometimes you have to know where to look. These sorts of events can be a good place to start.
Doors open for the PechaKucha event at TVCOG at 7 pm Thursday, presentations start at 7:30 pm. Admission is free. There will be drinks from Brown's, and snacks from Muddaddy Flats.
Speaking of the Center of Gravity: Things seem to be coming along on the makerspace's move from the Uncle Sam Parking Garage street level retail space to the nearby Quackenbush Building.
Earlier on AOA:
+ TVCOG awarded regional economic development money for Quackenbush Building
+ A TARDIS in Troy
+ Tech Valley Center of Gravity
Hi there. Comments have been closed for this item. Still have something to say? Contact us.