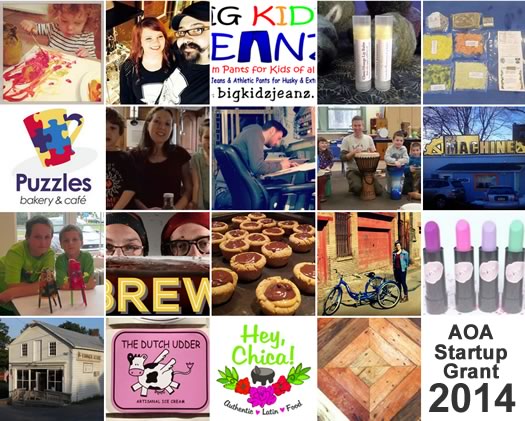 The pool of entries for this year's AOA Startup Grant was very strong. Many of the applications of would have made very fine finalists. But there can only be three, two chosen by crowd voting last week, and one chosen by the Editors.
Here they are...
Crowd voting picks
The full voting results are below.
Raya's Raw and Cultured
Raya's Raw and Cultured took the top spot in the crowd voting with more than 24 percent of the votes.
Project description: "Raya's Raw & Cultured is a collection of my fermented, probiotic rich, healing products, from kombucha (cultured tea) to kraut (cultured vegetables). All of my creations are made by me, from organic and locally sourced products, and contain naturally occurring probiotics and gut-healing compounds."
Who: Raya Ioffe
The Rise and Shine Company
The Rise and Shine Company claimed the #2 spot in the crowd voting with almost 17 percent of the votes.
Project description: "The Rise and Shine Company, a pop up retail shop in downtown Albany offering a line of apparel, accessories and art (prints, signs and designs), as well as curated, locally made goods and collectibles."
Who: Michael Conlin
Editors' pick
This was really difficult. But after a lot of thought, we picked...
Project description: "Puzzles Bakery & Café will offer a variety of fresh baked goods, artisan sandwiches, hearty soups, signature salads, and refreshing beverages available for purchase for breakfast, lunch, and dinner. In addition to serving delicious food, the bakery-café will provide developmentally disabled adults with opportunities for personal growth, as well as a source of income, social interaction, and a sense of purpose."
Who: Sara Mae Hickey
Why did the Editors pick this project?
We thought Puzzles was an interesting project because it's a for-profit business that's also explicitly aiming to include a social service angle. Can that work? We don't know, but it sounds like it could have promise and we want to hear more.
Also, Sara Mae Hickey turned in a thorough application with a specific goal for the money -- cash register equipment -- that we could see would play an important role in the business. And it didn't hurt that Puzzles also placed highly in the crowd voting.
Again, this was a difficult decision. There were many other projects that were strong contenders for a spot in the finals, but we had to settle on one.
What's next
The finalists will be attend a one-night crash course this week with business/creativity coach Janet Tanguay at the Albany-Colonie Regional Chamber of Commerce office in Colonie. Janet will help the finalists arrange their ideas and think about how to present their projects to the judges in the final round.
They will then make their final presentations to the judges next week. And we'll announce the winner.
Thank you
Thank you to everyone who submitted an application for this year's grant. We very much appreciate the time and the attention you put into them. And we wish you luck.
Thanks also to everyone who read through the applications last week and voted.
Voting results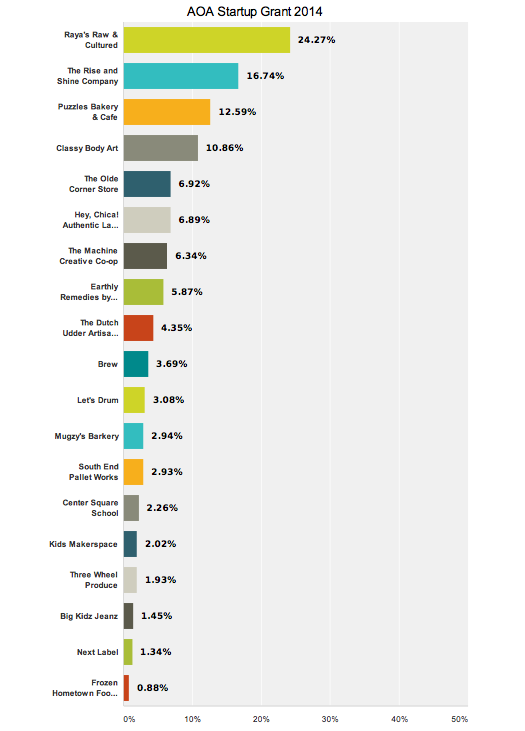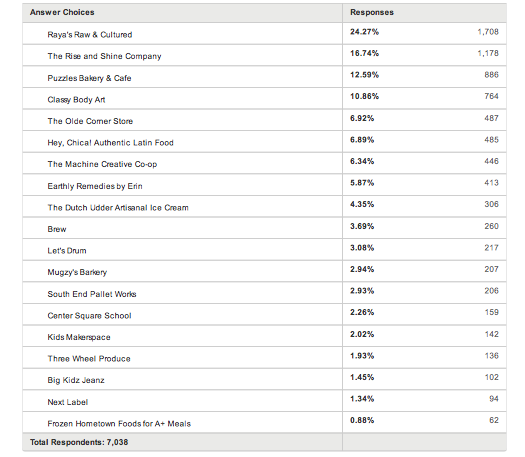 The All Over Albany Startup Grant contest is sponsored by sponsored by Staff Ciampino & Company P.C., Certified Public Accountants, with prize money from Berkshire Bank.