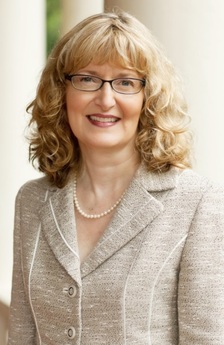 The College of Saint Rose announced today that its next president will be Carolyn Stefanco, who's currently the vice president for academic affairs and dean of the college at Agnes Scott College in Decatur, Georgia.
Stefanco is scheduled to start the position July 1. Her selection caps an unusual transition at the college. In a surprise announcement last summer the school and former president David Szczerbacki parted ways after he had spent just one year in the role, with no mention about what caused the split. Margaret Kirwin, the school's VP for academic affairs, has been serving as interim president.
Stefanco has a PhD in history from Duke, an MA in women's history from Binghamton, and an undergrad history degree from the University of Colorado at Boulder. Her scholarly focus has been American women's history, higher education, and international education.
Agnes Scott College, Stefanco's current school, is a private 900-student women's undergraduate liberal arts college in Decatur, which is just east of Atlanta. Prior to Agnes Scott, she was the founding dean of the College of Humanities and Social Sciences at California State University, Stanislaus, and she held teaching positions at Oklahoma State, Cal Poly (a handful of student reviews) and Wheaton College in Massachusetts.
Stefanco has been a finalist for college president positions for at least two other schools over the last year -- in Kansas and North Carolina -- according to published reports. Said Stefanco during a presidential candidate forum at Baker College (Kansas) last November, according to the Baker Orange: "I really want to be who I am, and I want to be the authentic person ... And when you act in a way that reflects who you really are on the inside, then I think you're really destined for success." [LJ World] [Greensboro News and Record] [The Baker Orange]
Higher education is big part of the Capital Region, both in that it provides a lot of jobs here and draws a lot of students to the area. Saint Rose is in an especially interesting position within the city of Albany because its campus is woven right into the surrounding neighborhood. And over the last decade, as Saint Rose has expanded its campus and constructed new buildings, it's significantly shaped the area around it.
The College of Saint Rose advertises on AOA.
photo via Saint Rose
Hi there. Comments have been closed for this item. Still have something to say? Contact us.