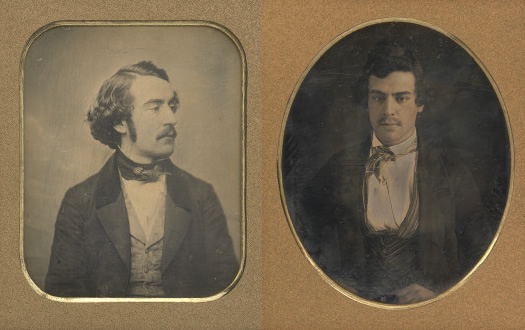 Photography is so ubiquitous now -- almost everyone carries around some sort of camera in their pocket -- that it's a bit difficult to imagine a time when it was a new and rare. That to be a photographer was to be on the avant garde of art and technology.
As it happens, two of the earliest famous photographers were from Albany: Henry and Charles Meade.
From a Smithsonian article:
Henry Meade was 20-years old, when he set up his daguerreotype studio in Albany, New York, in 1842. He opened the shop with his brother, Charles, who was just 16. Together the duo, accompanied by their sister Mary Ann, would help introduce the new technology to America, popularizing the portraits sometimes called the "mirror with a memory." They would eventually move to New York City, first to Brooklyn's Williamsburg, and then to Manhattan. Their shop at 233 Broadway was prime real estate and just a short walk from Mathew Brady's studio.
Through a zealous advertising strategy that included visiting the reclusive inventor of the daguerreotype Louis-Jacques-Mandé Daguerre back in France and convincing him to sit for a portrait study--something Daguerre had long refused to do--the brothers, with help from their sister and father, earned a reputation for their skillful work.
As the article mentions, the brothers set up their first studio in 1842 in downtown Albany in what was then a new building at the corner of State and Broadway (and would later move to the Exchange Building). The Meades had been born in England and upon arriving in the United States in 1834, they first lived in Troy before moving to Albany. From Encyclopedia of Nineteenth-Century Photography:
Meade Brothers began in 1842 at a Douw's Building [at State and Broadway] in Albany, New York, and moved to the Exchange in 1843. In addition to taking pictures, offering instructions, and producing cases and other items in their "manufactory" for sale and their own use, they became major importers and dealers of equipment and supplies. They operated branches in Buffalo, Saratoga Springs, and possibly Canada for a time but relocated completely to 233 Broadway [New York City] in 1850. In July, 1853, they opened a branch in Williamsburgh, L. I. (later Brooklyn) at 1st and South 7th Streets.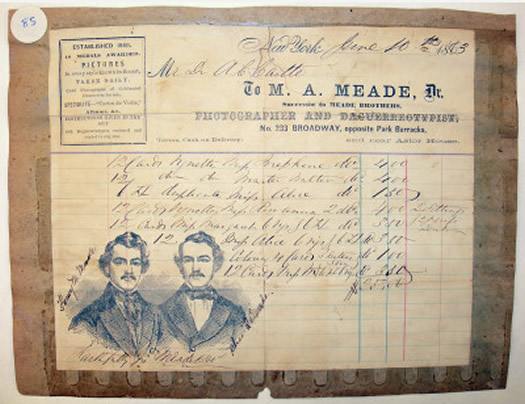 From a description of a Meade studio in New York City from an 1853 issue of Gleason's Pictorial Drawing-Room Companion [via The Daguerreian Society]:
The Meade Brothers take every style and size picture known in this beautiful art. They have the largest apparatus in the world. They have two separate rooms for sitters, with toilette rooms adjoining, and two large skylights, with conveniences for taking groups--of schools, colleges, military and fire companies; also the wonderful sterescopic or solid daguerreotypes. This popular establishment is now one of the lions of New York, and is well worthy a visit from the resident or passing traveller. These galleries are free to the public. What a revolution in the matter of art, the famous discovery of Daguerre has made!
The Meades ended up taking photos of many famous people -- including Samuel Morse, James Buchanan, Sam Houston, and even actor-not-yet-assassin John Wilkes Booth.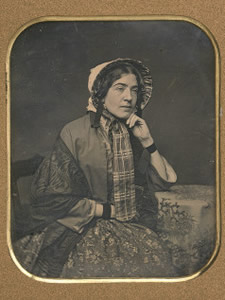 Their success didn't last long. Charles Meade died of illness in 1858. Their sister, Mary Ann (that's her on the right), took a larger role in the studio after her brother's death and is now regarded as the first female daguerreotypist. In 1865, with the business struggling, Henry Meade committed suicide and the business ended shortly after that.
Works by the Meade Brothers are part of the National Portrait Gallery collection, and there's currently a Meade Brothers exhibit on display at the gallery in DC through the end of May. As the gallery's director said in a press release: "This exhibition is a great opportunity to recognize the accomplishments of the Meade brothers and their contributions to American studio photography ... The first generation of studio photographers, such as the Meade brothers, paved the way for this democratic medium to take hold in our culture."
(Thanks, Wendy!)
photos: National Portrait Gallery, Smithsonian Institution; gift of Mr. and Mrs. Dudley Emerson Lyons: Charles Meade and Henry Meade and invoice
Hi there. Comments have been closed for this item. Still have something to say? Contact us.