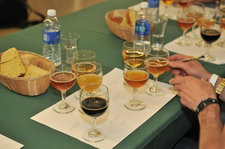 The annual TAP NY craft beer festival will be back at Hunter Mountain April 26 and 27. Tickets are on sale now -- they're $73.44 for that Saturday / $60.48 for Sunday / $21.60 for designated drivers.
There are more than 70 breweries registered for this year's festival, 18 of them new to the event. Blurbage:
Many of the invited brewers produce their beer for sale only in their location.... whether it is a restaurant, a brewpub or a small brewery. Others are breweries large enough to distribute on a larger scale, but maintain an excellent quality through their commitment to hands-on, craft-brewing their product. You won't find Anheuser-Busch, Coors, or Miller products here. What you will find are some truly remarkable beers that will tantalize your taste buds... beers that offer a variety of color and flavor that the big brewers don't do. You'll find everything from pale ales and pilseners, to weisbiers, porters, stouts, and scotch ales; from hearty Bohemian and Bavarian-style lagers to glorious Belgian-style ales and much more.
The festival is also a competition for beer brewers in the state.
We get the impression the Saturday session of the festival often sells out, so if you're interested in going, it's probably a good idea to get tickets sooner rather than later.
Hunter Mountain is in the northern Catskills, a little over an hour's drive from Albany.
New breweries: Over at In The Name of Beer, Greg Back has been profiling the breweries that are new to the festival this year.
Earlier on AOA: Trying the "best craft beer in New York State"
photo: TAP NY FB