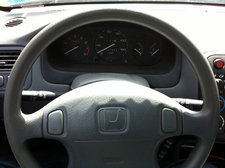 Baby Boomer emails:
Could you ask your readers if they could recommend a driving instructor, specifically in Albany, who could teach an older person who is very nervous when learning to drive? I took a few lessons years ago and was very stressed out. I still want to learn before I get too old.
A bunch of years ago we had a question about driving schools, but it was in reference to teens. Things change. And also, we're curious if there are any driving instructors who specialize in -- or just happen to be really good with -- adults who are taking up driving.
Got a suggestion for Baby Boomer? Please share!
Hi there. Comments have been closed for this item. Still have something to say? Contact us.