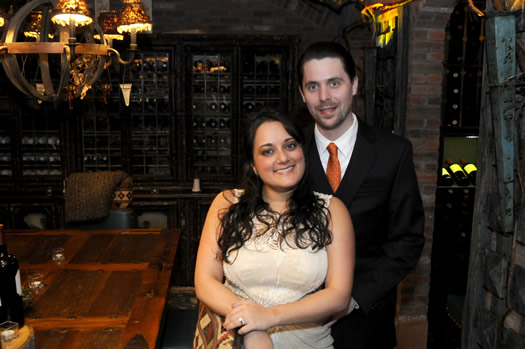 By Lauren Hittinger
Lauren and George are planning a wedding in the Capital Region, and they're chronicling the planning process here on AOA. But this time, Lauren's talking with a couple about going a different direction...
When planning a wedding, not everyone decides to do a big bash in a ballroom with all of their family and friends. Some couples forgo a traditional wedding and opt to elope instead.
Local couple Nick and Sita chose to "sorta-elope" to Lake Placid -- and say they couldn't be happier with their decision.
When planning their wedding, Nick Crounse, 34, and Sita Legac, 33, briefly considered going the traditional route. In the end, though, they decided an elopement-style wedding without any guests was more their style. My favorite detail was that it only took about a month to plan, and was all arranged three months before their March 2014 wedding date.
Here's Sita and Nick's perspective on eloping in Lake Placid.
Why did you decide to elope?
The idea of a simple, stress-free ceremony really appealed to us from the beginning. We are also in the process of moving into a new house, so we were also attracted to the relative frugality of eloping. Finally, Sita's family lives all over the world, including in India, England and Australia, so the logistics required to get everyone together was rather daunting.
You've described your wedding as "sorta-eloped" What does that mean?
We didn't really elope at all, even though we used that phrase plenty. We didn't run away. All of our parents approved of the union. The ceremony was not conducted at 3 am in Reno by an Elvis impersonator.
We didn't really elope at all, even though we used that phrase plenty. We didn't run away. All of our parents approved of the union. The ceremony was not conducted at 3 am in Reno by an Elvis impersonator.
It was fun to say that we were eloping, but we planned everything out well in advance, and we told our family and friends about our plans. So, we started referring to it as "sorta-eloping" or "pseudo-eloping" since we weren't having any guests. After we told our parents, when people asked about our wedding plans, neither of us really saw the point in lying, so by the wedding date, a lot of people knew what was happening. Â 
Did you consider going the more traditional wedding route? What was appealing or not appealing about a traditional wedding?
The thought of a traditional wedding was always in the back of our heads, but everything about this idea felt right for us. Neither of us have ever pictured a large, traditional wedding. We will be having a traditional reception in India, though, to celebrate with Sita's family.
The most appealing part of a traditional wedding was, unquestionably, having all our friends and family with us. It wasn't so much that a traditional wedding was unappealing; it was more that our wedding just seemed to fit with us as a couple.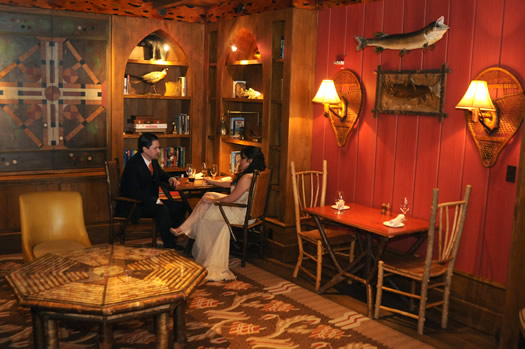 What about eloping made planning easier?
Mostly, it is a lot easier to plan for two people than a hundred or more. Also, it turns out that planning anything in Lake Placid in March is a remarkably easy endeavor. Everyone we talked to was wonderfully accommodating.
On the day of our wedding, Lake Placid was hit with a large, mid-March snowstorm, which did threaten to disrupt some of our plans. Sita's spa morning took an extra few hours because of employees that couldn't get in, and driving around was also tough.  However, because it was just the two of us, getting married on a Wednesday in March, all that was needed was a phone call to the lodge to push the ceremony back by 45 minutes.  
It was so easy, and no one (i.e., Sita) panicked. Â Â 
What about eloping made planning more difficult? 
Nothing.
Why did you choose Lake Placid, and is there anywhere else you were considering?
Lake Placid is gorgeous and relatively close. Also, neither of us had been in some time, so it was an opportunity to visit favorite places like the The Cottage at Mirror Lake Inn, as well as check out new-to-us places like the Interlaken Inn and Liquids and Solids. Aside from the wedding, we basically ate our way around the town.
We considered other, more far-off locations -- New Orleans or maybe the Caribbean -- but we realized that the time and cost involved [for] those options really negated what we were trying to do.
What traditional wedding aspects did you still have, and what did you do without?
We did a lot of the traditional things: there was a wedding dress and a photographer, for example. The photographer was a must; there was no way we could not document the event for our family. Sita also had a morning at the spa to get hair, nails, and makeup done. We also had a bouquet, but, in the end, forgot it in the mad dash to go from the place we were staying to the place where we got married.
What was your favorite part of your wedding day?
The post-ceremony, four-course meal at the Lake Placid Lodge was fantastic. They set us up in the wine cellar, the food was excellent, and each course was paired with wine or beer. Then, since there was a paralyzing snow storm whipping around outside, they drove us home in a massive, stormproof vehicle that they affectionately refer to as "The Tank."
If you had to do it all over again, is there anything you would change?
We wouldn't have forgotten the flowers.
____
Congratulations to Nick and Sita and thanks for sharing your story!
Lauren writes about shopping, crafting, and living well on a small budget at The Thrifty Ginger.
More wedding planning:
+ Planning a Capital Region wedding: photographers
+ Planning a Capital Region wedding: the dress
+ Planning a Capital Region wedding: catering
+ Planning a Capital Region wedding: the venue
photos courtesy of Sita Legac and Nick Crounse
Hi there. Comments have been closed for this item. Still have something to say? Contact us.