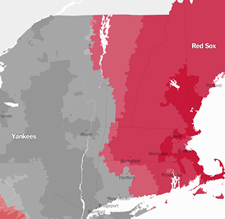 A follow up on the very important matter of the Jeter-Papi Line that divides New York from the rest of the Northeast: The New York's Times' new Upshot site/blog/explainer product got a hold of the Facebook data used for that previous major league baseball fan map and created an interactive fan map with more detail.
Two quick things:
+ The Jeter-Papi line actually runs through Western Massachusetts, southern Vermont, and then -- gasp -- into New York State along Lake Champlain.
+ Outside a few counties in the Hudson Valley, the Red Sox registered as having more fans than the Mets in just about every other upstate New York county.
(Thanks, Tim)
map clip: NYT/The Upshot
Hi there. Comments have been closed for this item. Still have something to say? Contact us.