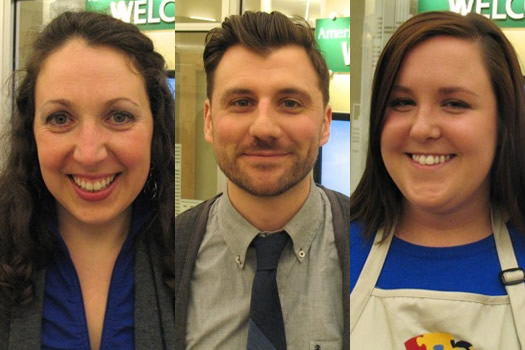 The three finalists for the 2014 AOA Startup Grant gathered at the Berkshire Bank on Wolf Road Wednesday evening to make their final presentations to the judges. At stake: a $1,500 grant.
All the finalists made good impressions. But only one could win...
Judges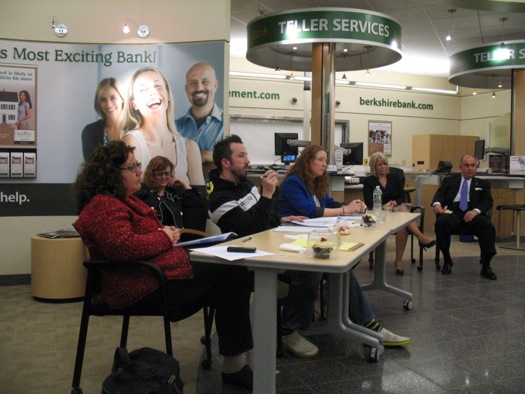 In the background are Karen Mason from Berkshire Bank and Dan Ciampino from Staff Ciampino, who were there to listen to the finalists' presentations.
Returning as judges for this year's competition (left to right in the center of the photo above):
+ Lissa D'Aquanni - former small business owner and director of community relations at the Community Loan Fund of the Capital Region
+ Blake Hanan -- founder and owner of Mealeo.com
+ Rhea Drysdale -- founder and CEO of Troy-based online marketing firm Outspoken Media
A note of disclosure: Puzzles Bakery and Cafe has applied for a loan through the Community Loan Fund, which is, of course, where Lissa D'Aquanni works. Once Puzzles' applied for the AOA Startup Grant, Lissa halted any of her involvement with the Puzzles loan app until after this contest.
Raya's Raw and Cultured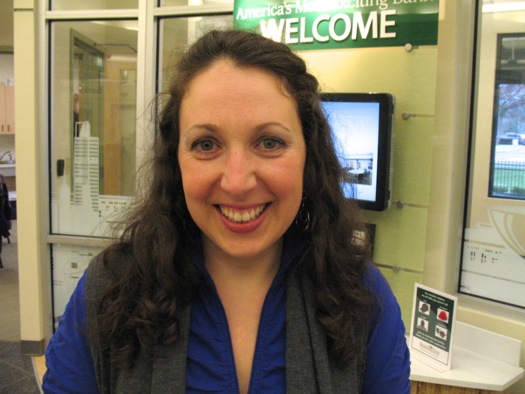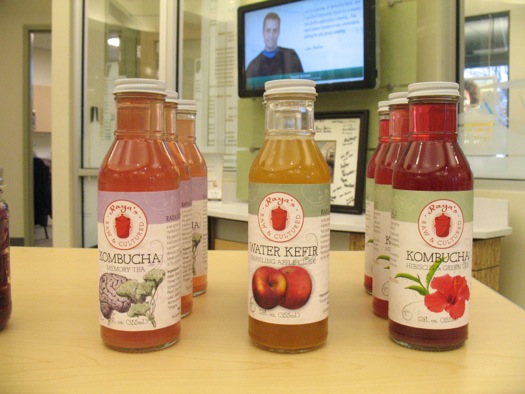 Raya Loffe is planning to start Raya's Raw & Cultured, a line of fermented, probiotic food products, including kombucha and kraut (application). Raya's the topped the chart in the crowd voting to earn a spot in the final.
Business approach: "My most important thing is to use the best, cleanest possible ingredients, that's priority number one. Number two is to have fun while doing it -- we love to have music while we're creating our goodies. And the other thing that's really important to me is to source as much locally as possible, also organic. That goes along with the no-compromise-on-the-ingredients bit. I just feel like I will either do it all the way, or I won't do it at all. I just can't compromise on cutting costs with a cheaper ingredient or something like that -- it doesn't feel like integrity to me."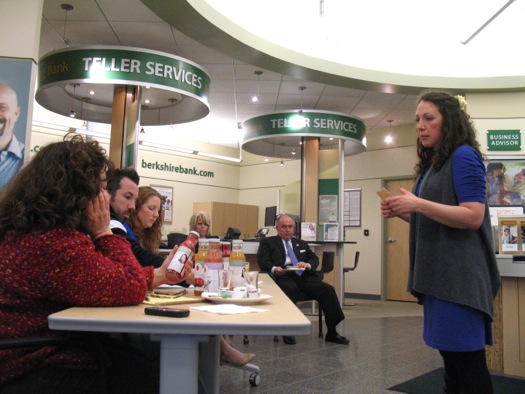 Judges' thoughts
The judges were impressed with Raya's products, and they said they enjoyed the kombucha. They also thought Raya was a good representative of her products -- she was passionate and fun to talk with.
But the judges weren't as sure about the current state of planning for the business. And while Raya shared some of her plans to expand production of her products -- including a commercial kitchen -- the judges got the impression the details needed more work.
Judges' advice
This idea needs a formal business plan, along with plans for production and marketing. A business class and/or mentor could go a long way to helping get a better handle on the planning and numbers.
The Rise and Shine Company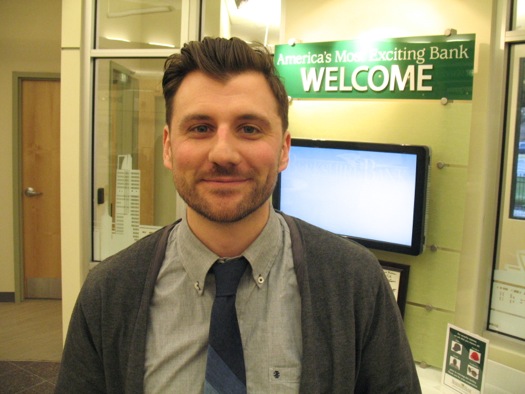 Michael Conlin is planning a pop-up shop in downtown Albany offering a line of apparel, accessories and art (prints, signs and designs), as well as curated, locally made goods and collectibles (application). Rise and Shine placed second in the crowd voting to earn a spot in the final.
Business approach: "The Rise and Shine Company's approach is really to partner with craftsmen and artisans, whether they be local or regional, to supply creative products with a compelling story behind it. And raise the level of performance in the area -- right now it's kind of at the belt buckle level and we kind of want everyone to be doing pull-ups. So we take companies, nurture them, give them an opportunity to showcase their product, and raise them up and let them shine."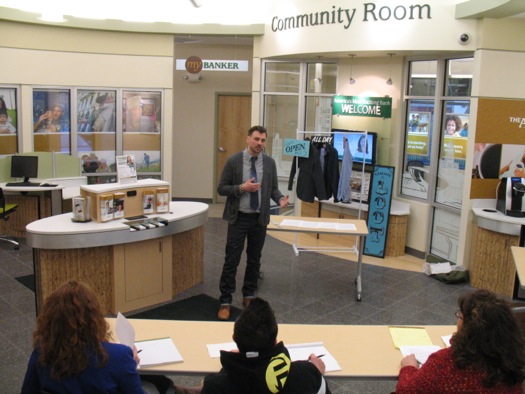 Judges' thoughts
The judges liked Michael a lot, got a sense he's tied into what's current, and said they loved the name of his project. And they said they could see a market for the men's products his pop-up shop would be focused on. But they were worried his concept -- which could eventually include other services -- might be covering too many elements.
Judges' advice
Narrow the scope of the project. Focus on on a series of special events that include great products offered over a short window of time. There's money to be made from the right sort of curated, focused events.
Puzzles Bakery and Cafe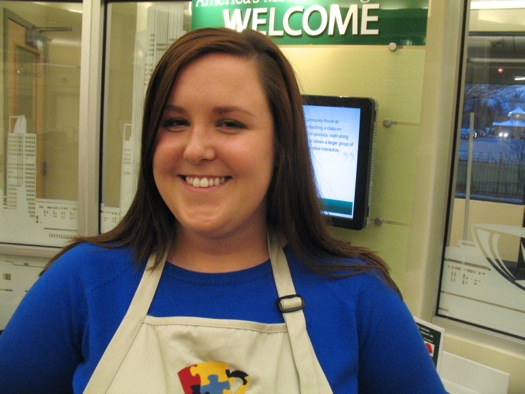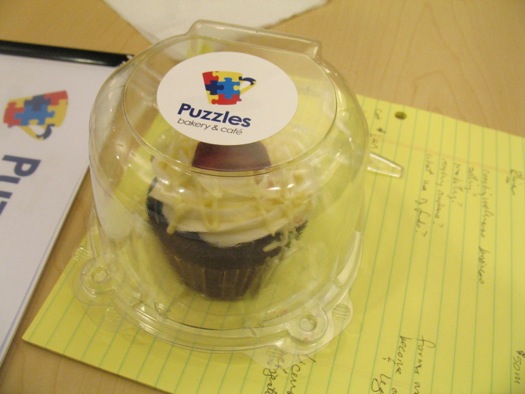 Sara Mae Hickey is in the process of opening a bakery and cafe in downtown Schenectady that will provide employment opportunities for people with developmental disabilities (application). Puzzles was third in the crowd voting and was selected for the finals by the Editors.
Business approach: "Puzzles Bakery and Cafe is what's called a social enterprise. Basically, we're harnessing the power of business for social good. In our case we're employing adults who have special needs -- such as autism, Down's syndrome, and other developmental disabilities. So we're offering delicious food -- we have sandwiches, soups, salads, baked goods, refreshing beverages -- and also doing a really good thing by hiring people who have special needs."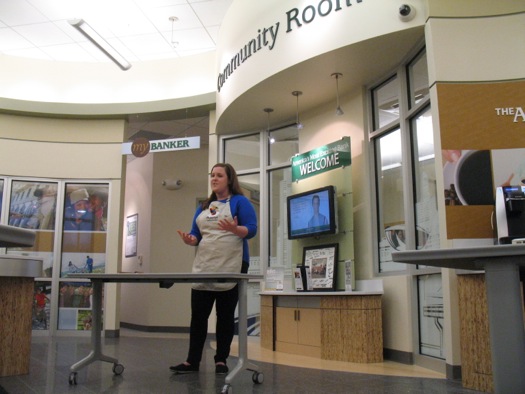 Judges' thoughts
The judges were super impressed by Sara Mae, praising her preparation and attention to detail. They noted a passionate dedication to the project.
The judges also liked the concept for Puzzles, that it was a business with a real plan. And they figured its social angle could not only help people, but would also garner it significant attention.
But the judges were not totally without concerns. They said that staffing -- especially finding the right mix of employees -- could take some time. And they noted that someone with general manager-type experience could aid the process.
Judges' advice
Start slow, keep the payroll low. Find your footing and then add people. Mistakes will happen along the way -- don't let them paralyze you, assess the situation and chart a new course.
And the winner is...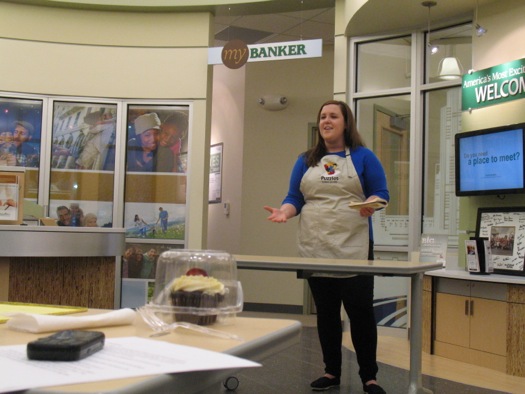 Puzzles Bakery and Cafe
Puzzles was the unanimous choice of the judges. While they had many positive things to say about the other two competitors, Sara Mae Hickey clearly set her project apart in the judges' minds.
They praised Sara Mae for what appeared to be a "phenomenal" amount of work that had gone into the project so far, along with a clearly thought out business plan. One judge also commented that Sara Mae had a certain fearlessness -- to trust people, to figure things out -- that is often the mark of successful entrepreneurs.
And while the $1,500 grant will help Puzzles -- Sara Mae says she plans to use it for the cafe's point-of-sale system -- the judges also liked the idea that the victory would help focus attention on what they felt was a project that was very worthy of community attention and support.
Thank you
Thank you to everyone who submitted an application for this year's grant. There were a lot of strong ideas this year. And we hope to hear more about how they're coming along.
Also, thank you to business/creativity coach Janet Tanguay and the Albany Colonie Chamber of Commerce for the crash course for each finalist.
Many thanks also to our judges -- Lissa D'Aquanni from the Community Loan Fund, Blake Hanan from Mealo, and Rhea Drysdale from Outspoken Media. Once again, their comments were thoughtful and insightful.
And this year's AOA Startup Grant wouldn't have been possible without the sponsorship of Staff Ciampino & Company P.C., Certified Public Accountants, and prize money from Berkshire Bank. Thank you to them for making this possible.
Hi there. Comments have been closed for this item. Still have something to say? Contact us.