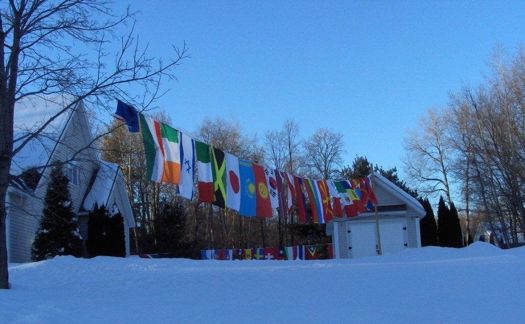 It's Monday -- time to discover some new music.
This week on WEXT's My Exit, guest DJs Joanne Stazio-Silverman and Rosemary Armao have pulled some fun, eclectic international music for their second My Exit show. In particular, they're focused on non-English speaking bands that sing in English.
Who?
This week's guests are Rosemary Armao and Joanne Stazio, two friends from Colonie HS days still living in the area who have gotten together for a second My Exit DJ show. Joanne is known in the community as a music enthusiast, but prefers the role of hunter and gatherer when it comes to the show. She also likes to collect art and loves to cook, especially Italian food. She is a hairstylist by trade. Rosemary is a journalism professor who works overseas when school is out as an investigative editor. She signed up to work with Joanne because she loves lyrics, can make Joanne relax in front of a microphone, and gets the perks of eating her meatballs while working with her. Rosemary comes to work on the music, but stays to eat the food; which Joanne is happy about (meatball bribery). They have a good thing going.

Musical tastes
They are both open to and research an eclectic mix of genres from standards to indie to international. Rosemary claims that Joanne is impossible to pin down to a playlist because she comes up with more possibilities, even on the day of taping. Rosemary also claims she is the student, especially on this show.
They set out with the idea of collecting songs that had English lyrics -- but were done by artists around the world who don't speak English as their first language. That was the gimmick -- inspired by "Broken English," the old Marianne Faithful song.
In the spirit of WEXT, they tried to introduce some unknown artists, from Israel to Guatemala to Bosnia. They are hoping you may want to explore or add some different choices to your own playlist.

Five Songs from their My Exit show

"Small Change Girl" - Asaf Avidan & The Mojos
When Rosemary is rendered speechless, you know it's good. Asaf's voice has been compared to Janis Joplin for his passion, soul and tone and his lyrics to those of Bob Dylan. He is a singer, songwriter and multi-instrumentalist from Israel. His music is powerful and thought provoking.
"Letter to a Mad Woman" - Gaby Moreno
Gaby is a Guatemalan artist who runs the gambit of folk, blues, jazz, R&B, and covers all of these styles comfortably. She sings equally beautifully in her native language and has earned major awards for her writing and profound talent.
"Six Years" - Magnus Tingsek
Most of our artists have the same recurring theme. They play, produce, and are comfortable switching among musical genres. Tingsek, our Swedish artist, is no exception. Mostly planted firmly in funk and soul, collaborating with American soul artist Allen Stone and Canadian artist and producer Slakah the Beatchild, he also produced and recorded a beautiful lush album with Mans Mernsten and the Vindla String Quartet.
"Tell Me" - Delv!s (aka Neils Delvaux)
This is our Belgium pick. Delv!s has been described as Jose James meets Cee Lo Green, or with a voice that will remind you of Stevie Wonder, Nina Simone, and Amy Winehouse. His band consists of a rock drummer, jazz guitarist, a bassist with a soft spot for Philly soul, a hip hop keyboardist and an extreme electronic man. Together they bring you every style of music from joyous gospel to folk.
"Jimmy" - Moriarty
This band hails from France but its members are of French, American, Swiss and Vietnamese origin. Honestly, when Joanne first listened to this band, even she wasn't sure what to think. The lead singer Rosemary Standley has the most unusual singing voice that captures and seals the deal. They sound like no one else and once you listen to their beautifully crafted songs, you too will appreciate their sound.
You can hear Joanne and Rosemary's My Exit show Monday night at 11pm on 97.7, Saturday at 8 am, or at exit977.org.
Here's how to schedule your own My Exit show on WEXT.
Previously on My Exit:
+ My Exit: Joanne Stazio-Silverman & Rosemary Armao
Say Something!
We'd really like you to take part in the conversation here at All Over Albany. But we do have a few rules here. Don't worry, they're easy. The first: be kind. The second: treat everyone else with the same respect you'd like to see in return. Cool? Great, post away. Comments are moderated so it might take a little while for your comment to show up. Thanks for being patient.