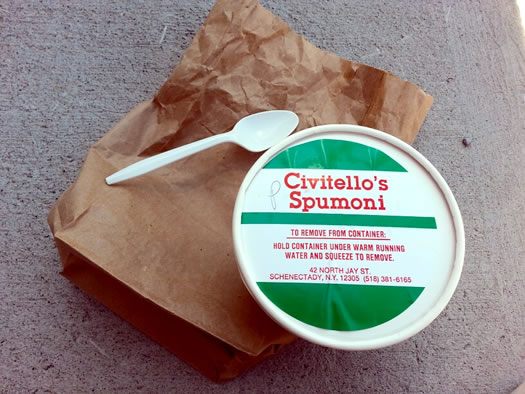 By Deanna Fox
One of the (many) great things about Italian food is that it often looks like the country it came from. The hallmarks of many popular Italian dishes -- tomatoes, basil, cheese, pasta -- are the same red, green, and white that grace the country's flag.

Few nations promote their patriotism in such explicit culinary ways as Italy, a practice carried on by the cooking of many Italian-Americans. The pistachio spumoni at Civitello's in Schenectady is no exception. Layers of green and white with flecks of candy-colored red leave little doubt that a sweet bite of Italy is coming your way.
Spumoni is a molded Italian ice cream, but beyond that, it is difficult to qualify it.
Is it gelato? Well, no, not really. Nor is it truly Italian ice. Spumoni kind of settles into the gray area of frozen Italian desserts. Because of the compact layered composition of spumoni, a true gelato would not hold up in the molding process. Gelato is too soft. (But don't worry, as there is plenty of gelato to be enjoyed at Civitello's.) Even though there is a distinctive icy quality to the "white" layer of Spumoni, Italian ice it is not.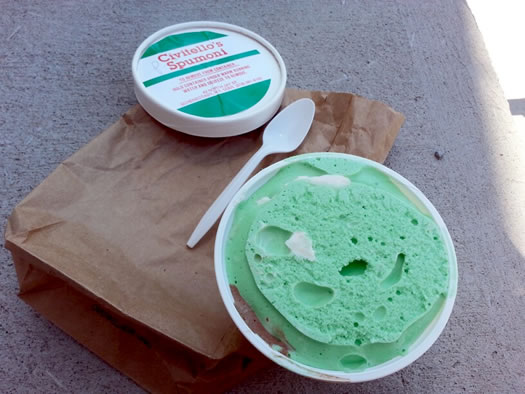 The Civitello sisters who now run the Little Italy spumoni shop begin with vibrant green pistachio ice cream. This layer composes most of the tub of spumoni (some might say there is too much pistachio) and it is perfectly pistachio-y. It is at once lush and refreshing, both coating and cleansing the palate. It curls against the spoon like classic lemon ice, but melts on the tongue like creamy gelato.

A sliver-thin layer of nearly bittersweet chocolate ice cream ripples through the tub of spumoni, cutting through the rich consistency of the pistachio. There isn't much of it, but there doesn't need to be. The flavor is so dark and developed, it would mute the pistachio and overwhelm the final layer.

A core of frozen heavy cream with chopped maraschino cherries and hazelnuts is the hidden prize beneath the green pistachio cloak. The heavy cream has a bit of chew to it, like frozen nougat, and rounds out the green-white-red trifecta of the Italian confection. The flavors will meld together, reminiscent of that other Italian favorite, Neapolitan ice cream.
Unlike most other local Italian pasticcerias or ice cream shops, the experience at Civitello's is that of a true spumoni shop found in bigger, more famous Little Italy districts. Each shop's spumoni is unique to itself, and the spumoni at Civitello's will not be found with the same flavor, proportion, or general videnda anywhere else in the Capital Region.

How you eat spumoni is as critical to the experience as the flavor of the ice cream itself. You can eat spumoni any way you want, just like you could eat a PB&J, or a cupcake, or a hot dog any way you want. But the best eating experience comes from a certain finess given to the actual insertion of food into mouth. You could take the tub of spumoni home, run it under hot water as the label suggests, and cut 4 or more servings out of it. But who has time for that.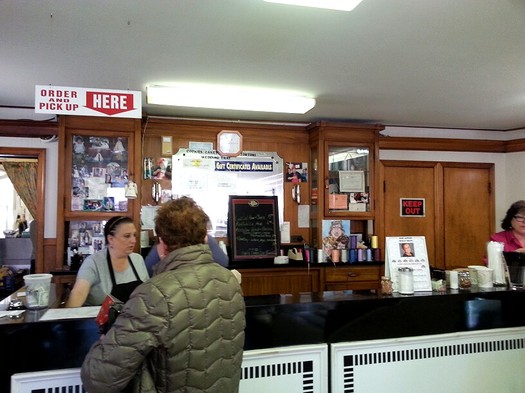 The true spumoni eating experience comes as follows: Walk into Civitello's and know what you are doing. Don't be distracted by the big-as-your-face eclairs (which deserve their own post) or the trays upon trays of Italian cookies. You can order those, the tomato pie, or an Italian mix sandwich another time. Beeline to the counter in the back and ask for a tub of spumoni. Civitello's is both too small and too busy to fuss with indecisive customers. (Though the staff is kind, there is short tolerance of nonsense. You will feel as though they might simultaneously kiss you on both cheeks and whack you with a marinara-stained wooden spoon.)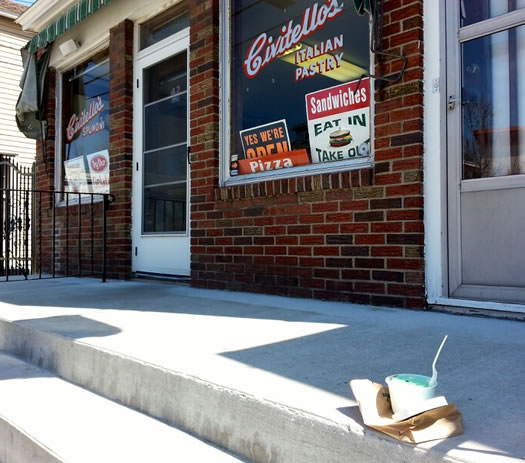 Don't forget to ask for a spoon. You'll be eating your spumoni immediately, and it will come to you in a brown paper bag. Grab a seat on the wide concrete stoop in front of Civitello's. Roll back the top of the brown bag just far enough to be able to take the top off the tub. Hold your spoon at the intersection of handle and bowl; the spumoni is frozen stiff, and you want to lessen the chance of breaking your spoon. Begin eating directly in the middle, straight down, to hit all three layers as quickly as possible. You might feel a bit illicit, like you're drinking from a liquor store brown bag while sitting on the sidewalk in the lamp post light, but when did being drunk on ice cream ever become a bad thing?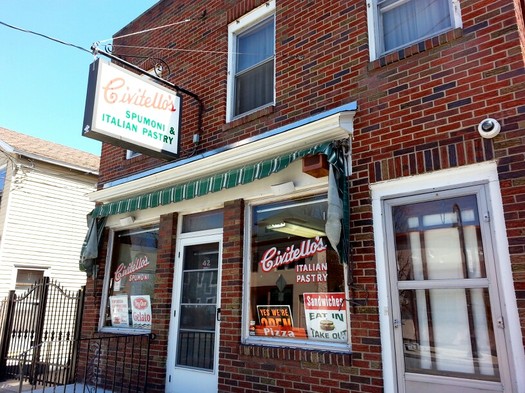 The Civitello's building and neighborhood only heighten the experience. The gritty industrial brick, hardened steel fire escapes, and hand-painted lettering on street-facing windows make Schenectady's Little Italy feel perfectly frozen in time. It is familiar, as though you've been coming here for years, even if it was your first experience. It feels like the kind of place your grandpa would take you when he was dodging his cholesterol count and you were dodging your vegetables at dinner. In a way, it is all kind of romantic.

A tub of Civitello's pistachio spumoni cost $7 and nets a handful of servings (or enough for one-to-two very gluttonous Deannas). It is a great dessert option after a coal-fired pizza at nearby Perecca's or harissa-laced tagines from Tara Kitchen. Beyond that, it is a scrumptious way to capture the Italian spirit in wallet-friendly manner. (Unless you can afford to drop the cash on a Florentine vacation, in which case, I recommend the spumoni at Vivoli).

Deanna Fox writes about many things, mostly about food. More can be found on her website, Twitter, or Instagram.
More Eat This
+ Fried oysters at Javier's
+ Eggs in Purgatory at More Perreca's
+ Flatbread pizza at Tara Kitchen
Find It
Civitello's
42 N Jay St
Schenectady, NY 12305
Hi there. Comments have been closed for this item. Still have something to say? Contact us.