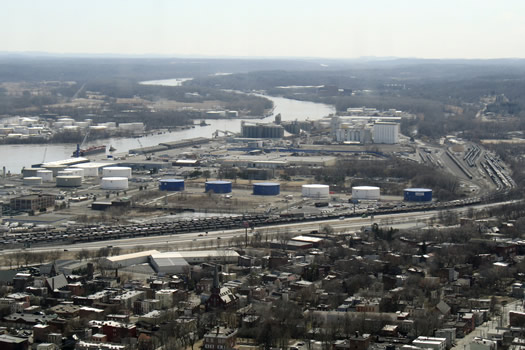 See update at the end about Global Partner's announcement that it will require a newer model of tanker car.
The Cuomo admin released its report today reviewing how the shipment of crude oil on trains through the state could be made safer. As you know, the Port of Albany has become a major transfer point in the distribution of crude oil from North Dakota. And, because of a string of accidents -- such as a catastrophic explosion in Quebec last year -- the issue has gotten a lot of attention locally.
The first few parts of the state's report are a pretty good backgrounder on the issue. It includes a bunch of facts detailing the rapid rise in US production of crude oil, and how that's resulted in trains loaded with crude traveling through the state. (It's also worth keeping in mind that it's a state-authored doc.)
The report also highlights a number of things the state would like to see changed. And top of the list is an improvement in the tanker cars used to transport the oil -- because the tanker cars aren't very good at it. Or, as the report describes them, they're "inadequate." A clip:
As much as 82 percent of the DOT-111 tank cars carrying Bakken crude [the oil from North Dakota] across North America are the older models with a poor safety record that failed catastrophically in Lac-Mégantic. The remaining 18 percent are new or retrofitted as part of an industry led effort to improve the safety of the car. Generally, the oil production company shipping the product, not the railroads, either owns or leases the tank cars. Twenty three years ago, the National Transportation and Safety Board revealed several safety issues concerning the transport of hazardous materials in DOT-111 tank cars. Investigation of more recent incidents confirm that the design of the DOT-111 tank car makes it susceptible to damage and puncture during derailments. ...
Some railroads have announced that they are moving to proactively enact policies with regard to the perceived risks associated with continued use by shippers of the older tank cars. For example, Canadian Pacific Railroad announced in February of this year that, effective March 14, 2014, it would begin assessing a $325 "general service tank car safety surcharge" on each tank car of crude oil that is shipped in any container other than the newer, hardened models. BNSF, which operates primarily on the West Coast, has taken the unprecedented step of buying up to 5,000 safer DOT-111 tank cars that it will lease to shippers on its lines.
You've almost certainly seen these tanker cars -- they've become a frequent sight on local rail lines, and you can often spot them in downtown Albany. Replacing or retrofitting them appears to be one of the biggest steps toward making the transport of this oil safer.
The head of the National Transportation Safety Board has been pushing for an upgrade to these cars, as have elected leaders. That will be expensive -- it might cost $3 billion, by one estimate -- and it sounds like the petroleum industry is trying to slow the process. It's currently up to the US Department of Transportation, or perhaps the White House itself, to change the rules. [PBS NewsHour] [Reuters] [Star Tribune]
And that highlights another part of this issue: However much state and local governments might push or plan, much of the authority do anything on this topic rests with the federal government.
Just today there was another accident involving a train carrying crude oil -- 15 cars derailed in downtown Lynchburg, Virginia and multiple cars caught fire. [Reuters]
Update 2014-05-01
Later on Wednesday Global Partners announced that it would begin requiring crude oil shipped to its terminals at the Port of Albany and on the West Coast to use a newer model of tanker car that includes increased safety features. Global says the requirement will be phased in starting June 1. [Global Partners press release]
These newer model tanker cars are called "CPC 1232-compliant cars," and the standards for them date back to October 2011. Their safety features include a thicker shell. And while these cars are apparently considered a step up from the DOT-111, there are already calls for another upgrade. Back in March of this year the president of the Association of American Railroads, which represents the railroad industry, testified at a US Senate subcommittee hearing that his industry is now pushing for tanker cars that carry crude oil and ethanol to have an even thicker shell -- 9/16th of an inch, instead of the CPC 1232's 7/16th of an inch. [US Senate Committee on Commerce, Science, and Transportation testimony]
What about that Global Partners facility at the Port of Albany?
Back in March, following a surge of local attention, Global Partners said it would be adjusting its plan for crude oil heating facility at the Port of Albany, and pulled its application from the Albany Planning Board agenda. [TU]

Hi there. Comments have been closed for this item. Still have something to say? Contact us.