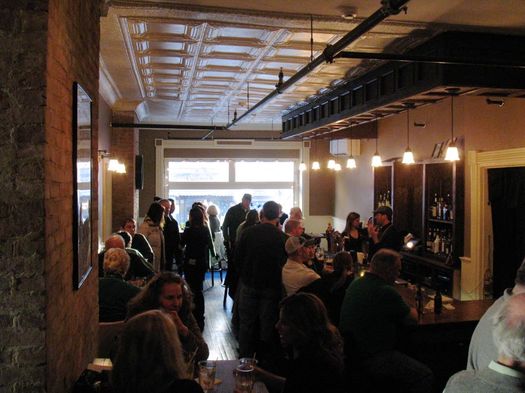 Two things about eating crow, which we wouldn't recommend because crows are wicked smart and it's probably best not to get on their bad side:
1. The owners of the Trojan Hotel/O'Brien's Public House in downtown Troy will are inviting people to eat "crow" with them at a party celebrating the building's renovation May 20. Is there a story behind that? You bet. From the press release:
Although the Trojan Hotel is one among many historic building rehabilitations underway in the celebrated revival of downtown Troy, this restoration effort was not without its doubters along the way.
But one of the harshest online critics of the effort has kept good on his public offers to buy a round of drinks for the house if the family succeeded in opening. The skeptic, who wishes to be identified as a "local facebook loudmouth," has paid the bar $200 to help provide one complimentary drink (beer, wine or regular drink) to the first 40 people who attend the Tuesday, May 20 opening party, starting at 5 p.m.
So, in the spirit of fun and redemption, the O'Briens will serve up slices from a lifelike crow-shaped cake, made by Troy confectionery artist Susan Dunkel of Sweet Sue's, 203 River St.
In fairness to this particular loudmouth, the building was in rough shape when the O'Briens got a hold of it. And it's to their credit they've been able to bring it back. Here are some before and after photos.
2. Where does that phrase -- to "eat crow" -- come from? It's unclear, apparently, but two of the popular stories about it are both related to New York...
The Hudson Valley farmer version
An 1850 article in the Saturday Evening Post included the tale of a farmer in Lake Mahopac who got tired of hearing borders complain about the food he was serving:
"Darn it," said old Isaac, one day, "what a fuss you're making; I can eat anything."
"Can you eat crow?" said one of his young boarders.
"Yes, I kin eat crow."
"Bet you a hat," said his guest.
The bet was made, a crow caught and nicely roasted, but before serving up, they contrived to season it with a good dose of Scotch snuff.
Isaac sat down to the crow. He took a good bite, and began to chew away. "Yes," he said, "I kin eat crow (another bite and awful face,) I kin eat crow, (symptoms of nausea,) I kin eat crow; but I'll be darned if I hanker after it." -- Isaac bolted.'
As Barry Popik notes, the idiom probably is connected somehow to the British saying of "eating humble pie," which itself is a play on "umble" -- which refers to deer offal.
The War of 1812 soldier version
Another widely circulated backstory to the phrase is attributed to an Atlanta Constitution article in 1888 that refers to a story from western New York during the War of 1812. (Yeah, weird.) As Rosemarie Ostler summarizes it in Let's Talk Turkey: The Stories Behind America's Favorite Expressions:
An American soldier stationed near the Niagara River took advantage of an armistice to go hunting one day. In his enthusiasm he crossed the river into British territory, where he soon bagged a crow. Before he could escape back to American territory, he was discovered by a British soldier.
As the story goes, the British soldier tricked the American into handing over his gun, then forced him to take a humiliating bite out of the crow. After issuing a stern warning, the Englishman then foolishly returned the weapon, whereupon the American forced him to eat crow also. The story ends with the British soldier complaining to the American's commanding officer that the American had broken the armistice. The American reluctantly admits that he recognizes the Englishman, saying that, in fact, they had dined together only the day before.
As Ostler notes, "this one is almost certain to be false." And if you read the original (linked above), you might notice the Atlanta Constitution doesn't do any favors in its depiction of the "specimen of the genus Yankee."
So, how does crow actually taste?
From the Kevin McGowan's FAQ page about crows at the Cornell Lab of Ornithology:
I have had several opportunities to sample the flesh of crows (I will not go into detail about how this came about, but remember this is a legally hunted species). In my opinion, crow tastes just fine. It is similar to wild duck or any other wild bird with very dark meat. Crows have no white meat on them, as is true for most birds. (Whenever someone says something "tastes like chicken" remember that they're talking about the DARK meat of chicken, not the white.) The meat of most wild birds is even darker than the dark meat of chicken, and will have a gamy smell and flavor to a varying extent.
Say Something!
We'd really like you to take part in the conversation here at All Over Albany. But we do have a few rules here. Don't worry, they're easy. The first: be kind. The second: treat everyone else with the same respect you'd like to see in return. Cool? Great, post away. Comments are moderated so it might take a little while for your comment to show up. Thanks for being patient.