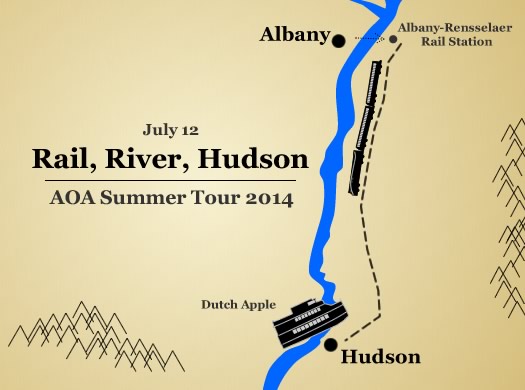 Back in the day you could day trip to the edges of what we now call the Capital Region and never use a car. You could hop a trolley or a train, or take a boat along the Hudson. That sort of trip sounds fun to us -- and it inspired this year's AOA summer tour.
This July we've lined up an AOA day trip to Hudson -- a train ride down, a sunset cruise on the Dutch Apple for the return -- with a lot of fun and surprises along the way. We'd love for you to come along.
Because these tours have been so popular in the past, we're giving you the early heads up now so that you'll be ready when tickets go sale on later this week.
Here are the details...
What
A day trip to Hudson via Amtrak® with a return sunset boat ride on The Dutch Apple Cruise Line.
When
Saturday July 12, 2014.
Itinerary and details
+ We'll meet in downtown Albany at the footbridge to the Corning Preserve/Jennings Landing at 10:30 am and take a shuttle to the Albany-Rensselaer Rail Station, and then catch an Amtrak® train to Hudson. (There's a large parking garage near the footbridge where you can stash your car for the day.)
+ We arrive in Hudson, and you'll have a time to shop, browse, take in the architecture, and have lunch.
+ You'll get a Hudson Passport filled with discounts at shops and restaurants throughout downtown Hudson. The passport will be good from July 12 through August 12, so if there's someplace you want to check out later, you'll have a whole month to claim your discounts.
+ Later in the afternoon we'll gather at Etsy's awesome building just off Warren Street -- it's a former cannonball factory -- for drinks, snacks, and a craft.
+ We'll then head to the Hudson riverfront for a sunset cruise home to Albany on The Dutch Apple, including a light dinner.
+ We'll arrive back in Albany at the Corning Preserve around 10:30 pm. It's a short walk across the pedestrian bridge to the parking garage.
+ More swag and surprises TBA.
Tickets
Tickets for this full day of fun, food and travel: $60 per person. Update: They are now on sale!
We're giving the heads up now about the tour so that you have a few days to check your calendar and arrange with friends. Past AOA tours have been very popular and tickets tend to sell quickly.
Important to know
+ Wear your walking shoes. Downtown Hudson is less than a mile from the train station, but you'll be getting there on foot.
+ The return cruise is about 3 hours long, depending on the tide. That part of that Hudson River valley is beautiful.
+ Parking in the garage is $5 for the day. (Not included in the ticket.)
Sponsors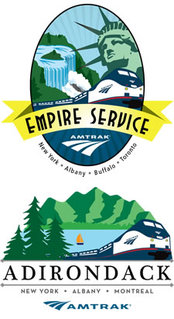 This event is possible thanks to the following sponsors:
+ Amtrak®
Hi there. Comments have been closed for this item. Still have something to say? Contact us.