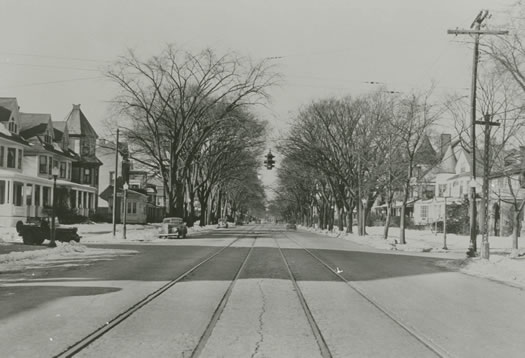 There's something about trolleys that lights people up -- even though a lot of people weren't even alive the last time a trolley rolled through Albany. It's been almost 70 years since the lines stopped.
We were thinking about trolleys again this week after seeing this photo from the College of St. Rose Archives. It's Madison Ave at Partridge, facing west, sometime in the 1940s, right about the time the trolleys stopped. We love the way the tracks lead away covered by the canopy of trees.
That photo prompted us to dig through some of the history of trolleys in Albany -- which is like looking through some alternate transit universe.
The trolley had a pretty good run in the Capital Region. The first tracks in Albany were laid in 1862 for horse-drawn trolleys, which were replaced not long after that with with electric trolleys. And after a few decades the region had a rich system of intra- and inter-urban rail. [A History of Local Rail Transit in the City of Albany (1862-1946), via Albany County, via the Wayback Machine]
Check out this excellent Schenectady Railway map from around 1910. At the time a person could ride trolleys between Albany Schenectady, Troy, and Saratoga -- and then in those cities, take trolleys around the town. Here's a section of the map: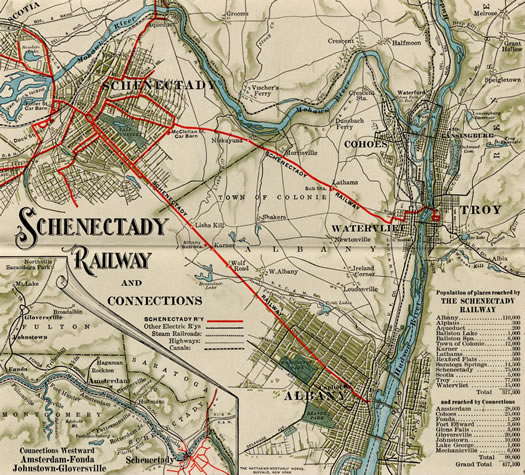 [via the Schenectady County Public Library's Schenectady Digital History Archive]
The train and trolley system was so robust in this part of the country that there were guidebooks -- such as Trolley Trips Through New England 1915 -- for people looking to take trips that way. The wider system stretched from Fulton and Warren counties through the core of the Capital District, into Columbia County, Western Mass, and into Vermont. Here's a regional map from that book, as well as a trolley map of Troy: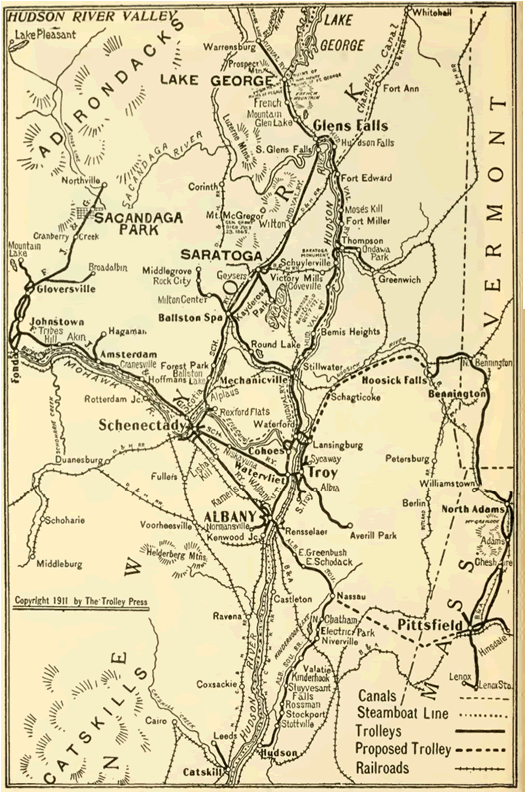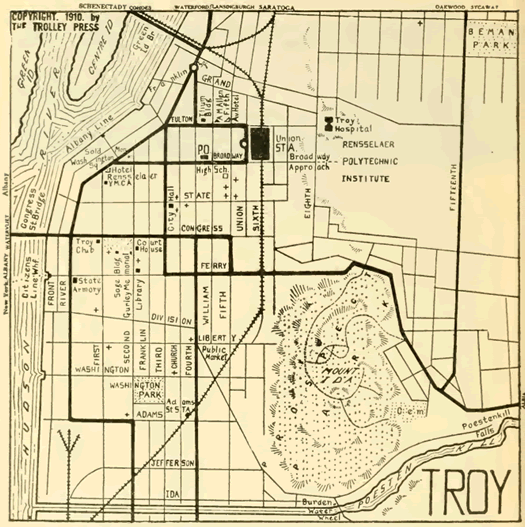 [Trolley Trips Through New England 1915, via Fordham University Libraries Digital Collections]
For a while, the trolleys were a main part of the city of Albany's transportation system. The trolleys and tracks are easy to spot in this postcard and photo from the area around what is now the SUNY administration building. The trolley cars themselves were rather handsome from the outside.
And popular, apparently. From a poem titled "The Commuter's Eight-Fifteen" in a 1928 edition of the St. Rose publication The Rambler:
Did you ever board a trolley car
To make an eight-fifteen?
Get a seat? Oh, what a joke!
Why, a strap can't even be seen.
"Move up in front! There's lots of room!"
--The conductor's favorite cry--
But with ten on your back, you just can't budge,
No matter how hard you try.
The end of the line,--the transfer point;
Then one grand dash for the bus.
There is certainly joy in commuting from Troy,
But,--who'd want to change places with us?
The rails in the Madison Ave photo at the very top were part of the Pine Hills line, which ran from Pearl Street, up Hamilton to Lark, and then up Madison, eventually with an extension all the way to Manning Blvd (which, at the time, was the suburbs). Other lines ran along Clinton Ave, Quail, Broadway, South Pearl, and Delaware. Here's a map:
[Trolley Trips Through New England 1915, via Fordham University Libraries Digital Collections]
After a run of about 80 years, the trolleys were overtaken by buses and cars. They were discontinued in 1946.
You can see still evidence of the trolley system if you know where to look. There's an old trolley pole on Hamilton Ave in Albany. And that old building that seems totally out of place in Colonie at 1830 Central Ave is a former power station for the Schenectady Railway. And every now and then old tracks are found while digging for some other project.
Elsewhere
+ Gino DiCarlo's collection of Capital District trolley info is well worth a look. In fact, if the stuff above was at all interesting -- you gotta check out his site. He has a bunch of old photos.
+ And here's a short documentary about Albany's trolley system by a group of UAlbany students.
Earlier on AOA
+ Powering the Schenectady Railway
+ Cycling in style in Schenectady, around the turn of the century
+ The highway that was almost buried under Washington Park
Hi there. Comments have been closed for this item. Still have something to say? Contact us.