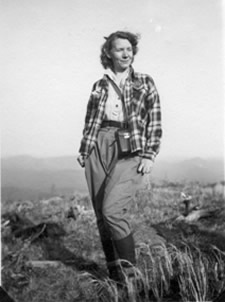 East Dix, one of the 46 Adirondack High Peaks, was recently renamed Grace Peak in honor of Grace Hudowalski, one of the original 46ers (she was #9). Here's the mountain on a map.
Hudowalski lived in both Troy and Albany, and Paul Grondahl recently had a nice story about her legacy and what she's meant to many Adirondack hikers.
From an Adirondack Forty-Sixer bio of Hudowalski, in reference to her first hike up Mt. Marcy:
Reflecting on that trip years later she said,
"It was tough. I was on all fours sometimes. I didn't think I was going to get there. But I had to get to the top - there was some reason. God knows what it was but I had to go on. And on the top just for a fraction of a moment, the clouds lifted while I was there and I looked down and there a mile below me was Lake Tear of the Clouds, the Hudson's highest source. And you know, that did something to me. I had seen something - I felt it. I never forgot the mountain and I never forgot that trip."
From that point on she said, "I never talked about anything but mountains. I talked about them, I wrote about them. I gave speeches about them."
Hudowalksi passed away in 2004 at the age of 98.
As Douglas Arnold, the Forty-Sixer who led the effort to name the mountain in honor of Hudowalksi, said to the Syracuse Post-Standard: "Everyone has a mentor, a coach, a parent or grandparent, friend, or teacher who influences the outcome of their life. These angels are remembered but rarely honored. Grace Hudowalksi was a mentor to thousands of people as she shared her enthusiasm for the Adirondacks with everyone."
Earlier on AOA:
+ The Winter 46ers
+ How to hike the High Peaks and not be That Guy
photo via The Adirondack Forty-Sixers
Hi there. Comments have been closed for this item. Still have something to say? Contact us.