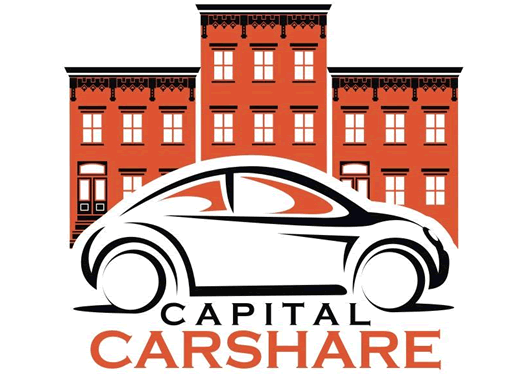 The Capital Region is just a few weeks away from the start of its first independent car sharing operation.
Capital Car Share is aiming to start around the end of June, marketing and outreach coordinator Nnenna Ferguson told us today. The org will begin with 8 vehicles available for per-hour use, distributed at 8 "parking hubs" around the city of Albany.
Car sharing -- in which people pay to use a pool of vehicles by the hour -- has been around for years in other cities, both as for-profit companies (like Zipcar) and non-profits. Capital Car Share, which is using the non-profit model, has been developing since at least 2012. But it picked up speed this past spring, in part by drawing on the experience of the five-year-old Buffalo CarShare. [Buffalo Business First]
"We're hoping to get the ball rolling a little bit smoother," Ferguson said today in reference to the Buffalo org, because Capital Care Share is benefiting from the lessons learned in western New York. (Capital CarShare's startup manager is Creighton Randall, who's come over from Buffalo Car Share.)
Startup funds for the program came from a grant from the Capital District Transportation Committee. And a $129,000 loan from the Community Loan Fund is being used to purchase vehicles.
Neighborhoods
Ferguson said Capital CarShare has picked the Center Square, Arbor Hill, Park South, and Pine Hills for its first batch of parking hubs. Why those neighborhoods? Density.
"It allows for the car sharing model to thrive," Ferguson said today of high density in a neighborhood. The reason: Neighborhoods such as Center Square give the residents the option of walking or taking public transportation for many trip, allowing a car to be an occasional necessity. She said Capital CarShare has picked neighborhoods with density as high -- or higher -- than neighborhoods where the car share in Buffalo has been successful.
Ferguson said Capital CarShare has 22 members signed up for the launch. And she figures it will need to collect 100 members by the end of its first year to be sustainable. (The Buffalo org has 700 members after 5 years.) The org is hoping to get a membership boost when it launches and people actually see the cars out on streets. "The cars are our biggest advertising tool," Ferguson said.
Memberships
Memberships start at $5 per month, with an $11/hour charge for using a vehicle. Membership plans include gas, tax, insurance, and 50 miles of usage per month. (There are also day rates.) Ferguson said the service will be buying compact, fuel efficient cars.
Capital Car Share marked its public push toward this summer's launch date with a $20,000 fundraising campaign online this past spring -- and it fell well short of the goal. Ferguson said the result was "a little disappointing," but the money wasn't central to the org's business plan. Rather, it was hoping to use the money to smooth cash flow at the start. "We're going to be able to work it out."
Prospective car share members need to stop by the org's office at 176 Central Ave (the Central Ave BID's office) to sign up in person. The requirements are relatively simple: a driver must have a license for two years, and no major violations or DWIs for the last five years. If members are under 21 years of age, they'll have to provide their own insurance.
Earlier on AOA:
+ Push for car sharing in Albany revs again
+ Car sharing in the Capital Region

Hi there. Comments have been closed for this item. Still have something to say? Contact us.