By Lauren Hittinger
This summer I'm visiting local state parks and sharing the scoop on each one. I've already visited Grafton Lakes State Park and Peebles Island. Today I venture a little farther north with a visit to Moreau Lake State Park.
Located at the northern edge of the Capital Region, Moreau Lake State Park is going to be a bit more of a drive for some people, but it's worth a visit. The day use amenities are not unique, but the size and natural setting of the park is.
Moreau Lake State Park is certainly one of the more beautiful local state parks, and there's lots of space to explore.
Location
Moreau Lake is located 10 miles north of Saratoga Springs. It is very close to I-87, so even though it might be a bit of drive depending on from where you're coming, the directions are easy.
History
The area around Moreau Lake was originally a summer home for George W. McAdam, a wealthy attorney. Throughout the early 1900s the area became a seasonal campground, and cabins were constructed along the lake in the 1940s. The Department of Environmental Conservation (DEC) began to acquire land in the town of Moreau and officially established the park with 600 acres in 1967. Over time more and more land has been added, and now Moreau State Park includes more than 4,100 acres. That makes Moreau the 10th largest New York State park, and the largest park in the Saratoga-Capital District Region.
Camping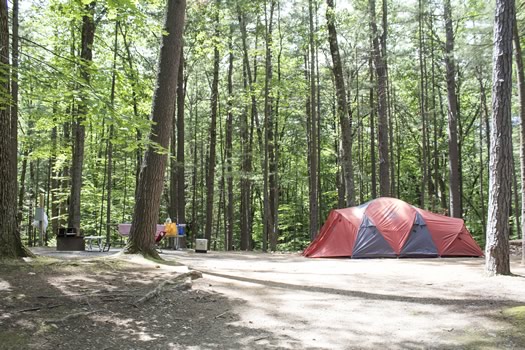 Camping is huge at Moreau Lake State Park. There are 150 sites, including a couple cabins, and pricing starts at $19 a night. Each site is arranged slightly differently, but you can expect an open area, picnic table, and cement fire pit.
The sites are well-spaced, and it seems like they have very nice shared restroom and shower facilities. I saw quite the variety of campers at Moreau, from small tents to entire RV setups.
Hiking and walking paths
There are many opportunities for hiking and nature walks at Moreau. The most frequented trail runs from the main picnic area to the camp sites on the other side of the lake. I particularly enjoy that route because there's a foot bridge that crosses the lake, which is just tall enough for kayakers to pass under. That particular path is wide and well-maintained, so you don't have to worry as much about poison ivy and ticks. More adventurous people can wander off onto any of the other trails, including some nice paths along the parameter of the lake.
There's also the Western Ridge Trail, which runs about 6 miles along the Hudson River, with multiple scenic overlooks. (Here's an account of hiking the trail, at Jackie Donnelly's Saratoga woods and waterways blog.)
Boating
Moreau is a great spot to bring your boat or kayak for a leisurely paddle around the lake. Since it is one large, continuous lake, it's great for families. If you don't have your own equipment, it's available for rent, but the boat launch is away from the main beach area.
Beach
The beach at Moreau Lake is passable. It's one of the smallest beaches out of the local state parks, but it gets the job done. They have nice facilities, a snack bar, and lifeguards.
If a beach is your main attraction to a park, I would suggest you try Grafton Lakes State Park instead. But if you're just looking to lay out for a bit or dip your toes in the water, Moreau will work.
Day use options
When I visited Moreau on a Sunday afternoon, it was quite crowded with families. Many people brought entire cookouts with them, including a grill and tables cloths. The picnic facilities are plentiful, but I'd assume prime locations get scooped up quickly. There are also not as many camping grills as some other parks.
One of the big advantages to Moreau is that everything is close by. A playground with three different sets of equipment was right in the middle of the picnic facilities. And the beach was not far off. Both children and adults could be doing slightly different activities and still be close.
Other notables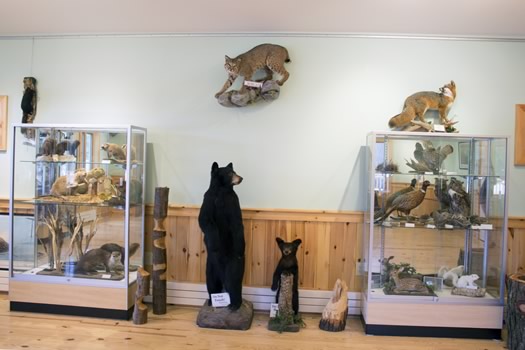 + Along the edge of the beach, there's a nice little nature center. There are quite a few taxidermy animals, and nature samples like unusual tree trunks. The center also contained a few live turtles and snakes. While it isn't completely hands-on, there was a very knowledgeable staff member who shared quite a few interesting anecdotes about the animals and other life in the nature center and the surrounding park. He even helped a girl identify her live insect as a dragonfly, not a damselfly.
+ Moreau also has a wealth of activities in the winter, including snowshoeing, cross-country skiing, and ice fishing. They even have a warming hut for winter visitors who need a little break from the great outdoors.
Fee
There is an entrance fee for the park of $8 per vehicle. Camping, pavilion, and equipment rentals are additional.
If you're planning on visiting a lot of state parks this summer, I highly encourage you to buy the Empire Passport park pass, which allows unlimited entry for $65 a year.
Lauren writes about shopping, crafting, and living well on a small budget at The Thrifty Ginger.
Find It
Moreau Lake State Park
605 Old Saratoga Rd
Gansevoort, NY 12831
Hi there. Comments have been closed for this item. Still have something to say? Contact us.