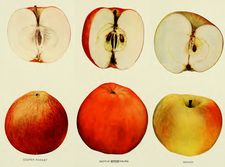 Over at Reuters there's an interesting article on a nationwide shortage of bittersweet, bittersharp, and sharp apples that have traditionally been used to make complex hard ciders. These so-called "spitter" apples are in demand because of the cider boom -- but there's a tiny supply because the apple varieties (many are heirlooms) fell out of favor over the last century or so:
One reason for the apple shortage is historical. During Prohibition in the 1920s, trees known to bear hard cider apples became targets of axe-wielding FBI agents.
Popular bittersharp varieties include Kingston Black, Foxwhelp and Golden Russet. These are not dessert or eating apples such as Granny Smith.
Planting new orchards is a big commitment. An apple tree is a 25- to 30-year investment and it takes anywhere from three to six years before it becomes productive.
Greg Peck, assistant professor of horticulture at Virginia Tech University, said there are no figures for how many so-called spitters - apples too tart or bitter to eat fresh but perfect for cider making - are available currently.
In 2012, the total U.S. crop of apples was 216 million bushels, of which 1.7 million were used to make cider. Of that, Peck estimated, "only a handful" of those were bittersweet, bittersharp or sharp varieties.
While the article doesn't mention New York specifically, it indirectly points to another possible Empire State advantage for cider: orchards around here do seem to grow some unusual varieties. (We've picked Golden Russets at Samascott in Kinderhook.)
Earlier on AOA:
+ Lost and found apples
+ More fizz for the cider business in New York
Illustration from The Apples of New York State of New York Department of Agriculture (1903)
Hi there. Comments have been closed for this item. Still have something to say? Contact us.