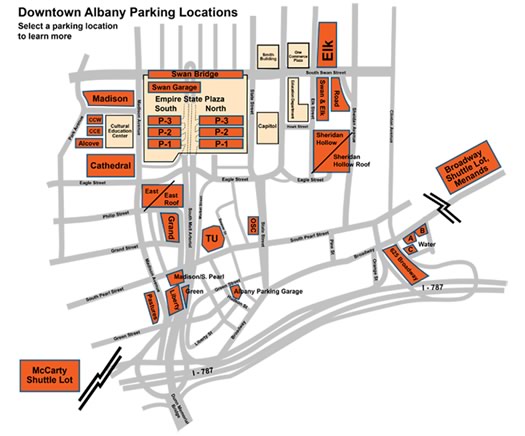 The state Office of General Services has announced the rollout of a new system for allocating parking spaces to state employees who work in downtown Albany.
The new system starts today with open enrollment via a website: parking.ogs.ny.gov.
OGS is touting the new system as "clear and understandable," something that couldn't be said for the previous system. From the press release:
Historically there has been a confluence of parking systems meshed together. In the past, each agency controlled the majority of its employees' spaces through "agency allocations" using a variety of methods for granting parking, while the remaining spaces were allocated by OGS through a complex waiting list system. Conversely, the new OGS Parking System puts the vast majority of parking spaces into a single, transparent, and equitable general pool, with a small number of spaces being provided to agencies for distribution to executive staffs and for unique operational needs.
Under the new system, State employees who currently have parking will be "grandfathered", meaning they will be able to keep their current space (except for those who obtained their spaces through the TPAI program) or they can choose to compete for a new space based on their State service. Those who do not currently have parking, or who hold a TPAI permit, will also be able to compete for parking based on the length of their State service.
About 1,800 spots in various garages and lots will be up grabs (based on seniority) under the new system.
And a heads up: The system will be using a "parking service date" to determine a state employees seniority. The date will be available by logging into the parking portal -- and if you'd like to contest that date, you must do so by July 25. (OGS says the system includes a field for service date discrepancies.)
Parking for state employees (and other orgs) has been a big issue in downtown Albany for a longtime -- and it will continue to be so even after the implementation of this new system -- because it's a scarce resource. The state currently has about 18,000 people working in downtown Albany, according to OGS. So there isn't a spot for everyone. OGS controls about 12,000 spots (a Times Union article from last week broke down how many of those spaces are/will be allotted) -- at least a thousand of them are in the peripheral "shuttle" lots at the north and south edges of downtown. So spots downtown will always been in high demand.
But it sounds like this system is a step forward. At the very least, the state now has a handle on how many spots it controls and where. (That fact had been unclear in the past.) And having one central point for administering the spaces seems like a much better system. We'll be curious to hear people's experiences with it.
Public transit: Just as a side note, we're curious how many state employees in downtown Albany ride the bus. Because depending on where you're starting from (that is, how close you are to some bus lines), riding the bus downtown can be very easy, in our experience. It takes a shift of mindset, but the benefits might be surprising. Example: It's kind of cool to be dropped off right at the Capitol and walk in with no worry about parking.
Something to think about it.
NYS OGS At the Plaza series advertises on AOA.
Hi there. Comments have been closed for this item. Still have something to say? Contact us.