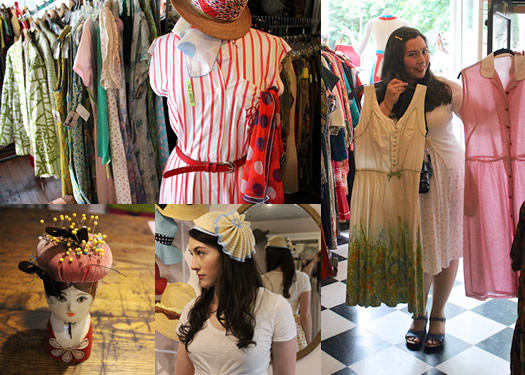 AOA's summer tour is headed to Hudson this weekend, so we thought it'd be fun to have Hudson Week on AOA. Each day we'll be featuring posts about things to do, see, and sample in this city on the river. Today, fashionistas and vintage aficionadas Kaitlin Resler and Jessica Bellflower take us shopping on Warren Street.
Kaitlin:
For me the draw of Hudson is the variety of vintage shops dotted around the area. Being able to hop around to several places full of treasures is a real treat (most of the time a given area has one, maybe two spots of this kind)! There is, though, a real variety of the shopping in Hudson, and that's part of what I really enjoy about it. There are a few spots that are must-go places for me on each visit, but I still find some new little shop tucked away!
And there are some neat specialty stores like a little hat shop -- the kinds of specialty shops you don't see much of in this area -- that take fashion to a different level.
Jess:
I always regarded Hudson as total eye-candy, but completely unattainable (for us). But then I re-explored Hudson with Kaitlin. Since she grew up in this area, she knew where we could shop that wouldn't break the bank. We did stand outside the windows of some of the high-end antique shops on Warren St and drool... but it was refreshing to find a few shops that could fit most budgets! Here's a heads up -- Hudson shopping has some tricky hours (lots of weekday closures or handwritten signs on the front doors that simply say "be back soon" or "reopening in July") and it has some seriously valuable antiques, but don't be intimidated: there's something for everyone there and you'll gather inspiration from all those swanky window displays!
Here are a few Hudson finds from our most recent shopping adventure...

Sideshow Clothing Co
Address: 707 Warren St
What: Vintage & Modern Clothing
Who: Women & men (some children)
Price range: Wide range; you'd find something here for almost every budget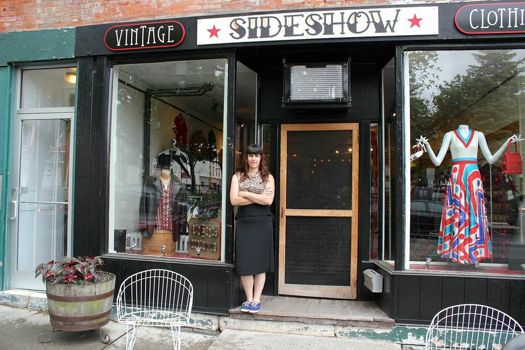 Kaitlin:
I got my favorite purse of all time at Sideshow several years ago for $12, so every time I head near Hudson it's on my list.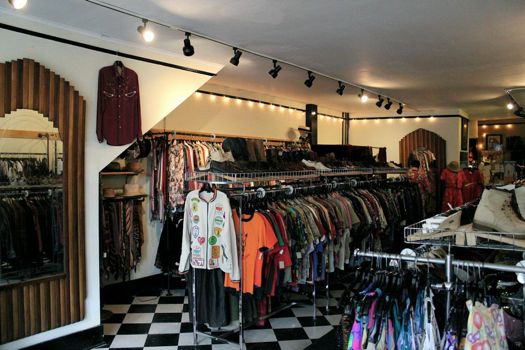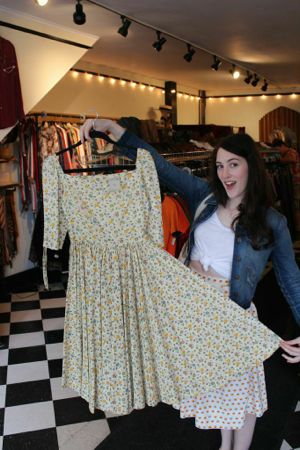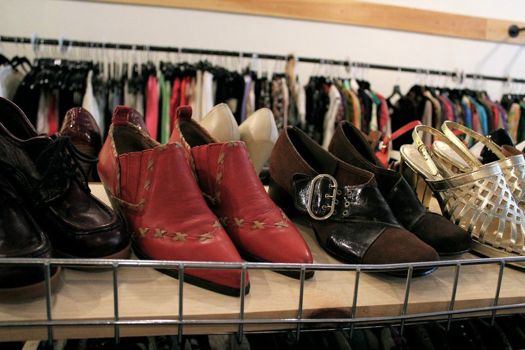 The prices are reasonable, there's definitely something to be found for every budget, and everything is in excellent condition and organized beautifully. The store is large, allowing for lots of room to browse, and there's no shortage of merchandise. It's well organized according to size and clothing category (which is really nice so that I don't fall in love with something way too small and insist I can make it work). I'm still thinking about the floral dress I left behind on a recent trip, and some of the camo jackets are also lingering in my memory.
I also really like that there's a large breadth of vintage here--30s to 60s are in abundance, but there's also a nice mixture of 'newer' vintage (think 90s. Yeah, 90s stuff is now vintage. That's a weird feeling-- but it doesn't mean the stuff isn't awesome). I really love this shop, and can't wait to shop again!
Jess:
Sideshow is so diverse! The men's section is drool-worthy. Seriously, my husband James has purchased more from here than I have!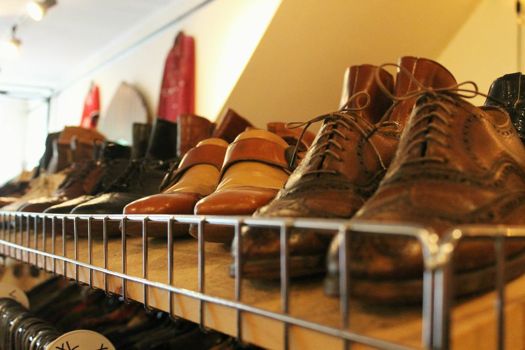 The two dresses I pulled out were super wearable, reasonably priced, and so cute. I really regret not trying the red one on.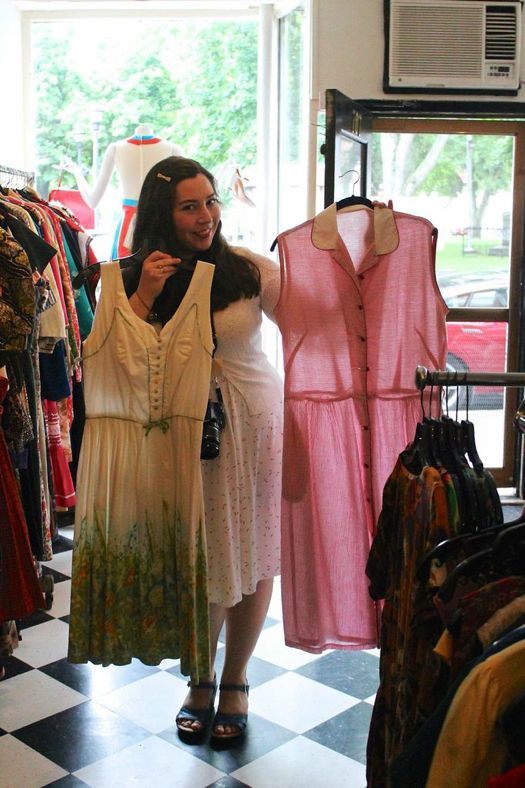 As you can see from the photos, the owner is a doll and she does a fantastic job curating this space.
Behinda Dolić Millinery
Address: 715 Warren St
What: Handmade hat shop
Who: Women
Price range: Fair price for the beautiful craftsmanship, but definitely a treat. ($200-$500)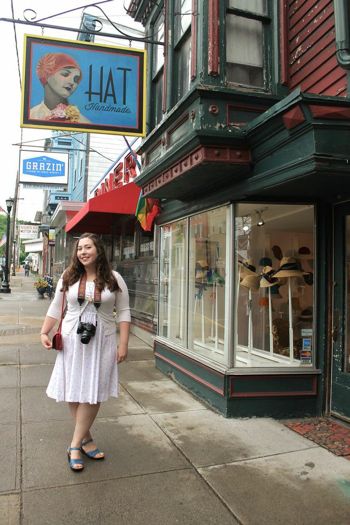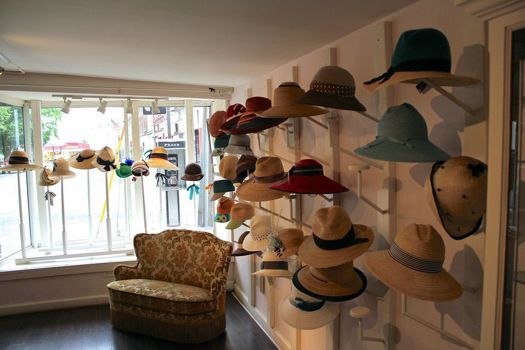 Kaitlin:
I had heard about Behinda Dolić a few times, but somehow never actually made it in until now. This lovely little store is a real treat -- my little heart was all aflutter over everything there. They're definitely treat-pieces, something I would save my pennies for, or put on my birthday list (it's in August, FYI), but considering every hat is custom designed and crafted (from the woven straw to ribbons pinned in place) they're totally reasonable.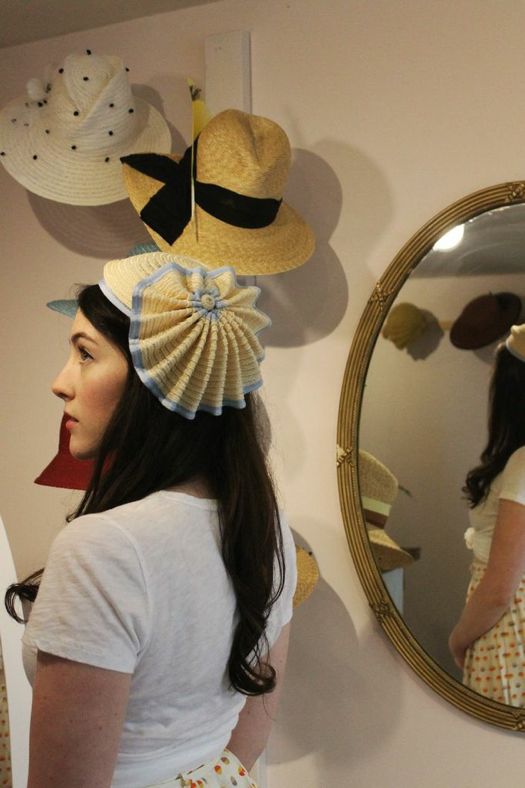 The shop itself is also a joy to be in: there's something really appealing about the hat forms, with or without their charges, and while the shop is fairly minimal to allow the hats to stand as the works of art they are, there are several little touches that make the space really personal (the little lady pincushion, a vintage snapshot tucked away on the shelf under a side table, the romantic brocade love seat) and inviting.
During our visit the focus was on a lot of the straw hats (I'm deeply in love with the pinwheel one with light blue detailing), fitting since we're heading into true summer. (I'm envisioning one of them at the track in Saratoga, or for a jaunt down to the city for the late summer Jazz Age party.) But some of Behida's fall collection peek out from the hat stands heading into the back room. This shop is a must-stop, even just to admire the creations.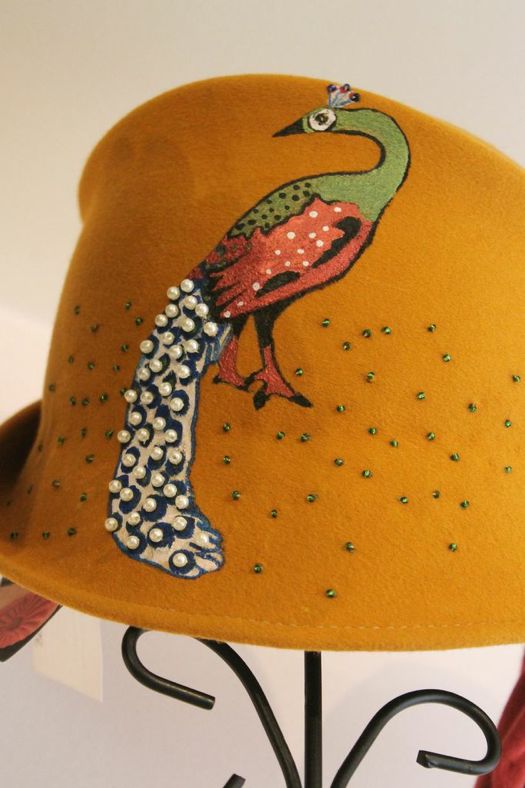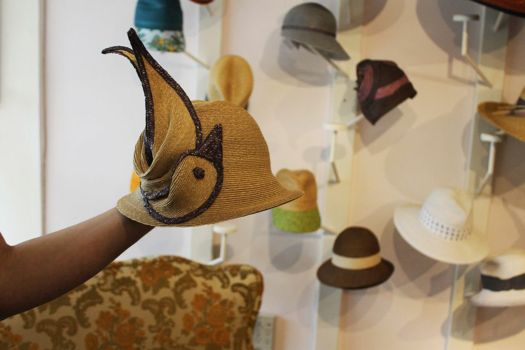 Jess:
I've never owned a hat like these. They are stunning, with obvious care and attention to every detail.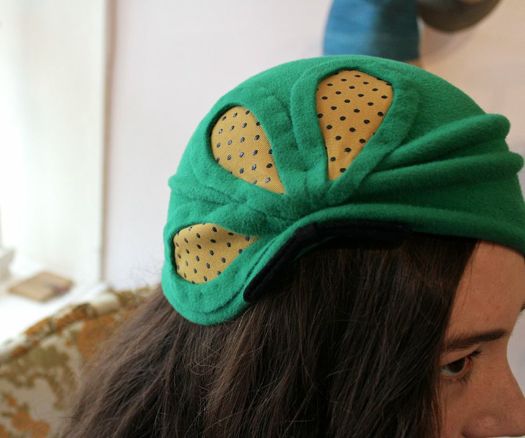 Honestly, we stayed in this shop the longest and could have been there the entire day. I had admired Behinda's shop on Etsy for years, but to actually hold these pieces was a treat. I fell in love with an enormous sun hat (summer straw hats $350-$450).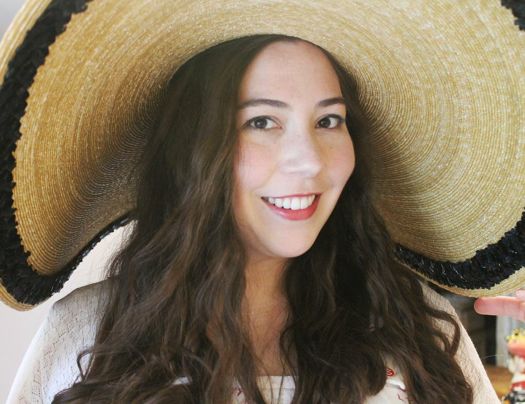 I agree with Kaitlin, this is a must-stop shop on your tour of Hudson. Buy one of these creations and wear it everywhere!
The Store
Address: 17 N. 5th Street
What: Vintage & handmade
Who: Women & men
Price range: Higher end gift shop, from $20 and up.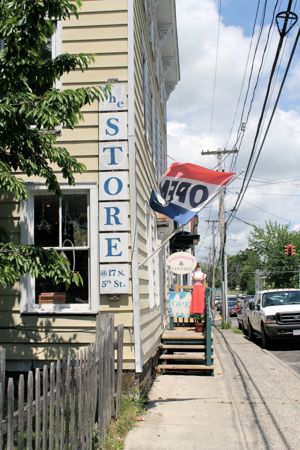 Kaitlin:
Of course there's the vintage (Edwardian lawn dresses, 1940s lockets, yes please!), but this shop also has a really nice and curated selection of handmade finds.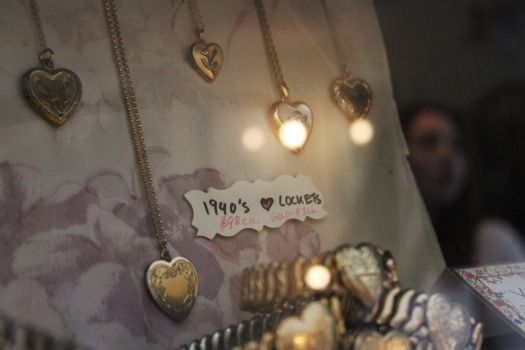 The snake spine necklace (creepy pretty, yes, please!), cast from the real spines of said snakes, really caught my eye! The display was also lovely, featuring little black and white snapshots arranged into a wall collage.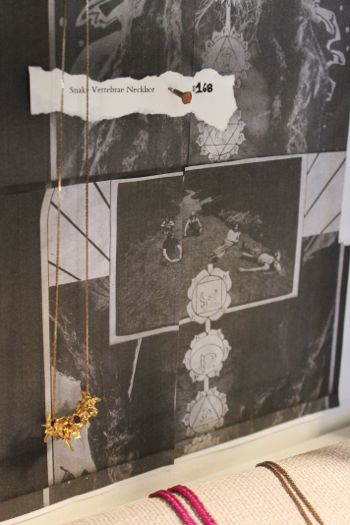 Again, there's really something for everyone here. Slightly pricier items make great special gifts, but there are also little treats that are under $20. (Vintage compasses for the Wes Anderson-loving hipster in your life? Check.)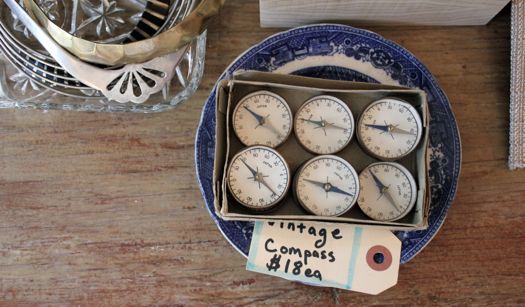 So glad we stopped into this little treasure trove!
Jess:
This shop is fun! It definitely doesn't take itself too seriously (lots of wild print shorts, distressed leather boots, and geometric-inspired jewelry), but it did have a few high-end vintage pieces (like the 1910s lace lawn dress I carried around the entire shop!).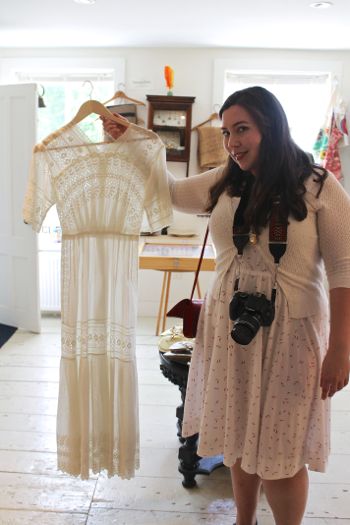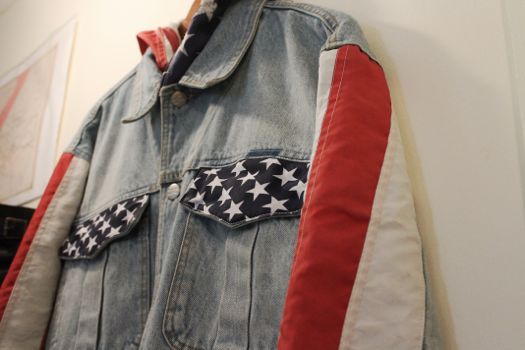 It has everything from a ram skull to 90s sunglasses to vintage LPs.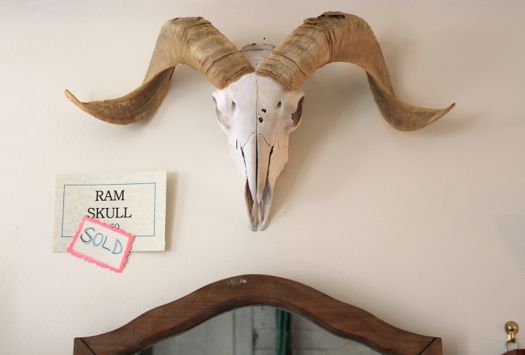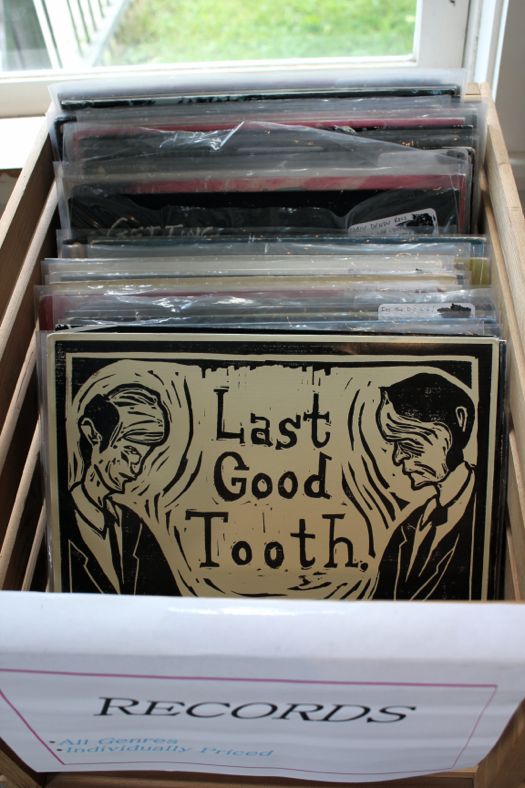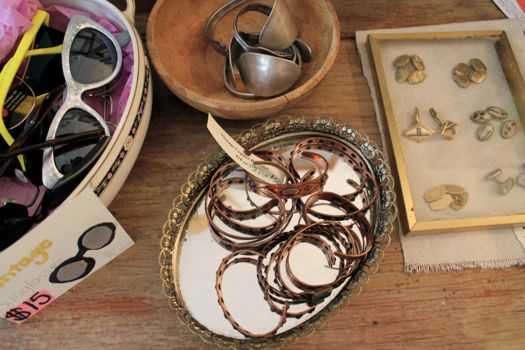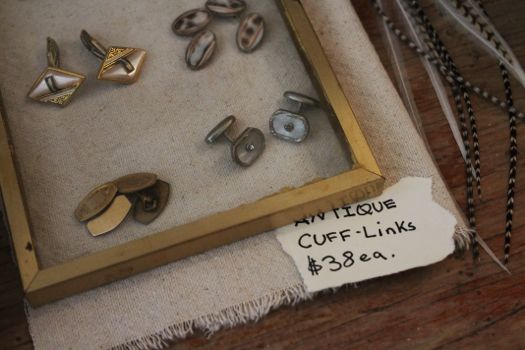 They also sell handmade items and locally-made soaps. I could see myself shopping here for gifts and having lots of happy recipients!
Five and Diamond Vintage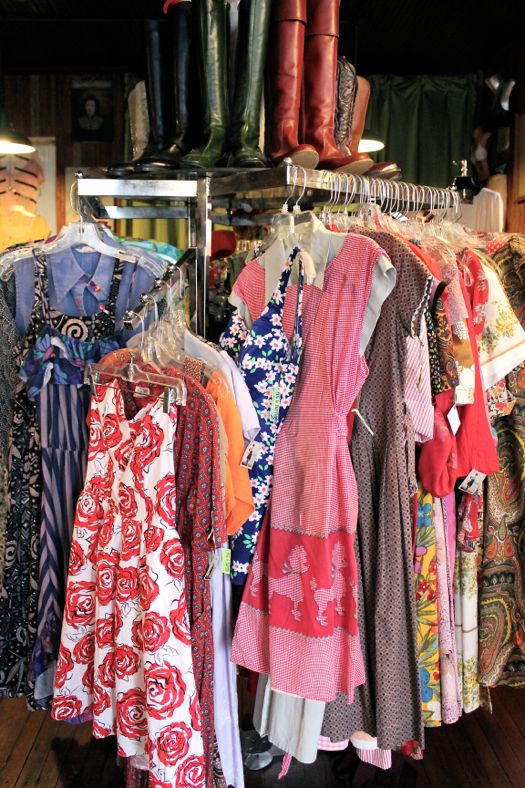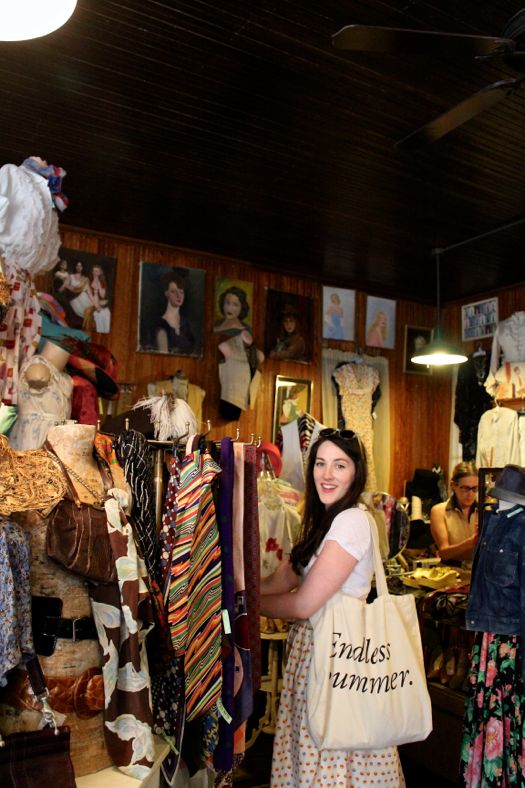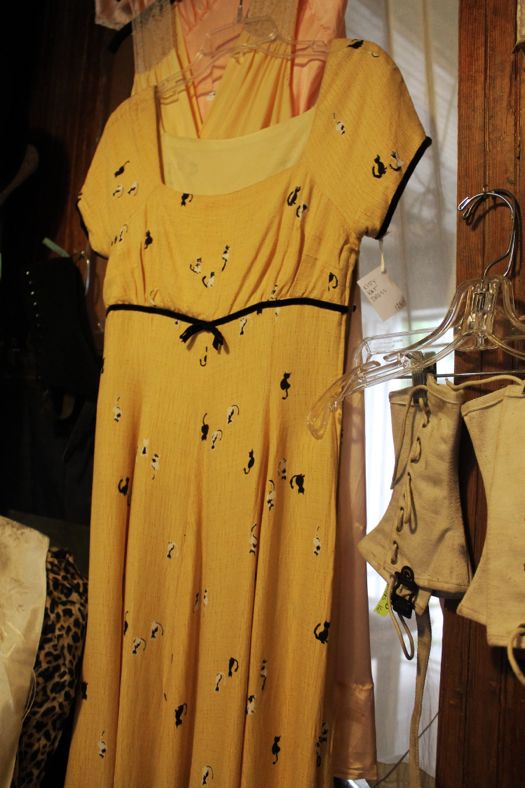 Address: 502 Columbia St
What: Vintage clothing & accessories
Who: Women & men
Price range: Retail priced vintage with sale items and a $5 bargain bin outside.
Kaitlin:
Five and Diamond is another place I always need to stop in during a Hudson visit (I can't help it -- the vintage calls to me). It's the kind of cluttered dress-on-the-wall vintage store that feels like home, and around every corner there is something else magical to find. Besides the rose-printed dress in the window that I loved, there's a cat-printed dress hanging behind the register that fascinates me. It's waiting for just the right home though, since it's very small through the shoulders and has no closures, but all the same it's one of those special items that makes vintage shopping really fun.

Jess:
I started at the $5 bargain bin. I bought four things. None of those things should have been $5 - yay! This is the kind of shop where you'll want everything, you can afford most of it, and you'll get a couple of steals along the way! I feel in love with the novelty print gingham apron hanging right as you walk into the shop. Cotton. Red. Poodles. YES!
Honorable mention
FACE
401 Warren St
Kaitlin:
I snapped up a tube of lipstick at the FACE cosmetics store, to replace the one from two years ago that became my summer staple -- apricot-y and sheer, fades just a little without doing that lip-outline thing, basically perfect -- and had to get out of there before I spent every last penny on eye glitters and skin care products.
Really nice little article from last year on the J. Crew blog featuring a trip to one of their creative spaces just outside Hudson.
____
Kaitlin Resler writes about all the pretty things at All This Happiness.
Jessica Belflower is a classical violinist who freelances in the Capital Region. She is also the proprietress of jessjamesjake, an Etsy vintage shop.
Say Something!
We'd really like you to take part in the conversation here at All Over Albany. But we do have a few rules here. Don't worry, they're easy. The first: be kind. The second: treat everyone else with the same respect you'd like to see in return. Cool? Great, post away. Comments are moderated so it might take a little while for your comment to show up. Thanks for being patient.