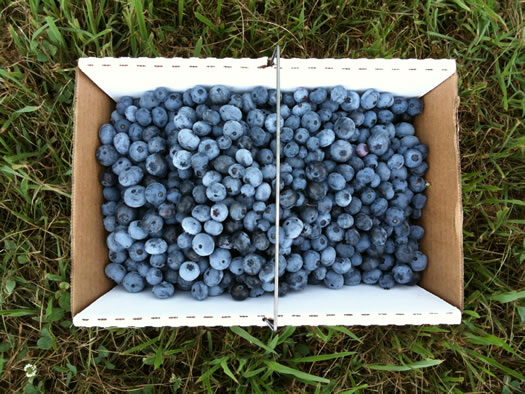 Blueberry season has started around the Capital Region, and we'll soon be right in the prime part of the season. Blueberries are are one of our favorite fruits to pick because:
1) The bushes grow about waist or chest high, so there's not a lot of bending or reaching.
2) The berries tend to be cheap -- usually between $2-$3 dollars per pound.
3) They freeze beautifully, meaning we can load up on berries during the summer and enjoy them months later.
There are a handful of farms around the Capital Region that offer pick-your-own blueberries. Here's a list with some info. And, of course, if you know of a place that should be on the list, please share.

Important: you should call ahead (or check the farm website/Facebook) the day you're heading out to get the conditions.
Albany County
Indian Ladder Farms
342 Altamont Rd, Altamont, NY (map)
(866) 640-7425
Wednesday-Friday 9 am-1 pm / weekends 9 am-4 pm
According to the Indian Ladder's PYO hotline on July 15, picking conditions are good. Blueberries are $3.50/quart.
Also: Raspberries and black raspberries are also currently available for picking -- they're $4.25/pound.
Columbia County
Samascott Orchards
5 Sunset Ave, Kinderhook, NY (map)
(518) 758-7224
Everyday 8 am-6 pm
Samascott has multiple large blueberry fields, with different varieties. They're $2 per pound. (There's a $5 minimum for PYO.)
Also: Samascott currently has black raspberries ($5 per pound), strawberries ($2 per pound), and the last bit of the sour cherry crop ($2 per pound). (If you're not familiar with sour cherries, they make great pies and crumbles and stuff like that.)
The Berry Farm
2309 Route 203, Chatham, NY (map)
(518) 392-4609
Every day 9 am-6 pm
Pick-your-own blueberries aren't ready, yet, but the person we talked with on the phone today (July 15) said the crop is looking good and they're just waiting from the ripen up a bit. PYO should start in the next week or so. (And blueberries are already available at the farm store.)
Notable: The Berry Farm's blueberries are no spray.
Rensselaer County
Hay Berry Farm
1276 Babcock Lake Road, Hoosick Falls, NY (map)
(518) 285-9039
Tuesday-Sunday 7:30 am-3 pm
PYO blueberries are ready. From the website: " We have eight wonderful varieties of blueberries, each one adding a version of sweet, bold or wild flavors. People have their favorites for eating or cooking."
Notable: Hay Berry is no spray -- and only uses organic products on the crops.
Also: Hay Berry has PYO lavender, which we haven't seen anywhere else.
Saratoga County
Bowman Orchards
141 Sugar Hill Rd, Rexford, NY (map)
(518) 371-2042
Monday-Saturday 9 am-5 pm / Sunday noon-5 pm
PYO blueberries are now available. They're $4.29 per pound.
Also: Bowman grows multiple varieties of raspberries (now available for PYO, $4.99 per pound) and blackberries.
Eagle's View Farm
2089 Route 29, Galway, NY (map)
(518) 882-9199
Monday, Wednesday, Saturday 8-11 am
The blueberry crop was a little slow to start this summer, according to the website, but it's picked up. Blueberries are $2.20/pound.
Noted: cash only, no bathrooms, no pets.
Winney's Blueberry Farm
113 Winney Dr Schuylerville, NY (map)
(518) 695-5547
Every day 8 am-6 pm
A few years ago we heard from the farm that they they grow about 19 different varieties (!) of blueberries, and the varieties are tend to have staggered staggered harvest times through mid August. Blueberries are $2.50/pound PYO, and $7.50 per quart at the stand.
Washington County
Hicks Orchard
18 Hicks Road, Granville, NY -- (map)
(518) 692-2376
Monday-Friday 8 am-6 pm, Saturday and Sunday 8 am-4 pm
PYO blueberries -- "great crop" -- started this past Saturday (July 12). They're $3 per pound.
Also: Hicks still has some sour cherries available for picking ($3.50 per pound).
Hand Melon Farm
533 Wilbur Avenue, Greenwich, NY -- between Schuylerville and Greenwich (map)
(518) 692-2376
Monday-Friday 8 am-6 pm, Saturday and Sunday 8 am-4 pm
PYO blueberries started this past Saturday (July 12). They're $2.50 per pound.
Stu-Berry Acres
1483 County Route 49, Argyle, NY (map)
(518) 638-8926
Every day 8 am-8 pm
PYO blueberries started within the past week. They're $2.50 per pound.
Also: Stu-Berry also has red and black raspberries ($4.25 per pound).
____
Know of a good place not on this list? Please share!
____
Freezing: We mentioned that blueberries freeze well. Here's a good way to do it:
+ Rinse the berries, picking out stems and damaged berries.
+ Pat the berries dry with a clean towel -- you don't have to get them super dry, but do what you can without smooshing them.
+ Spread them on a sheet pan, in a single layer if possible, and pop them in the freezer uncovered. Let them freeze hard -- usually 3-4 hours or overnight.
+ Bag the berries -- most of them will have frozen individually -- in a zip bag or other container, trying to get out as much air as possible. Pop them back in the freezer.
+ Enjoy months later. The berries won't be exactly like fresh, but they hold up well. And you'd be hard pressed to tell the difference after you've baked them in a crumble, or even made pancakes with them.
____
Earlier on AOA:
+ Pick-your-own strawberry season 2014: We're coming to the end of strawberry season, but some farms will still have berries depending on the varieties they grow.
+ Let's get ready to crumble!
Hi there. Comments have been closed for this item. Still have something to say? Contact us.