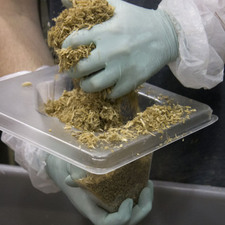 Ecovative -- the Green Island company growing polystyrene-replacement products from mushrooms -- says it will soon be offering the material for people to grow their own structures. Blurbage:
The "Grow It Yourself" (GIY) product enables designers, artists, educators, and innovators to grow their own creations with Mushroom® Materials, just like we do at Ecovative. We hope to inspire the use of healthy, ultra-rapidly renewable, compostable materials in all kinds of products and projects.
The GIY kit includes bags of living Mushroom® Material, which is essentially the same raw material that we use to grow Mushroom® Packaging and other products. GIY growers can use this material to make their own new and exciting creations. In cases where a GIY customer has created a new product that needs to be produced at scale, Ecovative can help. Our production facility in Green Island, NY can replicate designs with a high degree of consistency and quality control.
Ecovative says the first batches of material will be distributed in early September -- there's a sign-up form at that link above. The kits will be $19.99 + shipping.
The Hy-Fi tower
Ecovative's material has been getting (even more) attention lately because of structure that recently opened at MoMA's satellite location in Long Island City. The Hy-Fi tower was designed by David Benjamin, from architecture firm The Living, and makes use of 10,000 bricks grown from Ecovative's product. Benjamin created a prototype of the bricks himself with a few bags mushroom material he got at Ecovative during a visit to the company. Here's a recent interview with Benjamin about the tower and Ecovative on WNYC.
Earlier on AOA: Ecovative in the New Yorker
photo: Ecovative
Hi there. Comments have been closed for this item. Still have something to say? Contact us.