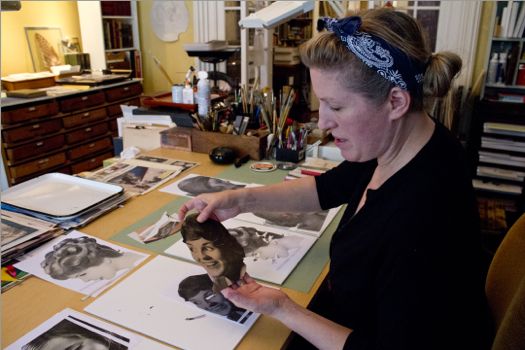 By Lauren Hittinger
Niki Haynes says she's "living the analog" dream. Haynes and her husband, Steve Rein are artists who came to Troy 14 years ago, from San Francisco. And a field where many are forced to do unrelated jobs to pay the bills, Haynes and Rein are thriving as full time exhibiting artists, working in spacious studios in their downtown Troy home, operating with multiple etsy shops, turning old objects, and paper, into new art.

Originally hailing from New York City and Chicago, respectively, Haynes and Rein were living and working in San Francisco when they decided to buy property. Completely priced out of the entire metro San Francisco market, they decided to look elsewhere. After a string of coincidences, including visiting a friend at RPI, Haynes and Rein purchased the Knights of Columbus building on 3rd street from the City of Troy, moved East, and slowly began putting down roots in the Capital Region. "We feel that Troy chose us - just as much as we chose Troy," Haynes says.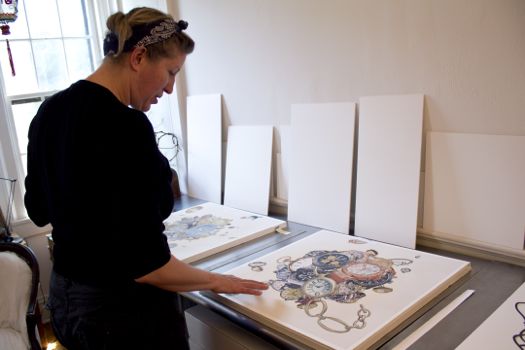 After working for 14 years renovating Half Moon Hall in the old Knights building, they sold current owners Frank Sicari and Heidi Benjamin, who have turned it into the Takk House. For a while the couple spent a lot of time commuting to jobs in California and New York City. Eventually that got old. "We wanted a less hectic life, so we shifted away from just going where the money is. The goal is to be in the studio and working," says Haynes. The sale of the building has helped make the goal possible. "It was 14 years of The Hall--getting it ready, and getting it sold. Now I can do art, both commercial and fine art. And we can do what we feel strongly about."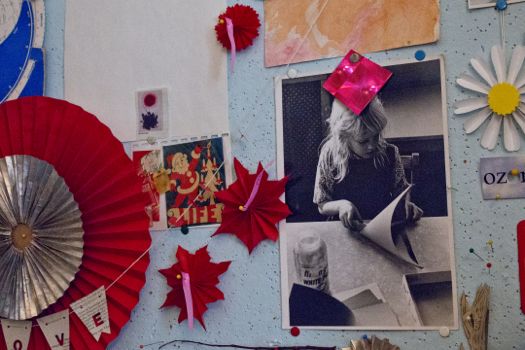 These days Haynes is able to spend more time working on what she knows best. And what she knows best, is paper. Her fine art work consists of meticulously constructed collages out of old magazines, newspapers, and photos-- or, paper ephemera as she calls it. Her work explores human nature by using themes of consumerism, culture, and gender roles. One particularly notable piece uses rings of gun, cigarette, and alcohol imagery to create a large bulls eye.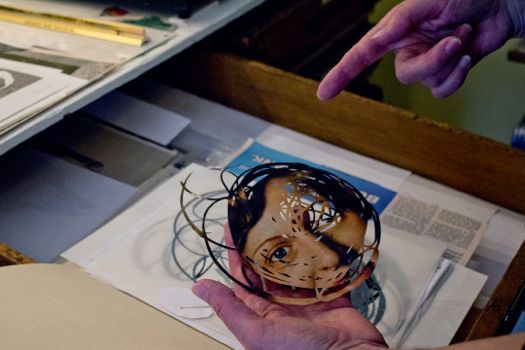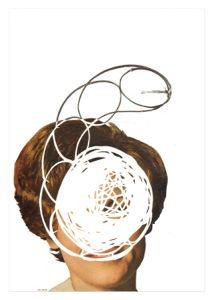 Haynes says that sometimes she is inspired by the images she finds, but just as often her ideas spark a search to collect new ephemera. Haynes also creates folded paper creations that she sells through her Etsy shop, PaperAltar. There you can find detailed flowers, award rosettes, and lettered garland, all made out of paper. "What I put online I already have made. Folding and cutting paper is relaxing. It's something that I can do in my down time, and there's no pressure."
"All of our creative directions are honoring a philosophy of Re-purpose, Re-cycle, Re-use, Re-invent, Re-approach and ultimately Re-imagine everything that surrounds us," says Haynes. "From our personal Art works, using Paper ephemera in my collages & Steve painting on re-claimed wood to our selling of vintage items & paper flowers created from vintage or re-purposed books and materials - perched on a global virtual shelf. We truly find joy in that exercise."
Niki Haynes current has a solo show, "Main Street," on display at the Sand Lake Center for the Arts until August 15th.
Lauren writes about shopping, crafting, and living well on a small budget at The Thrifty Ginger.
Hi there. Comments have been closed for this item. Still have something to say? Contact us.